How Lithuania and Belarus quarreled
First Belarusian
Lithuania is a small country, but very proud, and even with its own principles, especially when there is a mass behind it in the form of the European Union. The Baltic republic does not have to rest - it is at the front, the first Belarusian.
Relations between Lithuania and Belarus deteriorated back in 2020, when Vilnius took on the role of coordinator of protests in Belarus and, in fact, became a participant in a coup attempt in a neighboring country.
Finally, after Roman Protasevich landed in Minsk, Lithuania finally turned into a stronghold of the struggle against the regime of the last "tyrant" of Europe - Alexander Lukashenko. In the West, they quickly switched from political pressure to economic pressure, demonstratively not noticing Batka's promise to "leave soon".
Have the skies over Belarus been closed? Closed! Damage inflicted? Inflicted. But the regime has resisted - that means not enough. Let's move on. Vilnius brought in officials from the European Union, and the work began to boil. There were sectoral sanctions against a neighbor, that is, they tried to put pressure on important economic channels on which Belarus earns.
But the problem here is that Belarus and Lithuania are old trade partners. Until recently, the Balts received significant income from the transit of Belarusian goods for export. The main Lithuanian port is Klaipeda, through which large volumes of cargo were transported, which turned into tangible receipts to the country's budget.
But the Lithuanians, obviously, decided to act according to the principle "to spite my grandmother, I will frostbite my ears": that is, they tried to put pressure on their neighbor when they threaten to lose their own income. But wherever there - politics is more important: democratic values, freedom of speech turned into "urine", which clearly hit the head of the Lithuanian pro-Western politicians.
True, we must pay tribute to the official Vilnius - they tried to sit on two chairs there: the sectoral sanctions were drawn up with a certain benefit for themselves. Thus, Belarus traditionally exported significant volumes of oil products. And only supplies of bitumen, petroleum gases and paraffins were banned, gasoline and diesel fuel have so far escaped sanctions.
But Lukashenka would not have been the Old Man if he had agreed to small concessions and handouts. For several years Russia has offered Belarus to use its ports on the Baltic Sea. And in the spring, Alexander Grigorievich finally made a decision - there should be a new transit vector.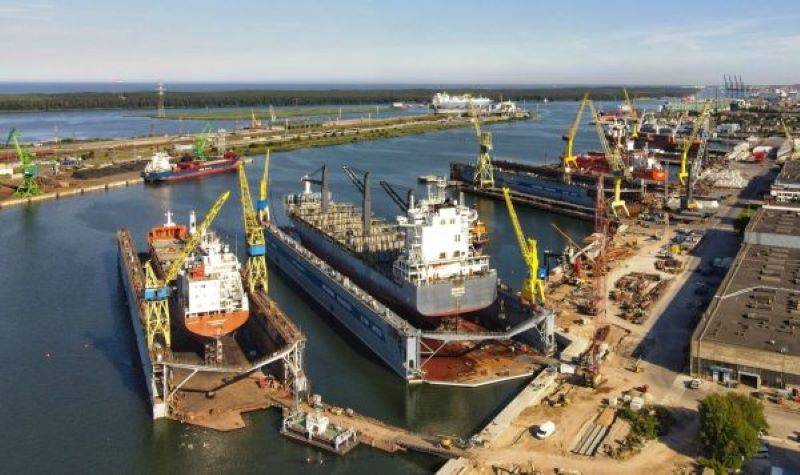 As a result, the ports in Ust-Luga and St. Petersburg began to earn about 350 million rubles a month from the transfer of Belarusian oil products. If the pace continues, then Russia will receive a very solid increase in the budget by the end of the year, and Belarus will not be left behind.
And what about Lithuania?
And she bites her elbows - "black gold" waved its handle, floating to other shores.
Potassium plus migrants
Now the new stumbling block is potash fertilizers. They also came under sectoral restrictions from the EU earlier. But even here there were certain indulgences - contracts for the export of fertilizers, concluded later on June 26, turned out to be under restrictions. This is about 20% of the volume of potassium passing through Lithuania.
But there was a continuation - in Vilnius they announced that they intend to completely cut off the export of Belarusian fertilizers in connection with the expansion of sanctions against Minsk. Lithuanian Foreign Minister Gabrielius Landsbergis said that proposals have already been made to Brussels to extend sectoral sanctions. Negotiations on this issue have not yet begun, but, according to the Foreign Minister, a decision can be made as early as September.
However, the problem with potassium will be wider and deeper.
The fact is that the export transit of potash fertilizers through Lithuania is still an uncontested option for Belarus. Latvian and Russian ports are not adapted for this type of goods. Moreover, the potash link between the two countries is very close - the Belaruskali company owns 30% of the bulk cargo terminal in Klaipeda, through which fertilizers are transshipped.
Until recently, Belarus had clear intentions to expand the terminal by increasing its capacity. But where is there: Lithuania has decided to unambiguously "freeze its ears" - there were accusations against the terminal owners that, they say, they do not meet the safety criteria. There was even a decision of the district court in Vilnius, which took the side of the Lithuanian government completely.
And in this situation, the unexpected migration crisis that has arisen on the border of Belarus with Lithuania does not look so simple, or rather, the most "potash" one. Old Man Lukashenko, apparently, decided to put pressure on Vilnius so that he once again thinks about whether it is necessary to expand sectoral sanctions against Belarus so harshly.
Yes, and earlier, a certain part of illegal migrants, perhaps, tried to cross the Belarusian border into the kingdom of freedom and democracy, that is, the EU. But the border at the Old Man is well locked, and it has never been a mass phenomenon. And then there was a real air corridor with Iraq - the planes became frequent visitors to the capital of Belarus. And figures appeared in the media - almost hundreds of migrants trying to cross the Lithuanian border by hook or by crook every day.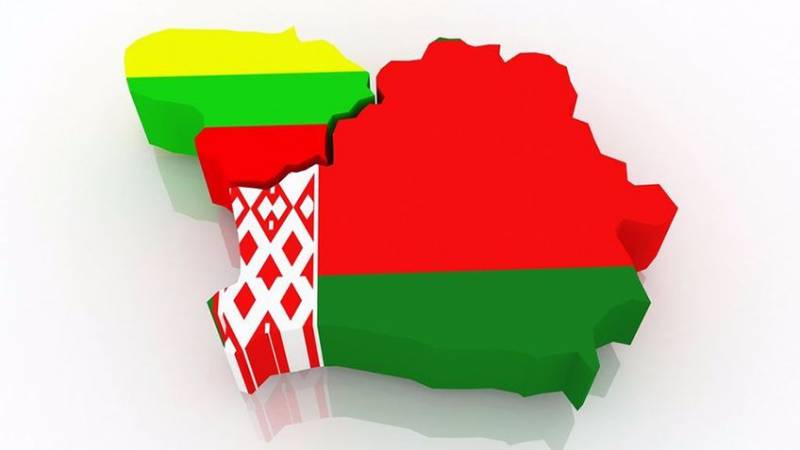 The local border guards found themselves in a stressful situation - migrants are pushing and pushing, barbed wire, shepherd dogs, batons, and possibly a firearm went into action
weapon
... You can understand the Lithuanians - where do a small republic with a population of three million people do with hundreds of illegal migrants? They will quickly put the whole country on the ears.
But you can understand Belarus too: there are significant export losses at stake. For potassium alone, the figures are said to be about $ 200 million a year. Lukashenka is clearly showing Vilnius whether it is worth breaking spears around Protasevich, the bird is clearly not of that scale.
The migration crisis is a double-edged sword.
Those who did not fall into the kingdom of freedom return to Belarus. Acquaintances from the Grodno region told the author of the article that Belarusians are shocked by the influx of southerners. There are many of them, they wander the streets, lie on the lawns and under the trees, no one is busy with them. The "guests" found themselves in a stalemate - they clearly do not have the funds to return to their homeland, but they want to live and eat. So close to crime on the streets of calm Belarusian cities.
Is Moscow behind us?
Experts say that Lithuania and Belarus have come together in a real information and economic war. Nobody wants to give in.
Although Lithuania acts with clear hope for support from the "elder brother". On the sidelines, no doubt, the issue of support by the European Union finances of the "outpost" of the fight against the last tyranny of Europe in the event of a severe break in economic relations between Lithuania and Belarus is being worked out.
In fact, we are talking about subsidizing the shortfall in income to Vilnius. But subsidies are a twofold matter: now they are, and tomorrow they will be canceled. But reliable economic relations with neighbors are expensive. No wonder they say that a good neighbor is sometimes more important than a close relative.
But what about the migration crisis?
It is likely that it will fizzle out. On August 4, EU Ambassador to Iraq Martin Hut said that, according to him, Iraqi airlines would suspend flights to Belarus for ten days. Several flights from Basra to Minsk were canceled, and 280 migrants promised to simply return to Iraq.
There is no doubt that the European Union will continue to put pressure on Iraq to stop sending its "agents" into the underbelly of Europe. The EU has levers of influence. And Lithuania is unlikely to change its policy towards Belarus - it has stepped on a slippery slope and will not turn off it.
In turn, Belarus will also go its own way, building new export channels for its goods. Speaking specifically about potash fertilizers, the problem period for Minsk will last about another year. Russia is determined to transship potassium through its ports, but there are no ready terminals for this yet.
The Ultramar company announces that in about a year it will finish building a specialized fertilizer transshipment terminal in Ust-Luga. Several companies are planning to work through it at once: Phosagro, Uralchem, Akron, and then Uralkali. Ultramar is interested in establishing cooperation with Belaruskali, which is considered one of the industry leaders in Europe. According to Belstat, in 2020 the company earned $ 2,4 billion from export deliveries.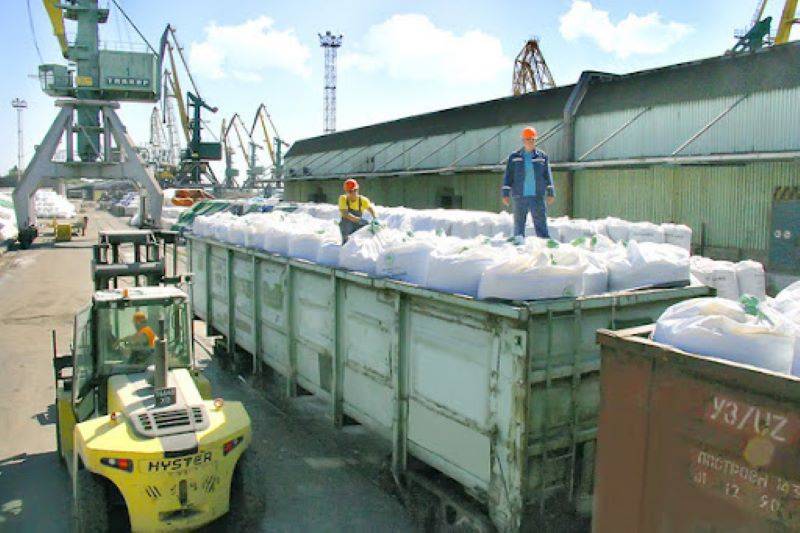 At the same time, export channels can be built in completely different ways.
A number of experts believe that if the EU rests on its horn and completely abandons the supply of potash fertilizers from Belarus, then the following option will work: for example, Uralkali replaces the export supplies of its Belarusian counterpart to Europe, and Belaruskali, in turn, masters supply channels Uralians, for example, to Asia.
In any case, Belarus is forced to change its export network, and in this situation Russia will be able to earn good additional income. But on the way there are also products of the agro-industrial complex, timber-chemical, automobile industries of Belarus.
Of course, the EU will not accuse Lithuania of pushing the Belarusians into the tight embrace of the "Russian bear". However, the Lithuanians themselves have repeatedly walked and will go through the actions of their government, which is stubbornly aimed at losing significant income.
Note that until recently Belarusian potash fertilizers occupied up to a third of the Klaipeda port's cargo turnover. After the loss of a strategic partner from the Republic of Belarus, apparently, it will be possible to safely put an end to the entire port economy. It is clear that people will lose their jobs, someone will become poorer, and someone will prefer to look for a better life abroad.
Thus, Lithuania is gradually turning into a dead end, both literally and figuratively.
Russian companies have largely abandoned the services of Lithuanian ports, and now Belarus is also mastering the way around them. Someone will definitely win, but certainly not Lithuania.
morvesti.ru, news.tts.lt, rus.azattyq-ruhy.kz, baltnews.lt