Explosion on starboard side: in the United States showed the final shock tests of the aircraft carrier USS Gerald R. Ford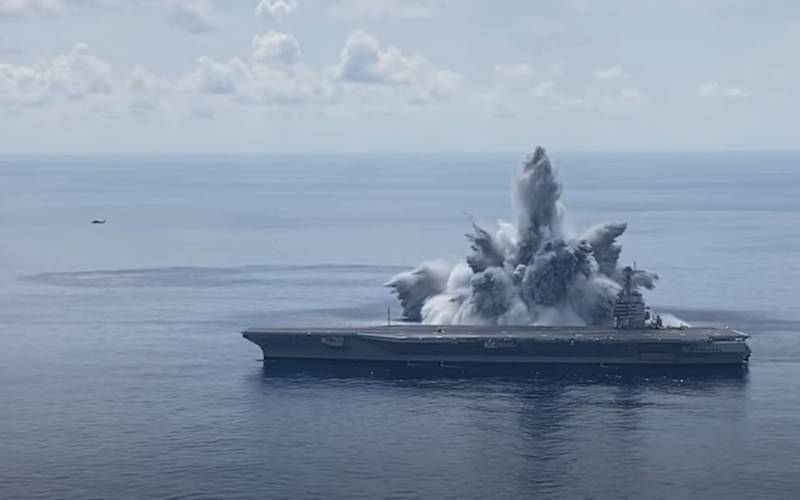 The US military reports that the aircraft carrier USS Gerald R. Ford (CVN 78) has passed through the final (last) of the planned shipboard impact tests - FSST. This is the third test, which was intended to determine the ability of the US Navy aircraft carrier to respond to the effects of high waves, as well as the shock wave resulting from an explosion about 150 meters from the side.
The reports say that the third phase of testing was carried out in the Atlantic Ocean, near the base in Jacksonville, Florida.
The release, provided by the US military, says that shipboard shock tests confirm the carrier's shock resistance and its ability to withstand explosions at sea in a simulation of a real combat situation using real ammunition.
In total, the aircraft carrier Gerald Ford withstood three explosions of 18 tons, carried out at various distances from the ship.
From the release:
We made sure that the ship is ready for use in harsh combat conditions, including rough seas. Our team has obtained extensive data on the impact strength of the aircraft carrier's hull. All systems when exposed to the shock wave worked as designed.
Now the aircraft carrier USS Gerald R. Ford will undergo an additional check for another six months, which will assess possible damage. The combat deployment of the aircraft carrier in the oceans is planned for 2022.
US Navy Rear Admiral James Downey, who oversees the aircraft carrier programs, said that during the explosion tests, "the team acted well and did not make critical mistakes."
The explosion was carried out on the starboard side of the aircraft carrier. The explosion itself and the degree of its impact on the ship are shown in the US Navy footage: