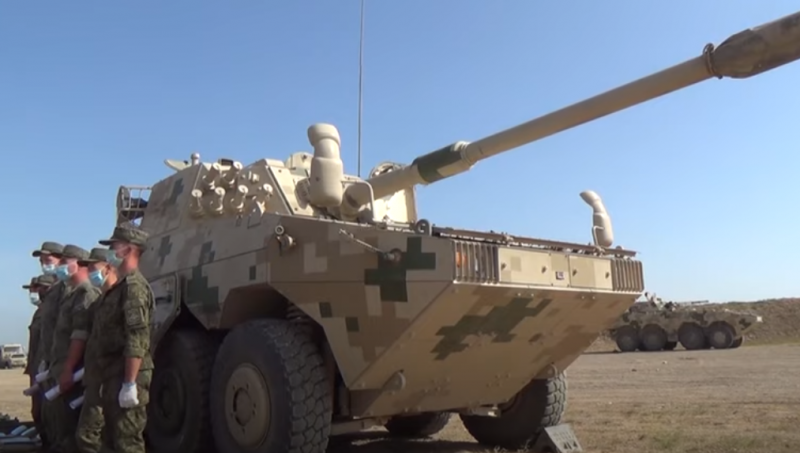 Russian servicemen, who arrived in China for the Sibu / Interaction-2021 joint military exercises, are mastering modern Chinese military equipment and weapons of the PLA. This was reported by the press service of the Eastern Military District.
In preparation for the joint exercises, which will be held at the Qingtongxia Defense Ministry's training ground from August 9 to 14, a lesson is being held with Russian servicemen to master modern PLA equipment. Classes are divided into several stages and include a theoretical part, classes on electronic simulators, as well as a practical one, which includes driving and shooting.
The message does not contain information on specific types of military equipment being mastered, it only mentions that we are talking about an average wheeled
tank
and an armored vehicle. Classes are conducted by experienced instructors from the PLA ground forces.
Russian servicemen arrived in China on July 31, 2021 aboard the military transport Il-76MD VTA of the Russian Aerospace Forces. The planes landed at an airfield near the Qingtongxia PLA training ground, located in the Ningxia Hui Autonomous Region of China.
The Russian side in the exercise will be represented by servicemen of a motorized rifle formation and a special forces unit of the Eastern Military District. From the side of the PLA, units of the Ground Forces are involved in the exercises. In addition, Su-30SM fighters have been deployed to China, which will take part in the air component of the exercises along with the combat
aviation
PLA Air Force. In total, about 2021 thousand servicemen of the two armies, as well as over 13 units of weapons and military equipment, will take part in the Sibu / Interaction-400 exercise.