Technodinamika holding presented new parachute systems for the Airborne Forces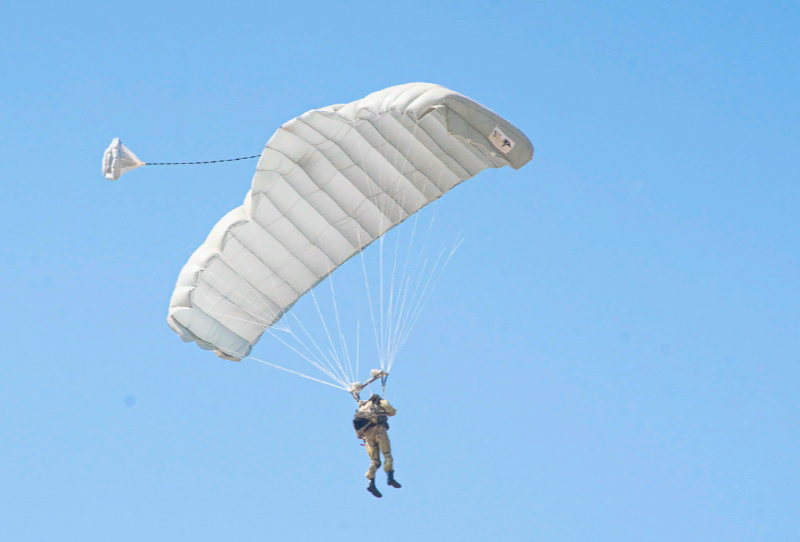 The Russian holding Tekhnodinamika presented new parachute systems for the Airborne Forces. On Saturday, a celebration in honor of the 91st anniversary of the creation of the Airborne Forces, about 70 developments were demonstrated.
According to the press service of the holding, along with the parachute systems already used by the paratroopers, new items, only planned for delivery to the troops, were shown at the event. Particular attention was drawn to the Tandem-400 and Dalolet parachute systems and the new cargo system being developed as part of the Parachute R&D project.
The Dalolet system, intended for high-altitude landing, makes it possible to glide at a distance of up to 60 km from the ejection point in a tailwind, the holding explained. The Tandem-400 system makes it possible to drop a crew together with a mortar, which was demonstrated during the festive event. One paratrooper on the Tandem parachute system delivered an 82-mm mortar, the second on a similar system - the gunner.
The new unified cargo parachute system allows landing equipment weighing from 9 to 18 tons, for example, an armored vehicle "Typhoon-VDV" or "Tiger" together with the crew. The system was demonstrated in statics; currently, preliminary tests of prototypes of the parachute system are being completed.
In addition, a line of Kadet parachute systems was presented, including the tested Kadet-100 with a round canopy, as well as the Kadet-100D, which will eventually replace the D-10 parachute. The new parachute is being prepared for the Sotnik equipment, it is perfectly controlled, which was one of the main requirements of the Russian landing force. With the help of the new system, the weight of a paratrooper with a load can reach 160 kg, while the speed of falling does not exceed 5 meters per second. The parachute can make a full 360-degree turn in 12 seconds, go back at a speed of 4 m / s.
Also presented were: a line of special-purpose parachute systems, parachute harness for dropping service dogs and other new items that will soon be supplied to equip the Russian Airborne Forces.