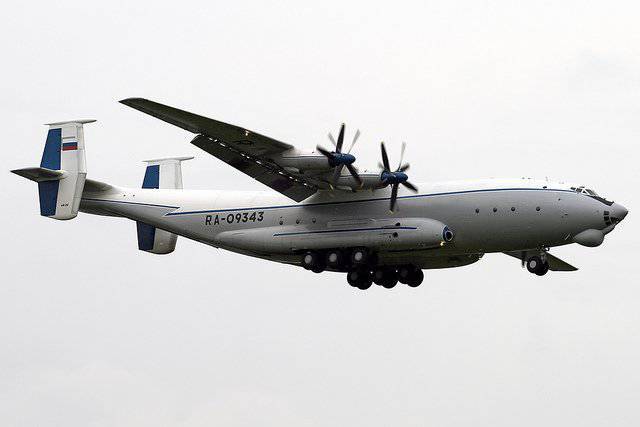 Russian Defense Minister Anatoly Serdyukov decided to extend the life of one of the oldest Russian Air Force aircraft, the An-22 Antey, until the 2020 of the year, Izvestia writes.
An-22 aircraft were mass-produced in Tashkent (TAPOiCH) from November 1965 to January 1976. As the representative of the Russian Air Force said, in order for the car to fly into the air, it needs to change the engines, chassis, and also prepare the pilots.
However, the propellers for these machines are no longer produced, so the Anteis will fly with old propellers, which can fail at any time. "The main problem" Anthea "- propellers. Previously, they were produced in Stupino, but in 1990-e production was closed. Those that stand on old cars are cracked and metal fatigued, "said an Air Force spokesman who is familiar with the state of Anteyev Park.
As explained by the representative of the Ministry of Defense, the main reason for which the outdated An-22 decided to return to the sky is the heavy traffic of the An-124 "Ruslan" fleet in commercial traffic. Now the An-124 Russian Air Force is carrying out commercial orders at JSC 224 Flying Squad, which is likely to participate in the transportation of NATO cargo through Ulyanovsk. "These transportations, of course, bring profit to the Ministry of Defense, but the Air Force needs a heavy transport worker for its needs, and they are all busy. During 2011 – 2012, An-124 did not make a single flight to meet the needs of the Armed Forces of the Russian Federation, "the source said. He added that the Il-76, which the Russian Air Force has in abundance, are less effective than the An-124 and An-22 - they are less load-carrying, and besides, large-sized cargoes do not fit into them.
Now in the Russian Air Force is 24 "Antea": six - in the mode of limited operation (cars fly 1 – 2 times a year), 18 also stand on the joke.
In the Antonov state enterprise, which is the manufacturer of Anteyev, they explained that they are now negotiating with the Russian Defense Ministry to extend the life of the An-22, which end in the 2013 year. Together with the Russian side, a "Program of work to increase the service life of aircraft that have been in use for over 40 years" has been developed. It focuses only on work on An-22. It is planned to carry out work on the extension of the service life of machines to 50 operational years. The works will be carried out at the 308-m Aviation and Repair Plant (Ivanovo city). Now the program is being negotiated, - said the representative of the SE "Antonov".