The Polish Navy will receive three promising frigates of its own construction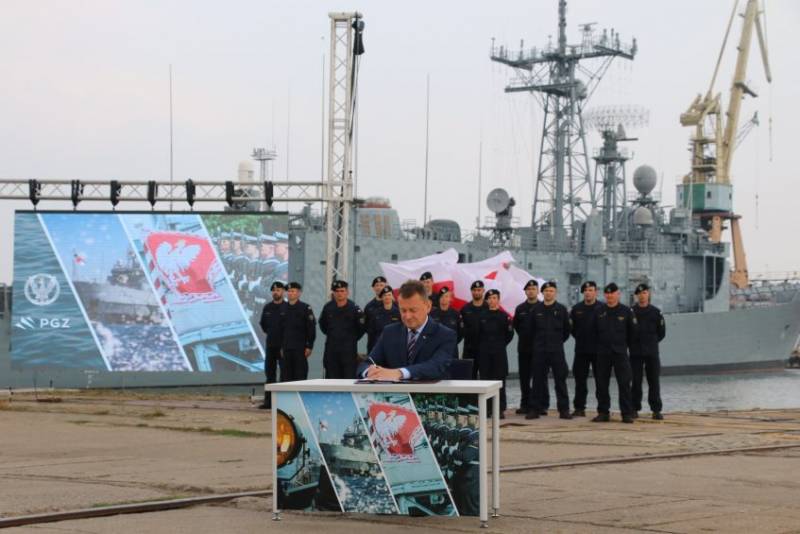 In the future, the Polish naval forces will be armed with three new frigates of their own construction. According to the Polish Ministry of Defense, a contract for the construction of three ships has already been signed.
The Polish military department and the PGZ-Miecznik consortium have signed a contract for the supply of three multipurpose frigates to the Republic's Navy under the Miecznik program ("Mechnik"). The documents were signed on July 27 in Gdynia, the agreement was signed by the Minister of Defense of Poland Mariusz Blaszczak.
The construction of the ships will be carried out by a consortium specially created for this purpose, which includes the PGZ Stocznia Wojenna shipyard, as well as the Gdansk private shipyard Remontowa Shipbuilding SA. However, at the moment, the consortium does not even have a project on which frigates will be built. It is assumed that by November this year one of the three proposed foreign projects will be selected, according to which its own will be developed. At the same time, the Polish Ministry of Defense requires that the first ship be launched in four years.
According to reports, Poland was offered the Arrowhead 140 project from the British group Babcock, on the basis of which the Type 31 frigates were developed, the project from the Spanish Navantia frigate F110 or the Avante corvette and the project of the German association thyssenkrupp Marine Systems based on the MEKO A200 or A300.
It is planned that in the future, the built frigates will replace two frigates of the "Oliver Hazard Perry" class, acquired in the early 2000s from the United States in the Polish Navy.
On the intention to build a series of new ships for the Polish
fleet
became known back in 2018. It was originally planned to build three corvettes, but then the decision was changed to frigates. It was stated that the frigates would not only increase Poland's defenses, but also raise the prestige of Warsaw in the international arena.
Polska Group Zbrojeniowa SA - PGZ