It became known what the head of the PRC Foreign Ministry spoke about at a meeting with representatives of the Taliban in Tianjin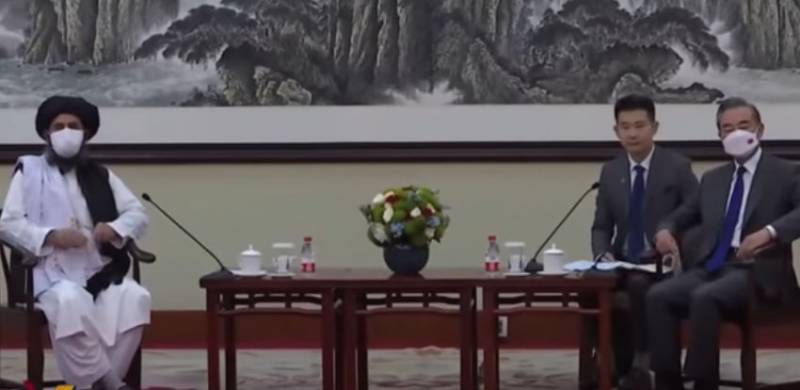 From China comes confirmation of information that a delegation of the Taliban movement (* a terrorist group banned in the Russian Federation) has visited Tianjin. Earlier, representatives of the Taliban * visited Moscow, where they literally swore that "not a single speck of dust will fall on the Russian Consulate General" in Afghan Mazar-i-Sharif. At the same time, the Taliban called on Russia to cancel the status of a terrorist organization for the Taliban and to promote this idea through the UN Security Council.
As it turns out, the Taliban want the same from the Chinese authorities. Today this request was voiced in Tianjin, where representatives of the Taliban * were met by no less than the head of the Chinese Foreign Ministry, Wang Yi.
Chinese press:
The visits of the top Taliban to Russia and China show that the Taliban recognize the efforts of the two countries to normalize the situation in Afghanistan. The Taliban have spoken in favor of Afghanistan being governed by internal forces supported by the Afghan people.
Wang Yi:
We hope that the Taliban will put national interests first and prioritize peace negotiations. The main task today is to achieve peace in Afghanistan. This will create a positive image for the Taliban both in Afghanistan itself and in the international arena.
According to the head of the Chinese Foreign Ministry, the withdrawal of US troops from Afghanistan makes it possible for this country to develop independently, with the inclusion in the peace process of development of all internal political forces, for which the priority is the interests of the Afghan people.
The Taliban * spokesman said that they are ready to discuss issues of interaction with the current government of Afghanistan.
Against this background, more and more areas are being transferred to the control of the Taliban * in Afghanistan.