President of Azerbaijan: Armenia should not forget that the "iron fist" remains in place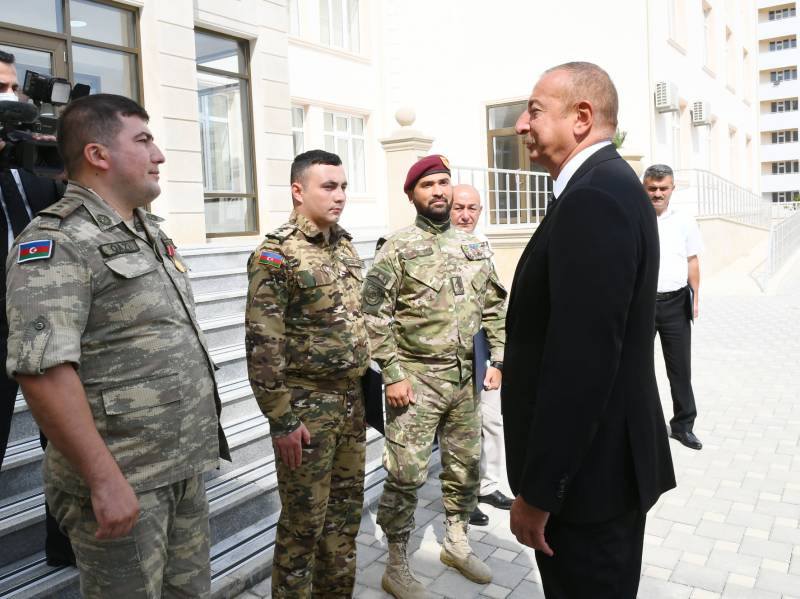 The President of Azerbaijan, who recently paid a visit to Russia and participated in negotiations with Vladimir Putin, again raised the issue of a peace treaty with Armenia. According to Ilham Aliyev, Baku offers Yerevan to sign a peace treaty. It should be recalled that the Azerbaijani authorities made a similar proposal earlier, several months ago, but the Armenian side did not react to the proposal.
Aliev:
If the war is over, then it's time to start negotiations. We ask Armenia if it wants peace. He seems to want to. But why, then, is there no peace treaty?
According to the President of Azerbaijan, for this signing, it is enough for Armenia to recognize the territorial integrity of Azerbaijan and to delimit the borders.
Ilham Aliyev added that the Azerbaijani agenda in this regard "coincides with the agendas of the EU, Turkey and the Russian Federation."
The Azerbaijani president also outlined what the Armenian authorities say in response. In his words, Yerevan demands that "Azerbaijan leave the Armenian lands." President of Azerbaijan:
But these are our lands. We achieved a new agenda thanks to our courage, the right steps and the aggressive policy. Today the question of status has remained aside. The term "Nagorno-Karabakh" is not used. And now Armenia must reckon with the new realities.
According to the statement of the head of Azerbaijan, Armenia should not forget that the "iron fist" remains in place.
As you can see, the proposals for a peace treaty on the part of the Azerbaijani president are very specific, especially in connection with the mention of the "iron fist". To date, the Armenian side rejects them.
Earlier, Armenia declared its readiness to sign a peace treaty if Baku recognizes the independence of Karabakh. This is despite the fact that Armenia itself does not recognize its independence.
Facebook / President of Azerbaijan