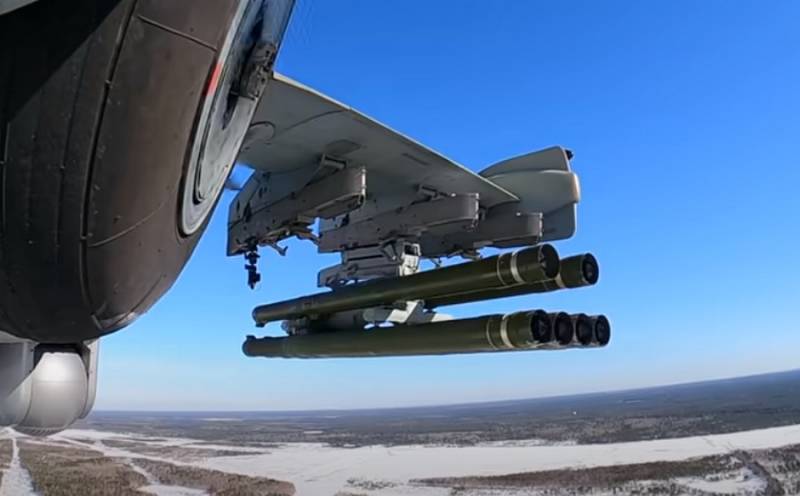 Anti-tank
aviation
guided missile "Vikhr" will be adapted for use by combat helicopters Mi-28NE and Mi-35P, as well as attack
drone
"Orion-E". This possibility is being considered by the specialists of the Kalashnikov group of companies. This was reported by the press service of the concern.
According to the report, the Vikhr ATGM, originally developed for the Ka-50 and Ka-52 attack helicopters, will be adapted to other carriers, including the Mi-28NE and Mi-35P helicopters, as well as the Orion-E UAV. Such options are being considered, work in this direction is underway.
Work on the modernization of the Vikhr aircraft guided missile was reported in February this year. The missile was modernized as part of the program for the unification of the weapons of the Ka-52 and Mi-28NM helicopters; in May this year, it was reported that the first tests of the improved missile were carried out. At the same time, it was clarified that the work has not yet been completed.
The 9K121M "Vikhr-M" missile system with the 9M127-1 "Vikhr-1" missile was developed at the end of the eighties at the Tula Instrument Design Bureau (KBP), was officially adopted in 1992, but mass production began only in 2013. when a contract was signed for the production of missiles in the amount of 13 billion rubles. Rearmament to a new missile system was carried out in the period from 2013 to 2015.
The main purpose of the missile is to destroy armored vehicles, including those with active armor, as well as air targets at speeds up to 800 km / h. The launch height is up to 4000 meters, and the maximum firing range is 10 kilometers. It was originally intended for the Su-25 and Ka-52.