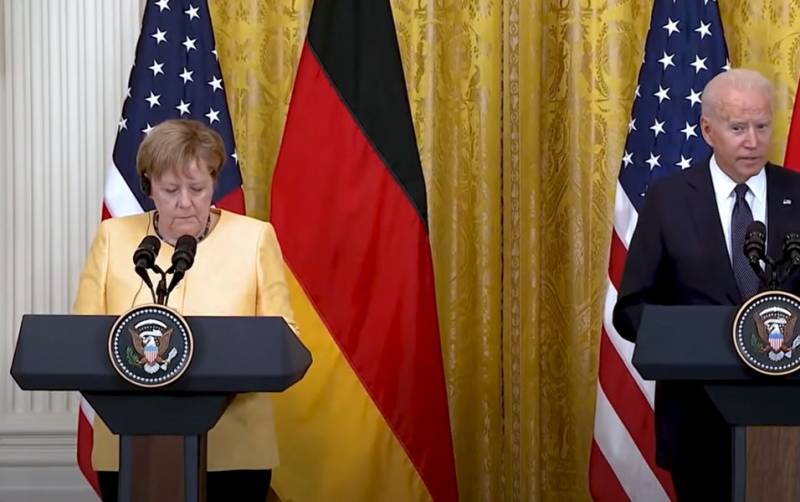 The website of the German Foreign Ministry has published the text of the German-American agreement, which concerns "energy security". This agreement is generally devoted to interaction between Germany and the United States - primarily in terms of the situation with the Nord Stream-2 gas pipeline. The published text of this document says that Berlin and Washington "support Ukraine, its sovereignty and territorial integrity."
At the same time, the joint declaration indicates that both states express support for the Minsk agreements, which were reached with the participation of Ukraine.
In other words, Kiev was once again given to understand that in case of non-fulfillment of the Minsk agreements on its part, neither the United States nor Germany will guarantee Ukraine's sovereignty and territorial integrity.
At the same time, in order to somehow "reassure" the Ukrainian partners, the joint agreement states that the United States and Germany will "take measures against Russian destructive activities in Ukraine and abroad."
Russia will not be allowed to use the energy industry as a
weapons
... At the same time, it is not specified when it was such that Russia would use energy in the specified version.
In Ukraine itself, experts called the document contradictory and cynical. It is noted that the document says about the readiness to impose sanctions against the Russian Federation to limit the possibilities of gas exports to Europe. This is despite the fact that Joe Biden had previously lifted sanctions against Nord Stream 2 AG, and Angela Merkel personally persuaded her European colleagues to approve the completion of the Nord Stream 2 gas pipeline.
They sign an agreement with one hand, wave to Putin with the other - build your own gas pipeline
.
It is also mentioned that Washington ordered Ukraine to be calm about the construction of Nord Stream 2.
However, there were also those in Ukraine who said that the US-German agreement "would hit Russia and is proof of support for Ukraine from the leaders of the Western world." As an example, a detail of the agreement is given, which states that the United States and Germany are in favor of using the Ukrainian GTS for pumping Russian gas to Europe after 2024.
In fact, the statement does seem counterintuitive. Indeed, on the one hand, Biden and Merkel threaten Russia with sanctions for gas supplies to Europe, on the other, they actually approve of such supplies, albeit through Ukrainian territory.
Even more controversial is the proposal to invest in Ukraine "green energy fund", which, as noted, "should increase the energy security of Ukraine." The Ukrainians can learn a lot about the "green energy fund", for example, the inhabitants of Texas, who really froze over last winter - due to problems associated, including with the introduction of "green energy". Snow-littered solar panels have plunged the state into an energy collapse.