The number of countries that have expressed interest in the Russian front-line bomber Su-34 is named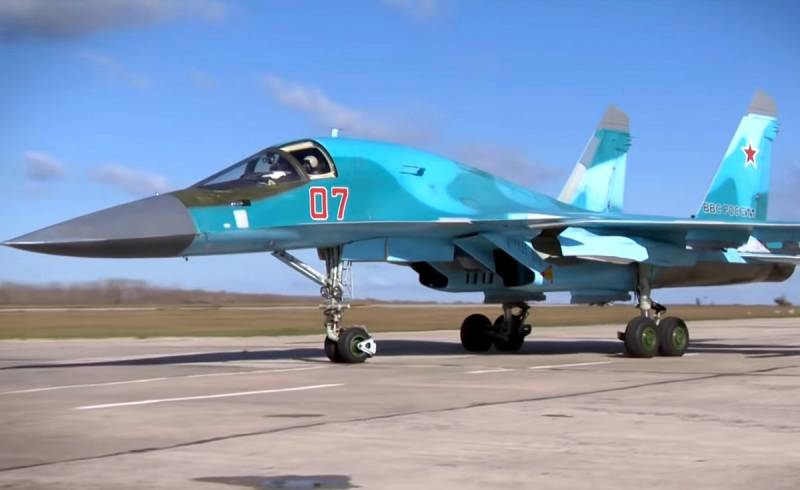 The Russian front-line bomber Su-34 has aroused the interest of many countries, but five foreign countries have so far expressed more substantive interest in the aircraft. This was announced by the director of the FSMTC of Russia Dmitry Shugaev.
Answering a question from journalists regarding the export potential of the Su-34, Shugaev said that five countries had expressed interest in the aircraft, but the matter had not yet reached concrete negotiations.
About five countries are interested in the Su-34, but there are no contract negotiations yet. A very beautiful and successful car - this is in all respects one of the "hits" in our line of "Su"
- he said.
At the same time, the head of Rosoboronexport, Alexander Mikheev, noted the great interest in the Russian bomber, especially after the successful actions of the aircraft in Syria. According to him, pre-contract work is now underway to promote the Su-32 (export version of the Su-34) to the markets of countries in Africa and the Asia-Pacific region. Deliveries, in case of signing a contract for the aircraft, can be carried out starting from 2023. What caused this, Mikheev did not explain.
Su-34 - Russian multifunctional fighter-bomber designed for striking
aviation
means of destruction against ground targets of the enemy in the operational and tactical depth in conditions of strong opposition. It belongs to the 4 ++ generation and allows you to carry out basic combat missions without being accompanied by cover fighters. The flight range is up to 4 km, the maximum speed is up to 000 km / h, and the combat load is up to eight tons.