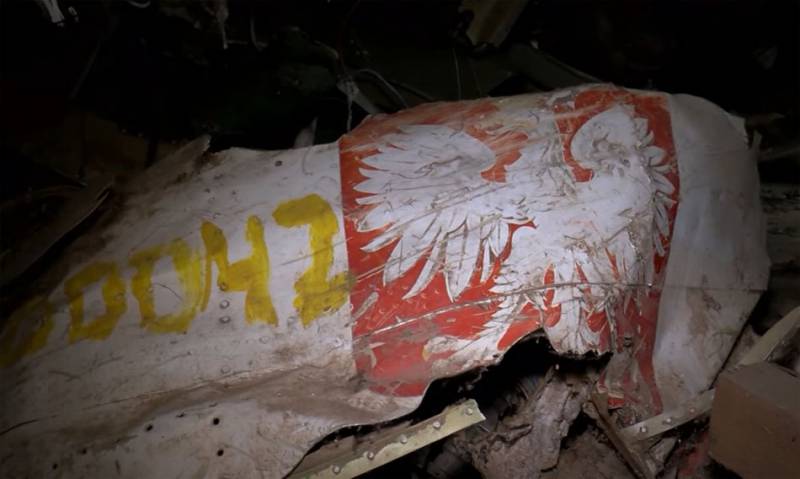 The official representative of the Russian Foreign Ministry, Maria Zakharova, commented on the latest statements by Warsaw that Moscow "holds the wreckage" of the plane of the Polish president that crashed near Smolensk in 2010.
Recall that the disaster occurred at the time of the landing of the Tu-154 at the Smolensk Severny airfield. Then, due to bad weather conditions, the dispatchers recommended that the pilots of the Polish plane leave for an alternate airfield. However, under pressure from the Polish Air Force Commander-in-Chief who was in the cockpit at that time (as the examination showed, he was intoxicated), the pilots still began landing.
The wreckage of the Tu-154 is in Russia, and the Polish side believes that this is "disrespect for the norms of the civilized world." At the same time, the Russian side has repeatedly made it clear that it is ready to hand over the wreckage of the aircraft to Warsaw on the very first day, as soon as Warsaw itself puts an end to the protracted investigation. However, in Poland they are in no hurry to put an end to it. Accusatory speeches and conspiracy theories are constantly voiced, to the extent that the plane was mined in Russia during maintenance. This version is being promoted by the notorious Antoni Matserevich, the country's former defense minister, who is now one of the leaders of the ruling Law and Justice party in the country.
According to Maria Zakharova, commenting on another attack by the Polish Foreign Ministry against Russia, the Polish side itself is sending more and more new requests during the investigation. In this regard, there is a need for a virtually constant renewal of investigative actions already in Russia itself. Maria Zakharova noted that the finding of the wreckage of Polish aircraft No. 1 in the Russian Federation is not indefinite by definition, and in fact indicated that Warsaw will receive them immediately, when it itself completes an apparently drawn-out investigation. The whole problem for Poland itself is that this investigation has long turned, if not into a farce, then into an attempt to gain political points.
Maria Zakharova pointed out that the Polish side had been repeatedly informed about the procedure for returning material evidence, which includes the wreckage of the Tu-154 that crashed near Smolensk.
Official representative of the Ministry of Foreign Affairs of the Russian Federation:
The material evidence, as the Polish side knows very well, is transferred only after the completion of all investigative actions.
Maria Zakharova called the appeals to international law from Poland in such a situation strange and groundless.