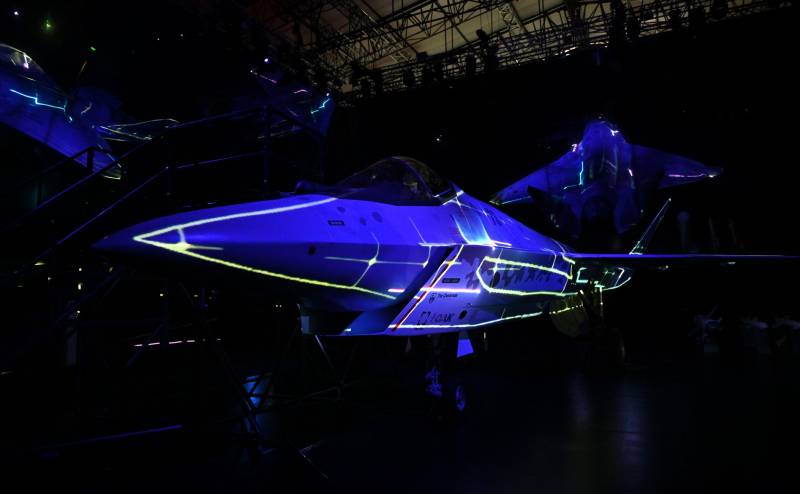 "New. Easy. Sukhoi "- under this slogan Rostec is demonstrating a promising fighter at the International Aerospace Show (MAKS-2021). The concept of the aircraft has already been introduced to President Vladimir Putin.
At the same time, some of its characteristics were previously named, but the direct presentation to the "broad masses" was postponed several times during the first day of the international exhibition.
Now Rostec and the United Aircraft Corporation (United Aircraft Corporation) are publishing a presentation of The Checkmate combat aircraft (the chess term is checkmate, or checkmate).
Users on the air of the broadcast, which was launched long before its immediate start, have already managed to comment on the appearance of the concept of a new light single-engine fighter, and the situation in which the Internet presentation was postponed several times. In particular, both approving comments about the announced characteristics of the aircraft - in particular, on the maximum range of 3 thousand km, and exclamations of a pessimistic nature have appeared. It is noted that the stealth of a fighter may ultimately be controversial, since a number of weapons are mounted on an external sling. The combat load of the aircraft, as already noted, is about 7400 kg.
The presentation brought together dozens of journalists from various publications, channels, Internet sites, newspapers, etc.
From the presentation:
The Checkmate is technology proven in real combat. This is a high potential and economic efficiency. It is designed with supercomputer technology based on a full range of virtual tests.
It can be operated even at high-altitude airfields. The "Matryoshka" system has been created for the aircraft - a logistics system that includes personnel training.
No special aerodrome equipment is required for its operation. The plane is equipped with artificial intelligence.
Radar with AFAR allows The Checkmate to attack up to 6 targets simultaneously, even when jamming. It is capable of detecting and destroying 5th generation aircraft at close and long range. Its electronic warfare system does not allow the enemy to attack the aircraft. Internal containers may contain
aviation
guns.
The Checkmate was named a leader in the price-performance class. It was noted that unmanned versions of it are already being created.
Added that the aircraft is unique for its open configuration - for any customer.
[media = https: //youtu.be/Gc2l8xWau60]
During the presentation, the numbers 75 on board the aircraft were explained. It is indicated that this is an addition to the Su-57 aircraft, since "the numbers 5 and 7 are named lucky for the company."
As long as it's a number, as long as it's a message.