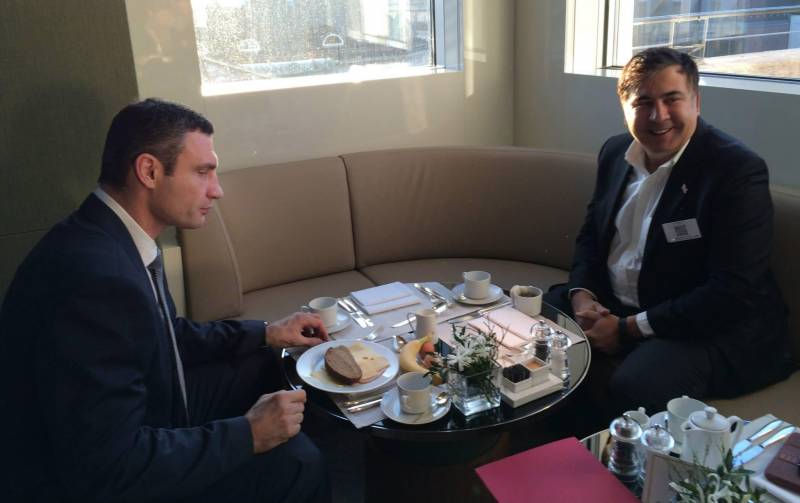 The ex-President of Georgia Mikhail Saakashvili continues to claim the title of the main newsmaker on the Maidan events and its first results. Recall that at one time this person was invited by the then Ukrainian President Petro Poroshenko to the post of head of the Odessa region, and then he was forced to hide from the SBU and even flee from Ukraine abroad.
Saakashvili opened up about the events associated with the Crimean spring. According to the former president of Georgia and the former head of the Odessa Regional State Administration, in 2014 the United States addressed a request to Ukraine "not to resist Russian aggression in Crimea."
According to Saakashvili, "Russia would have committed aggression against Ukraine in any case." And if Ukraine began to resist in Crimea, then everything could have ended even more deplorably for it.
Saakashvili:
They would still find a reason. If Yanukovych had remained in power, Ukraine would have been occupied in an easier scenario.
According to the ex-head of Georgia, the West understood that at the request of the president at that time, anything could happen for Ukraine, up to complete "occupation by Russia." Saakashvili in an interview with Ukrainian journalists added that it was the United States that acted as those who to a greater extent dissuaded Kiev from resisting Russian troops in Crimea.
Saakashvili:
Then (in 2014) there was a crazy pressure. (John) Kerry called. They were told: do not shoot in any case. Don't repeat what Saakashvili did in 2008. But what next? Donbass didn't happen after that? ..
Let's remind that earlier Saakashvili, commenting on the events in South Ossetia, actually announced that he decided on a military adventure after receiving verbal support from Washington. But in the end, the United States did not support him.