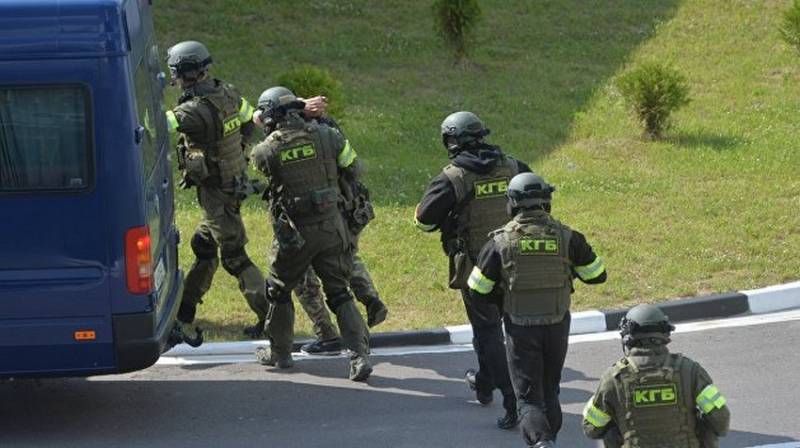 The Belarusian security forces managed to prevent a number of terrorist acts on the territory of the republic thanks to the introduction of KGB officers into the chats of terrorists. According to the ONT TV channel, the leadership of the protest actions of a forceful nature was conducted from the territory of Ukraine.
According to the publication, since the fall of last year, when the protest movement left the streets of Belarusian cities, on the contrary, there was significant activity on the Web. The new chats and channels that appeared spoke of a forceful solution to the "Lukashenka problem", calling for terrorist acts on the territory of the republic. By the spring of this year, terrorist activity has only increased.
KGB officers managed to infiltrate information resources under the guise of participants who share the views of the founders of the resources. Disguised as active users, they monitored, learned important information and passed it on to the security forces.
As a result, it was found that the Belarusian radicals had connections with curators in Ukraine and received from there
weapon
, ammunition and instructions. Despite all attempts to hide his data, it was found that the main leadership was carried out by a certain "Dis", in life - 35-year-old Denis Khromov (Hoffman) - a native of Russia, who lived and studied in Ukraine, a supporter of the Maidan and the "Right Sector" (extremist organization banned in Russia). Until September 2020, he lived in Germany, but due to bankruptcy he returned to Ukraine, from where he directed the extremist Telegram channel "Civil Self-Defense Units of Belarus, OGSB" and planned terrorist attacks in Belarus. According to available information, Khromov is directly related to the Ukrainian special services.
Thus, the Belarusian security forces managed to find all those involved, hiding under various nicknames, and then neutralize the "sleeping cells" of terrorists on the territory of the republic. This was announced in early July by President of Belarus Alexander Lukashenko.