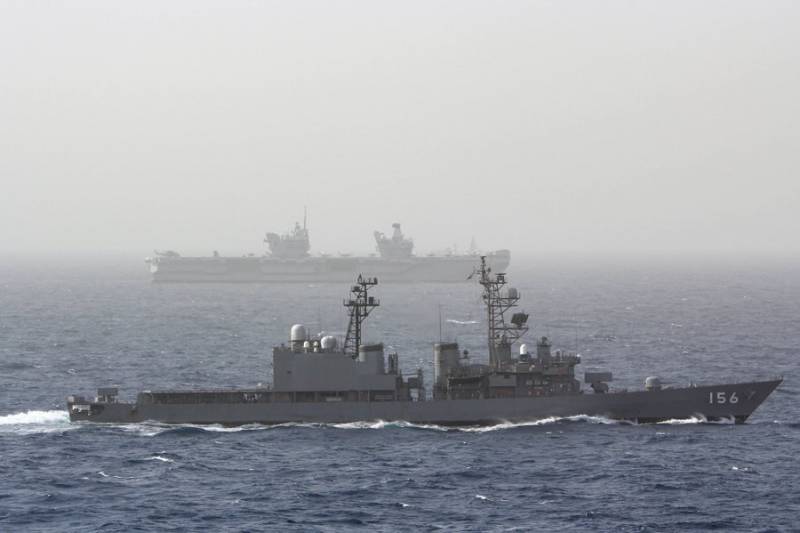 A British carrier strike group led by the aircraft carrier Queen Elizabeth reached the Gulf of Aden on its way to the coast of China, where it conducted exercises with ships of the Japanese Navy. This was reported by the Japanese Ministry of Defense.
According to the head of the Japanese military department, Nobuo Kishi, the joint exercises of the Japanese Navy and the British AUG were held in the Gulf of Aden in the Arabian Sea on July 11 and 12. As part of the exercises, joint counteraction to pirates was worked out. Details of the exercises are not given, but it is emphasized that the ships of the US Navy and the Royal
fleet
Netherlands, part of the British AUG.
As specified on Twitter on the page of the commander of the British AUG, the destroyer Setogiri took part in the exercises from Japan. At the same time, it is emphasized that upon arrival in the Asia-Pacific region, the aircraft carrier, together with a cover group, will conduct full-fledged exercises with the Japanese Self-Defense Forces Navy. Such are the plans of the commander of the AUG, according to the records.
The carrier group, led by HMS Queen Elizabeth, left the coast of Great Britain on May 22, embarking on a 28-week trek off the coast of China. One of the tasks of the British AUG will be to demonstrate the "sea power" of Great Britain, "send a signal" to China and "contain" China from an attack on Taiwan.