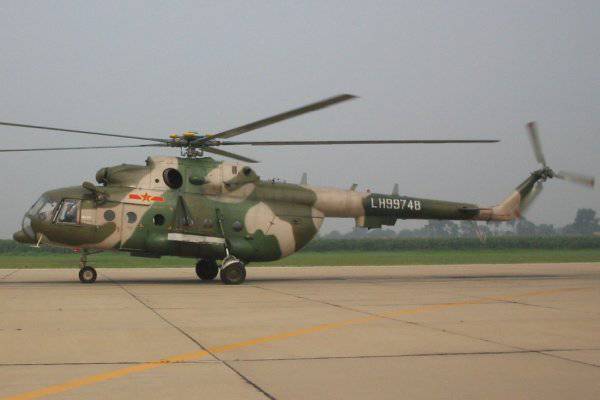 China has ordered 55 Russian Mi-171 helicopters. This model is capable of carrying up to 37 passengers or four tons of cargo and is equipped with engines that are particularly effective in "hot and high-altitude" conditions. The deal is especially useful for Chinese people who need equipment that can work in Tibet (where many areas are at a height of more than 4000 meters above sea level). China is very pleased with the Mi-17 and the older Mi-8, from which the Mi-17 comes.
Last year, China signed a contract for licensed production of the Mi-171 on its territory, but still continues to buy them from Russia, as it takes time to create the corresponding production capacity, and China needs more military transport helicopters now. Currently, China has about Mi-300 helicopters around 171, and they are becoming standard transport helicopters for China. Ultimately, China will have more than a thousand Mi-171 helicopters.
Two years ago, Chinese and Russian manufacturers of helicopters created a joint venture that will be engaged in the maintenance and repair of helicopters, mainly Russian models. This is part of a larger plan, which also implies the construction of a Mi-171 manufacturing plant in China.
M-171 is an inexpensive transport helicopter. But it can be easily equipped with weapons or converted to perform any other specialized gear. Some of the Mi-171 were even equipped with radars and other sensors used for reconnaissance and surveillance.
The Mi-171 model is based on the Mi-17 model of the 1970 era, which is an export version of the similar Mi-8. It weighs about 12 tons and is capable of carrying up to four tons of cargo. The Mi-171 has a range of up to 590 kilometers at a cruising speed of 250 kilometers per hour. The crew consists of three people, the number of passengers is as much as it can squeeze into it (up to 40 people, but usually 20-30). Up to four tons of cargo can be transported on an external sling.
Russia exported several hundred Mi-171. This helicopter is durable, inexpensive ($ 4-5 million each) and is better suited for poor countries. The development of this model was completed in the 1998 year, and Russia is actively promoting it to international markets.
Four years ago, Russia and China signed an agreement under which China pledged to stop stealing Russian military technology. It seems that the main objective of the new agreement on "military-technical cooperation" was the intention to force China to stop exporting its copies of Russian equipment competing with Russian originals. The signing of this agreement immediately led to some interesting proposals in the field of helicopters. Russia agreed to sell China six anti-submarine helicopters Helix (Ka-27) with the possibility of their joint production. Meanwhile, the deal on the Mi-171 quickly turned into a Chinese factory for the production of the Mi-171.
A proposal was also made to jointly develop a large transport helicopter based on the existing Mi-26T (20-ton helicopter capable of carrying 80 passengers). There may be other joint proposals for the production of updated versions of existing Russian models of helicopters. Such projects can be mutually beneficial, and China now has an internal source of low-cost transport helicopters, which are so necessary in large quantities for their civil and military markets.