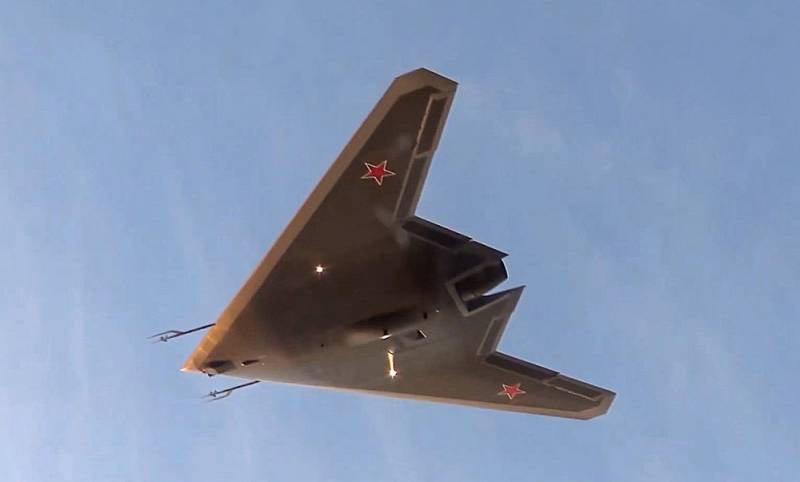 In Russia, work continues on the first attack UAV of the heavy class C-70 "Okhotnik". At the moment, flight tests of a prototype of an unmanned bomber are underway.
Most of the technical characteristics of the promising apparatus remain classified. However, Vladimir Artyakov, deputy general director of Rostec, shared some details with reporters.
According to the functionary, our UAV surpasses foreign analogues in a number of characteristics. In particular, the "Hunter" will receive wider functionality (which is not specified) and a large combat radius. In addition, thanks to AI elements, the S-70 will be able to exchange data and correct actions with the Russian fifth-generation fighter Su-57, as well as other
drones
.
Earlier, the first deputy chairman of the board of the military-industrial complex, Andrei Yelchaninov, reported that a full-fledged serial version of a heavy UAV would begin to be supplied to the troops in 2024. In the current tests, in his words, only a technology demonstrator is involved.
By the way about the latter. The S-70 made its first flight in early August 2019. Then, after 2 months, the "Okhotnik" took off in unmanned mode and worked out interaction with the Su-57. At the moment, the exchange of data between the fighter and the drone is being actively tested, which provides for the possibility of redistributing targets, evading enemy missiles and maintaining the required distance.
Let us recall that the development of the first heavy attack UAV in Russia is being carried out by the Sukhoi Design Bureau. Open sources indicate that the takeoff weight of the vehicle is 20 tons. The length of the drone reaches 19 meters with a wingspan of 14 meters, which is comparable to the dimensions of the Su-57.
In one of his speeches, Russian President Vladimir Putin stated that a domestic drone will be able to carry up to 6 tons of payload, cover a distance of about 6 thousand km and rise to an altitude of 18 km.