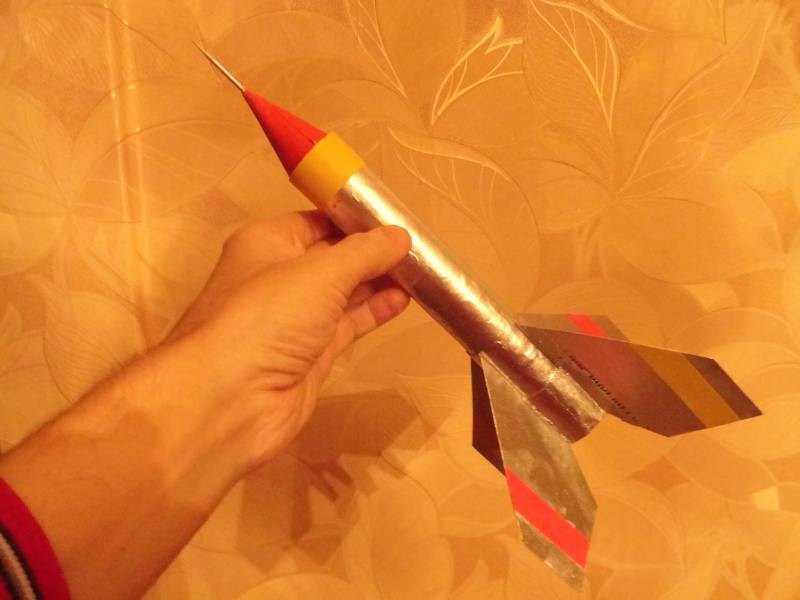 The simplest model of a rocket is a throwing one, which can be launched from an ordinary slingshot. These are the models made by the students of "A" class 47 of the school of Penza a few years ago
"Fly, fly, fly missiles,
it's time for us to solve riddles
and all earthly secrets, and secrets to reveal.
And the secrets lie along the way,
you just need to be able to find them,
you just need to be able to find them,
and you cannot pass by, by, by ".
(Song from the television program of Leningrad television
60s of the last century "Operation Sirius-2")
Creativity is around us.
It has always been and always will be that, winning in one, we at the same time lose something in another. So in the USSR there were a lot of things that we lost, and it is a pity for this lost one.
For example, we have lost a lot of good stuff from our television. Take, for example, our Penza TV ...
Our transmissions began in 1959. Every day after the locals
News
at 19:00 a feature film or concert "at the request of workers" was shown. But I also watched the concerts, because there were Mirov and Novitsky, and reprises of Arkady Raikin, and songs from my favorite films.
Our TV, for example, staged and filmed television performances with the participation of artists from the regional drama theater, including two fantastic ones: "The Planet of Tedov" and "Journey to the Morning Star" by G. Gubarev. There were very funny satirical programs: "Television wick" and "Mail of the wick". There were broadcasts from Moscow, for example, the same "Blue Light", "Zucchini 13 Chairs" or "One Hundred Ventures of Two Friends", but also the programs of Leningrad TV. And from Leningrad there was a delightful children's educational program "Operation Sirius-2".
The plot was very unusual. Two aliens flew to Earth from the planet of the star Sirius-2 -
Robots
Trix (played the robot John in the movie "Planet of Storms") and Mecha - created to pair with him, but not so spectacular, similar to Samodelkin from the cartoon. True, they did not make homemade products in it, but they talked very interestingly about the achievements of earthly science and technology.
And the program "One hundred ventures of two friends" was very interesting precisely because during one program they showed how to make this or that homemade product. For example, a camera from a matchbox. And, following the advice of the program, I made such a "camera down", and it worked. Although they had to get used to photographing, and I quickly got tired of it!
But I liked the very idea of ​​such a program with children (not like Skillful Hands, led by women and the hare Stepashka), and then I used it in my program on Penza TV "Let's Make Toys".
The transmission took place once a month, and that was enough to properly prepare for the next one after the last one. Naturally, I constantly thought about doing this to me again, and one day something happened to me.
At night I had a dream. That I came up with a thermostat for making foam parts. And he didn't just come up with it, but made it and started using it. The dream was so real, so, I would say, tangible that ... I even woke up. And in order not to forget him, I asked my wife to remind me that I had invented a machine for processing foam plastic. "Sleep!" She snapped, and ... that was it, because I immediately fell asleep.
In the morning, naturally, I did not remember anything of what happened. But my wife remembered that I "didn't let her sleep at night!" And reprimanded me accordingly. And - lo and behold! I instantly remembered everything and immediately went to draw a sketch of the machine. I drew it, thought it would work, and ... sent the drawing to the "Modelist-Constructor" magazine. Soon a letter came from there:
"Your foam lathe is beyond praise. Preparing material for publication! "
That is, they appreciated it in the magazine even before I did it. But I still had to make it, because the Polymya publishing house, where my book was supposed to be printed, demanded for each homemade product to send not only a diagram or a drawing, but also a photo confirming its production.
So I made it and made sure that it is ideal, first of all, for a rocket modeling circle, because it makes it easy and simple to make cases for rocket models. And not only the hulls, but also the nose cones.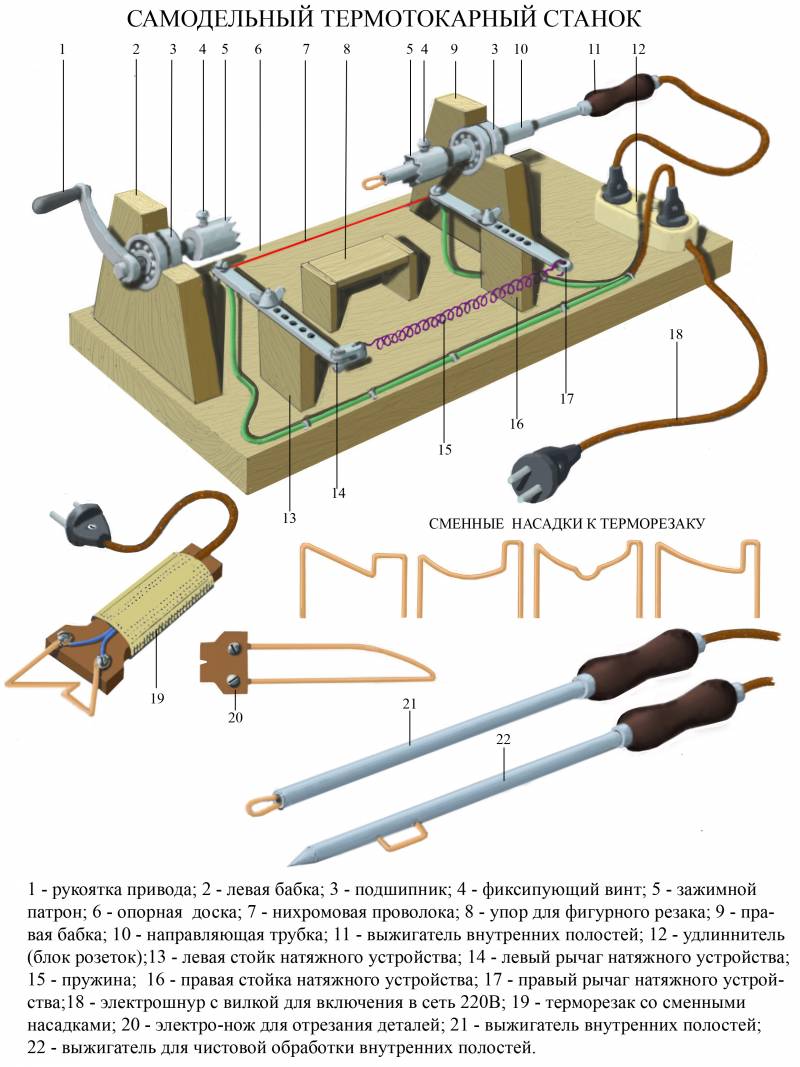 I showed this machine in my TV show "The Stars Are Calling", and right on the air, in front of the viewers, I first made a rocket body with an internal void for the engine, and then a nose cone. True, ballast had to be placed inside it, since it came out too light. After all, what is a rocket? It is a geometric shape that any lathe can easily make. And just on such, but only a thermo-lathe, they can be produced in large quantities and in rocket-modeling circles!
Its structure and principle of operation are clear from the figure given here.
The basis of it, like any lathe, is the bed (6) - a massive wooden board and two side racks: the front and rear headstock (2 and 9). In the headstock, you need to fix one or two bearings (3) and pass through them a metal tube with a thread for the drive handle (1) and a chuck (5), as which you can, for example, use a ready-made clip from the Skillful Hands machine, which, quite possibly, someone else has. However, making it yourself is also not a problem.
It is fixed to a metal tube with a screw (4). The clamp on the tailstock is also arranged in a similar way, but the distance between them is determined independently, since it depends on the planned length of your missile bodies. Only there it will be necessary to put the tube (10), the metal rod cannot be used.
The body of the future model is processed with a red-hot nichrome wire (7), fixed on a tensioning device consisting of parts 13-17. For work with a figured cutter, a stop 8 is provided.
To make the cylindrical part of the rocket body, a foam "block" is clamped between the cartridges (5), after which the voltage from the transformer is applied to the nichrome wire. One turn of the handle and a straight cylinder will be in your hands! In this case, a melted crust forms on the surface of the foam, which closes the pores and increases its rigidity.
The inner cavity in the rocket body is selected using a burner (11) - a textolite tube that freely passes through another tube (10), and at the end has a small loop of nichrome wire (21). This hole is calibrated after the body has been removed from the machine by another burner (22). Its tip corresponds in diameter to the previous one, but it has a heating element on the side, which allows it to give the inner cavity the diameter you need.
With a thermal cutter (19) with interchangeable nozzles, you can easily cut out nose (and stern, too) fairings of any shape, so making the bodies of rocket models on such a machine turns out to be quite a simple matter. Moreover, you don't even need to paint them, but just decorate with self-adhesive colored plastic and ... that's it!
Stabilizers made of thin cardboard or polystyrene are glued into the body in the cuts made on it, after which it is already possible to insert a pre-prepared engine, a parachute system into it and start this very model. Of course, it will not be possible to set records on such models, but they are just right for the preparation of the "future Korolevs"!
Moreover, even stabilizers and those can be made of foam, if you use the simplest homemade foam cutter from a hacksaw blade!
You can also make a model of a submarine with a rubber motor from foam. Like the one shown in the figure below. Again, all of it can be done on a thermal machine for processing foam. And do it very quickly. And then ... put all these parts in a box, add colorful instructions, which should indicate where to buy ballast and how to place it on the model, and ... offer it to the market at a very cheap price. By the way, paints (acrylic, they do not corrode foam!) Are also purchased separately.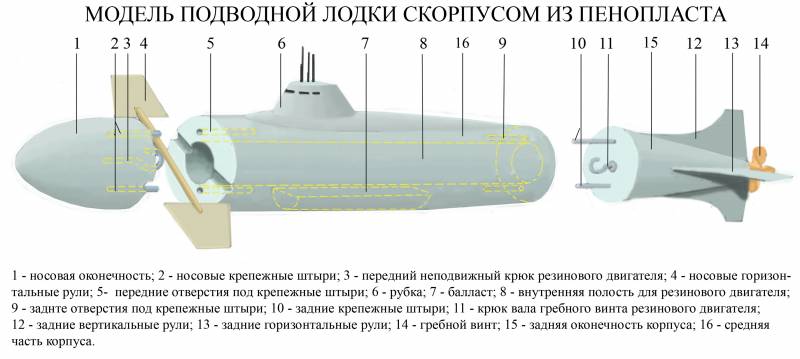 On the same machine, you can also make cases for flying (throwing!) Models by air.
But small, room, models can be glued from sheet polystyrene, which is not a problem to buy today. But in order to launch them, as, however, it is quite possible to launch without an engine and a rocket model, you need ... a pneumatic launcher.
The fact is that even the simplest rocket engine is not so easy to make, and even this is a dangerous business, by the way. You should always be wary of them - "as if something happens"! However, nothing threatens you if you assemble the Pneumostart installation and start launching your models with the power of compressed air. I personally made one myself back in 1987 for a television broadcast in the city of Kuibyshev (now Samara), where for three years I had been conducting television broadcasts for young technicians under the name "School Country Workshop".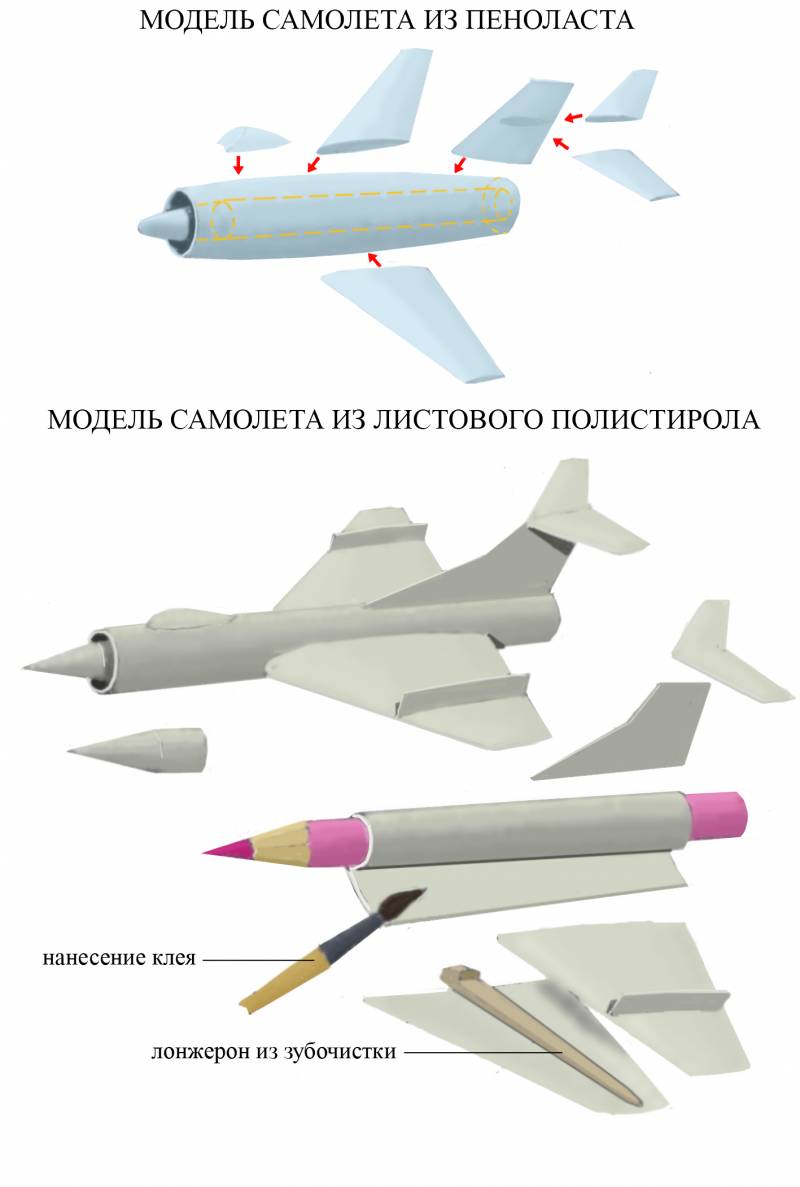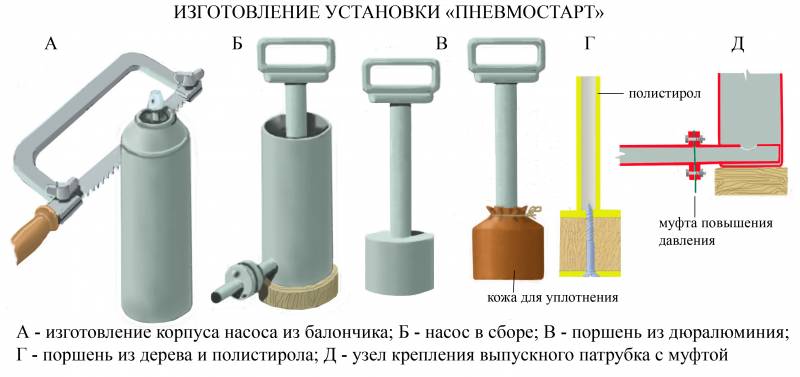 The device of the Pnevmostart launcher is clear from the figure. In fact, this is an ordinary pump made of anything, including a water pipe or even a can of nitrophos, although the latter are best not used. A wooden base (B) is attached to the cylinder (A), after which it is necessary to make a piston (C) that fits tightly into it, which can be either metal or wooden (D).
The main highlight of the design is the pressure increase clutch (D) put on the launch tube. It is made of two parts that are connected to each other on screws (the easiest way for a home-builder to do this), however, a bayonet connection is also quite applicable here.
What is this clutch for?
But for what: to increase the pressure developed by the launcher. The fact is that before starting the model, a thin rubber from a balloon is inserted between the halves of the coupling as a membrane, and this is usually enough. A model airplane or rocket is put on the tube, after which you just have to push the piston with force. When the air pressure ruptures the rubber membrane, the model will immediately be carried away. Moreover, the models that can be launched using the "Pnevmostart" installation can be made both from polystyrene and from ordinary paper.
It is curious that on the basis of this installation an interesting game "air combat" can be made, which clearly demonstrates to the children the action of modern air defense!
One installation is for launching the aircraft, the second is for the missile that will have to shoot it down! The game provides a visual representation of the work of missiles and air defense systems in general, and also develops a sense of purpose and space in children, which will be useful to them when they get behind the wheel of their own car!
PS
The author and administration of the site would like to thank A. Sheps for the illustrations he made for this article.