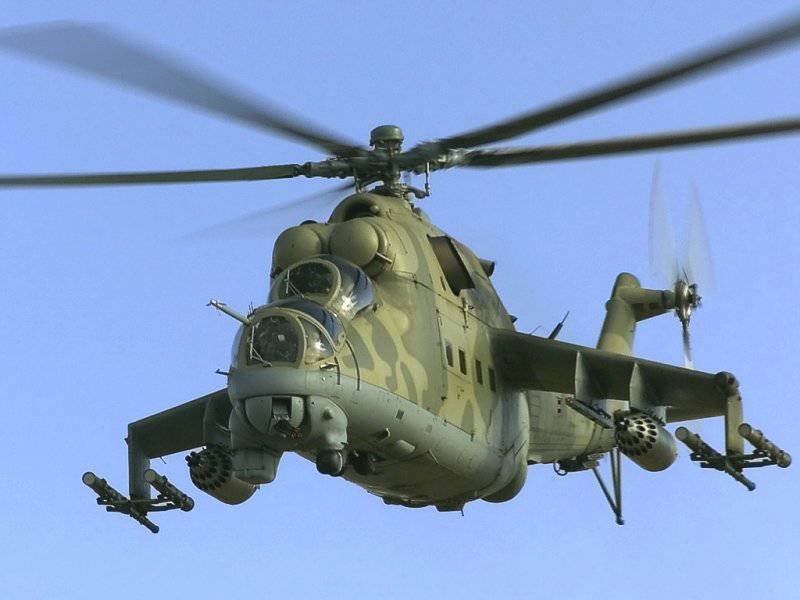 Russia delivered Brazil another batch of attack helicopters Mi-35М under the 2008 contract of the year and plans to complete the execution of this agreement before the end of this year, RIA reports
News
with reference to the Director of the World Trade Analysis Center
weapons
(TSAMTO) Igor Korotchenko.
The contract for the supply of X-NUMX helicopters MI-12 was signed in 35 year following a tender, in which, in addition to the Russian Rosoboronexport with the MI-2008M, AgustaWestland participated with an A-35 Mangusta helicopter with EC 129 Tiger. Russia should have delivered helicopters until the end of 665, but Brazil has postponed the purchase of the final batch of vehicles for an indefinite period. At the beginning of August of this year, only six Mi-2011M helicopters (Brazilian designation AH-35 Saber) were transferred to the Brazilian Air Force.
"The next three 29 cars of August were delivered to the Porto Velho airbase by the An-124 Ruslan military transport aircraft. According to TSAMTO, Brazil will receive the remaining three helicopters by the end of the year, and thus the 2008 contract of the year will be fully closed" - said Korotchenko.
He noted that Russian cars were the first specialized attack helicopters adopted by the Brazilian Air Force. New helicopters included in the 2nd squadron of the 8th
aviation
a group that has recently been relocated from Recife Air Force Base to Porto Velho.
The Brazilian Air Force sent AgustaWestland, Eurocopter and Rosoboronexport with technical specifications for the delivery of attack and transport helicopters in the autumn of 2007. Planned purchase of 10-12 helicopters in each category. The bidders submitted their responses to October 15 2007. AgustaWestland offered the A-129 Mangusta model as a strike helicopter. Eurocopter presented the EC 665 Tiger for the competition, and Rosoboronexport for the Mi-35M.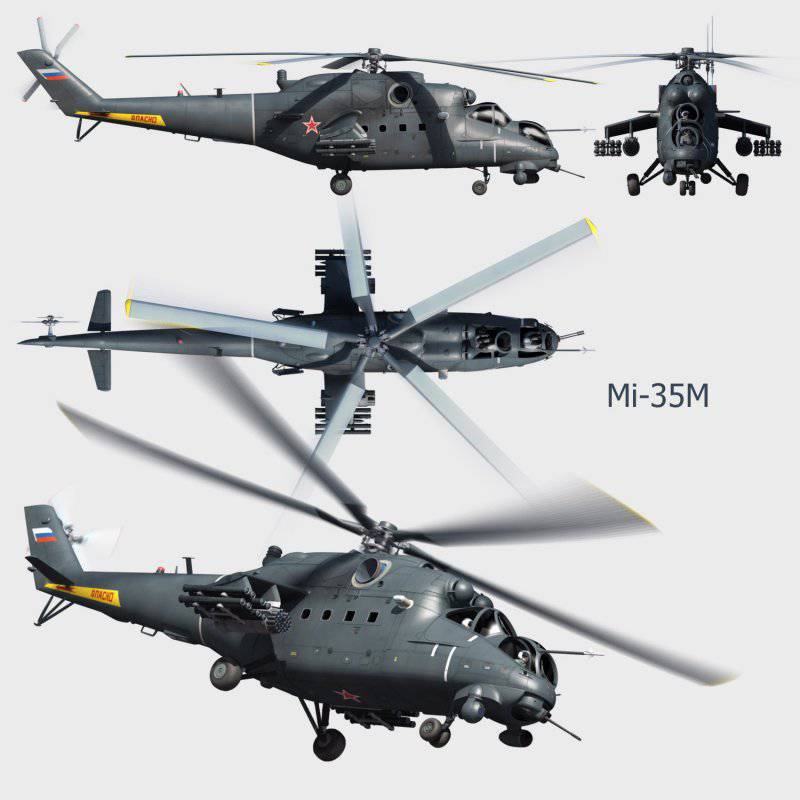 "The finalists of the contest were the Russian Mi-35M estimated at about 14 million dollars per unit and the Italian A-129 Mangusta (18 million dollars per unit). As a result of the evaluation of the proposals of the finalists, the Brazilian Air Force preferred the Russian machines," the director of TSAMTO recalled. The contract for the purchase of Mi-12M attack helicopters 35 was agreed in November 2008 during Dmitry Medvedev's visit to Latin America.
The Mi-35M is an export version of the Mi-24 multipurpose attack helicopter developed by the Mil Design Bureau. The machine is equipped with two TV3-117ВМА forced turbo-shaft engines, a new rotor system with blades made of composite materials.
The helicopter's armament is made up of the 9K113K "Sturm-V" guided weapon system, which makes it possible to carry the 9M120 "Attack" anti-tank missiles, the X-NUMX-millimeter C-80 and the 8-mm C-240. In the nose of the installed double-barreled 24-mm gun GSH-23. The Mi-23M can also carry on the pylons of a 35 or 12,7 millimeter machine gun, a 7,62 mm grenade launcher, bomb and mine load.