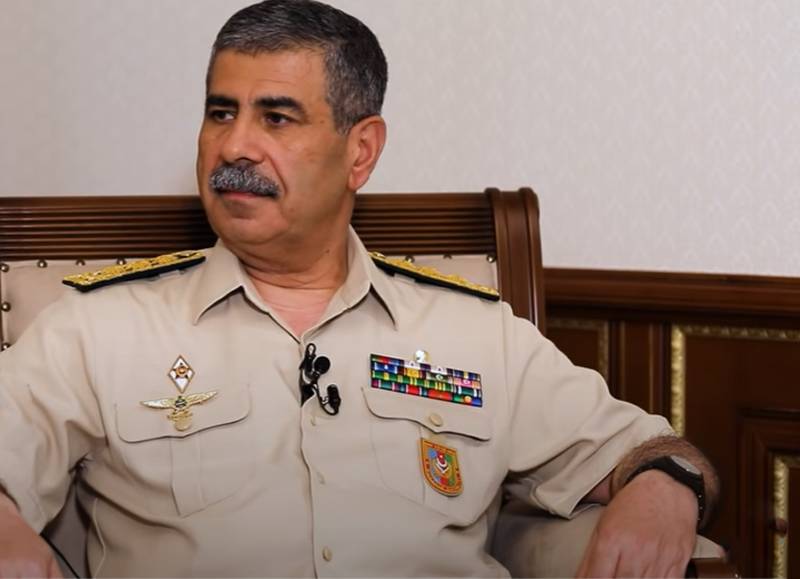 Discussion of the results of the war in Nagorno-Karabakh continues in Azerbaijan. Let us recall that as a result of the hostilities between Azerbaijan and the Armenian side, victory was celebrated in Baku. At the same time, both sides suffered significant losses, the exact data on which has not yet been presented. As a result of the hostilities, which ended on November 10 last year, the city of Shusha and several regions in and around Karabakh came under the control of Azerbaijan. The Russian Federation played an important role in the negotiation process. And today the Russian peacekeeping contingent ensures security in the Karabakh territories.
Recently, the CBC TV Azerbaijan channel published an interview with the Minister of Defense of the Republic of Azerbaijan, Colonel General Zakir Hasanov. This interview was dedicated to the day of the armed forces of Azerbaijan and touched upon the development of the country's armed forces and what happened in Nagorno-Karabakh.
General Hasanov made a special emphasis on the use of an unmanned aerial vehicle during the conflict.
aviation
... According to him, he first learned about the possibility of adjusting artillery fire with the help of an unmanned vehicle even during his academic courses at the USSR General Staff. The Azerbaijani Defense Minister noted that not so much time has passed since then, and today it is difficult to imagine the conduct of hostilities without the use of drones.
During the conflict in Karabakh, various drones were used, including the Turkish-made Bayraktar-TB2 reconnaissance drone.
According to Zakir Hasanov, the Azerbaijani army won a convincing victory. At the same time, he added that if Armenia does not want to recognize the results of the hostilities, but wants to fight, then the Azerbaijani army will fight for its land.