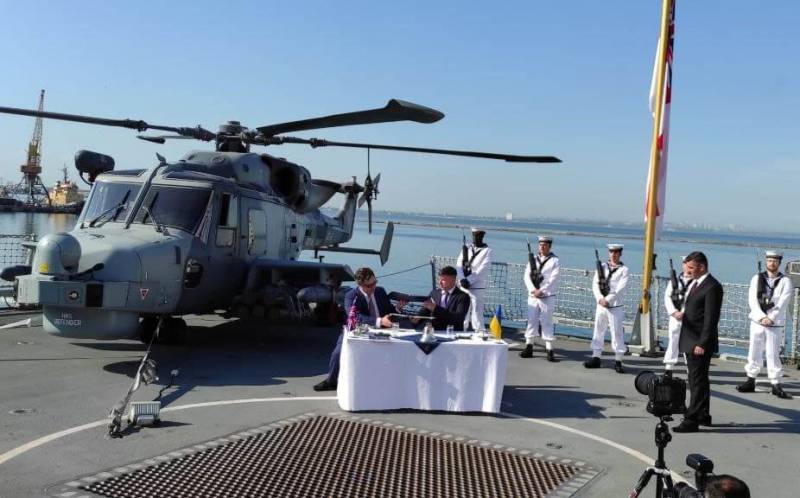 Great Britain will build warships and naval bases for Ukraine, the corresponding document has been signed. This is reported by the official publication of the Ministry of Defense of Ukraine "ArmiaInform".
Ukraine and Great Britain signed a memorandum on the implementation of maritime partnership projects. The document was signed on board the British destroyer D36 Defender, which entered the port of Odessa on June 18 together with the F805 Evertsen air defense frigate of the Royal Netherlands Navy.
On the part of the UK, the document was signed by the Minister for Defense Procurement of the UK Jeremy Quinn, on the part of Ukraine - by the Deputy Minister of Defense of Ukraine Oleksandr Mironyuk. For the sake of solidity, the signing ceremony was attended by NSDC Secretary of Ukraine Oleksiy Danilov, British Admiral Tony Radakin and British Ambassador to Ukraine Melinda Simmons, who stood on the sidelines.
According to the Ministry of Defense of Ukraine, the signed document provides for the construction of warships for the Ukrainian Navy, the restoration and reconstruction of shipbuilding enterprises in Ukraine and the construction of two naval bases for the Ukrainian
fleet
.
It is noted that this is the second memorandum signed between the UK and Ukraine. The first, signed in 2020, spoke of strengthening military-technical cooperation between the countries.
The result of the two signed documents should be the construction on credit of eight missile boats, two minesweepers and two naval bases for the Ukrainian Navy, most likely one each in the Black and Azov Seas.