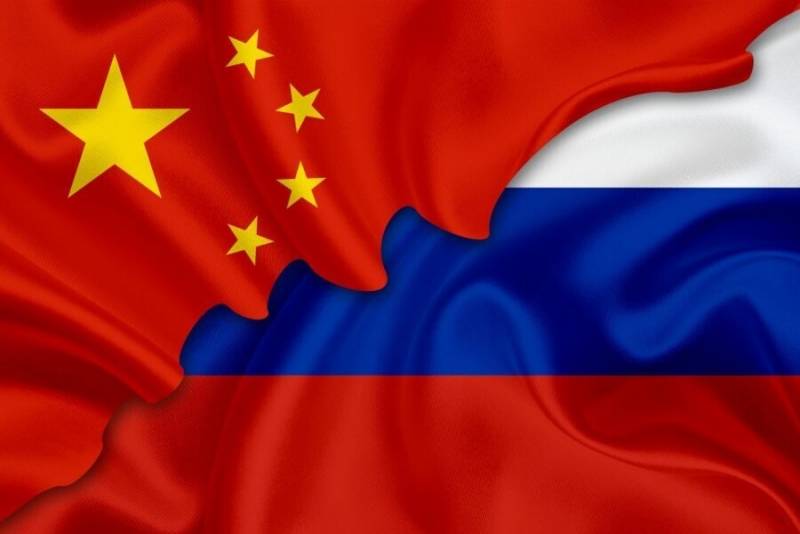 In recent years, we have been talking a lot (especially in the pro-government media) about a certain "pivot to the East" and allied relations with China. And they even considered the option of some kind of such an alliance: our developments and technologies and our resources, and besides, the Chinese industry ... The whole world, especially the United States, will shake with horror. And we…
What are we?
In general, we must take a sober look at the situation and answer the following question: who benefits? For according to this ancient Roman postulate, world politics is still spinning and spinning.
Of course, it is very pleasant to know that you have such a strong friend and ally like China. Gradually emerging into the first economic place in the world and training the largest army of our time.
However, how true is this? I mean the terms friend and ally?
This is not very consistent, it seems to me. The whole problem of Russian foreign policy is that we absolutely do not know how to be mutually beneficial friends. Well, we just don't know how historically. We only learned to buy temporary friends who, with great pleasure, then "throw" us and openly betray us. But these are the indispensable costs of buying allies for yourself, this is normal and there is no getting away from it. So it was, so it is and so it will be.
And with China everything is exactly the same as with some kind of Vietnam or Sudan. First, billions are poured in, then these billions are forgiven.
But China does not need money in the direct sense. China needs territory and resources. And the territory is even more important, the PRC has disputes with all its neighbors, Japan, India, the Philippines, Vietnam. If it came to human casualties in clashes with India for a piece of the Aksaychin salt desert, which is located at an altitude of 5 thousand meters, what to talk about on the topic of any islands, both normal and artificial?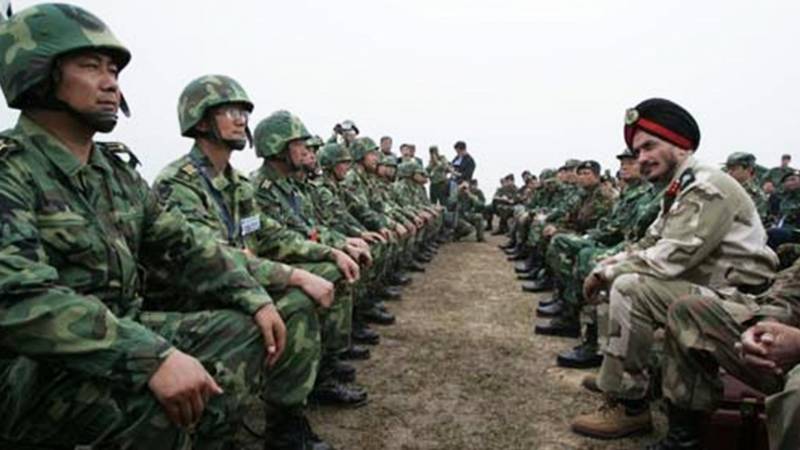 By the way, at one time we were also in a state of disputes over territories. But Russia was the only country that ceded territory to China. We are talking about the islands of Bolshoy Ussuriysky and Tarabarov. There the situation was peculiar historically, but it was resolved by the transfer of territories to China.
Yes, the areas are small. But to call it another victory of our diplomacy somehow does not turn the tongue.
As for resources, yes, we are probably the first assistant of China. Thanks to supplies to China, the miners of Kuzbass did not die out like dinosaurs, hundreds of thousands (if not more) hectares of Siberian forests were given to China for felling, there is more than enough information on the Internet about how the Chinese are cutting down the taiga.
And then there are regular fires. Apparently, to camouflage clearings.
But money can be remembered from this side. Since the beginning of the XNUMXs, we could hear numerous complaints that Chinese industrialists easily copy our military developments, especially without bothering with payments.
Yes, the PRC received a certain amount of military developments from the USSR. They got some of them on their own, buying up from the same Ukrainians or ...
Thus, the PLA gets into service with new equipment, without bothering to acquire patents and licenses and saving just mountains of dollars on it.
If you look at our neighbors and members of the former USSR and the CIS (well, also actually a former conglomerate), you can see China's huge interest in the republics of Central Asia. There, of course, there is no talk about any technologies. There is only money.
Many politicians and economists have repeatedly said that China is squeezing Russian business out of the region. This causes discontent among many and even reached anti-Chinese protests in 2019 in Kazakhstan.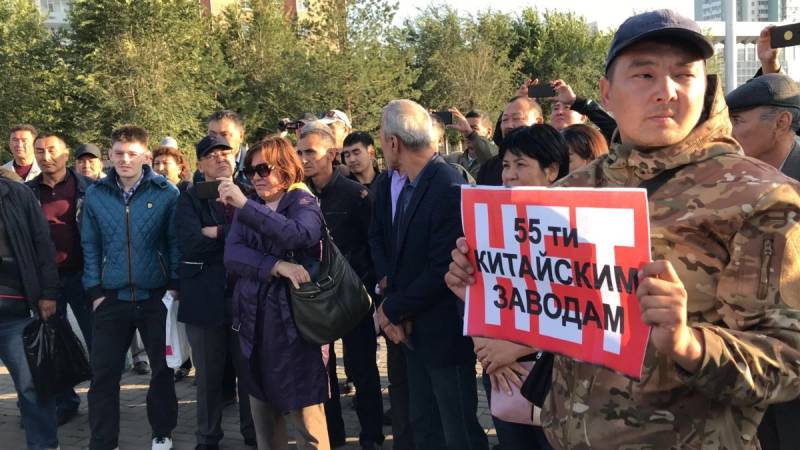 It is believed that once there was a redistribution of spheres of influence between Russia and China in Central Asia. The republics of Central Asia seem to be politically still in various blocs, the creation of which was initiated by Russia, but economically, China is beginning to play the first violin, buying up shares of all enterprises that it can reach.
According to 2018 data, mainly from China to Kazakhstan, machines, equipment and mechanisms are supplied, which account for 46,1% of the total share of Kazakh imports. Mineral products of the energy direction go from Kazakhstan to China. The share of these products is 46,9% of Kazakhstan's exports.
Russia, by the way, is still sadder. Russia also imports machinery and equipment from China with a 46,2% share in imports, and exports mineral fuels, oil and petroleum products. The share in export is 71,6%.
This begs the question: what difference does it make who has a gas station country, the West or the East? If, in any case, the role of Russia is rather unenviable - a raw material appendage.
Both Kazakhstan, in the development of the energy sector of which China invested almost 2005% of the 2019 billion dollars of Chinese investments from 70 to 35, and Russia, 36% of the 62 billion dollars of investments in the fuel and energy sector were invested in the fuel and energy sector.
Investing money usually involves making a profit, isn't it?
And China in general always behaves like a very tough partner. They can yield only where they themselves really cannot, as, for example, in the aircraft industry. But if the PRC invests, it will squeeze out every penny for itself, not to mention the cents.
The PRC is not the USSR. The Soviet Union could afford to be torn away from itself in order to support all those who "go to communism." Especially in African countries. China, on the other hand, plays the role of a zealous owner, a kind of "fist" who does business solely for its own benefit. Today China is an interesting fusion of communist ideology and capitalist economy. Plus a certain amount of clearly imperial ambitions.
That is, the set is really interesting: a developed industry is combined with an openly totalitarian rule of one party (yes, in general, there are parties besides the CCP in China, but they are the same as ours, just for the sake of form), censorship, a clipped Internet and the eternal rule of the Communist Party.
So even though the Chinese say that they are all communists and follow the precepts of Marx, Engels and Lenin (yes, they respect Stalin very much!), And the red flag, and the Communist Party at the head of the country, the state owns key enterprises, the state plan, and so further, but ...
But on the other hand, it is a completely capitalist society, minimal social security for the population, hundreds of billionaires, the share of small and medium-sized businesses in the country's GDP is higher than in many European countries (we are generally modestly silent about Russia) and constant territorial disputes with neighbors.
Communist ideology? Excuse me ... Doesn't fit at all.
Well, buying up assets where China has interests. And China has interests in many places. And the purchase will continue, and in this China will not yield to any Western country. Or, on the contrary, it turns the situation to its advantage at all levels.
As an example, as the best example, this is Power of Siberia. Remember how many shouts we had about the fact that now China will give billions of dollars, how it will be useful for the development of the country. And as China said, "Do you want to sell us gas? We buy. Build a gas pipeline. "
And wiped off and built. At your own expense. And at what price China buys gas is still not really known. But the way the Chinese know how to bargain is clearly not to the maximum. And they take, frankly, not so hot. The workload of Power of Siberia does not exceed 55%. And they are going to build a second gas pipeline. For what?
Strange approach. Considering that we are not even one of the top ten trade partners of China, it is not very justified to talk about some kind of strategic partnerships and even alliances. More precisely, you can talk as much as you like, make loud statements, give out tons of analytics ... But all this will be perfect about anything without similar statements from China.
And as they were not in the past, so obviously they will not be in the future.
Meanwhile, back in that memorable 2014, when everything was just beginning, when the sanctions were just being planned, we were seriously told that in the West we had nothing to catch, everything is rotten there and they do not like us there. And we need to turn to the East, where a strong and powerful China, which will provide investments, will open its rather big market for Russian goods ...
And where is everyone? No, for the role of a gas station country, China normally designed us like that. Nothing worse than European countries. Maybe cheaper, maybe not. But the promised economic growth due to work with China somehow did not happen. According to our Accounts Chamber, Russia's economic growth rate was almost four times lower than the world average. And the volume of investments in 2020 became a record one. But not in that sense, but the lowest since 1994. That is, even during the crisis years it was better with this.
And I just want to state that they have left the West, but in the East no one is happy about us. We are such strange koloboks ... But even looking up to ask: where is the promised economic miracle? Where are the victory marches? Why only the mournful howl of a hurdy-gurdy about the fact that "there are enemies around and we must be patient a little more."
And now some numbers. For the pre-crisis and dockyard 2016, when everything was still going well. The volume of China's GDP was estimated (Global-finances.ru) by the IMF at $ 11 billion. The same figure for Russia is $ 221 billion.
In 2020, China's GDP was $ 14 billion. Russia has $ 720 billion.
So, Russia's GDP is 10 times less than China's. Economically, we do not look equal. And we are not even among the top ten trading partners.
And if you also take into account the continuing decline in everything, starting from the ruble exchange rate and ending with the population (decline in 2020 - 325 people) ...
Where, tell me, you can see interest for China, besides knocking out more acceptable prices for energy resources?
Today, China, despite the crisis and pandemic, is showing small but steady economic growth. And he will continue to demonstrate it. In reality, China really wants to be on top of this world. And the country has almost everything for this. Well, maybe there aren't enough aircraft carriers. And even then, at the pace at which their fleet is developing, we can safely say that for now.
And you have to be a very self-confident person to seriously believe that China will want to share its leadership. The USA has never done this, the USSR has never done this. The principle "And who is on us with Vasya" is not good for Vasya.
"Vasya", that is, China, has its own way. From disregard for such superfluous manifestations of human stupidity as democracy to freedom of speech and freedom of behavior. Although we are also trying to portray something like that by the forces of our power. It is a completely independent and independent country.
And, importantly, China and Russia have never been allies. Historically. We had so-so relations under the Romanovs, we had strained relations under the Soviet regime in the initial period, and even under the USSR it somehow did not work out. Yes, in World War II we freed the honor of China from the Japanese. But themselves and not particularly asking the opinions of others. But what opinion could there have been in 1945?
And what really started under Khrushchev, who publicly denigrated Stalin, who is still in authority in China? Deng Xiaoping generally openly stated that the paths parted from the USSR, and he proclaims reconciliation with the West.
Mao Zedong already separated the PRC and the SSR in different directions, and Deng Xiaoping, having drawn closer to the West, did not put up with his former "older brother."
For this, China received production and technology from the West, and on this basis China's economic development began.
By the way, in China there are such interesting moments as the "Museum of Northern Territories" in the city of Aigun, where the Aigun Treaty was signed, which drew the border between the two countries along the Amur. For this agreement, the diplomat Count Muravyov became Muravyov-Amursky.
Here's a map from this museum.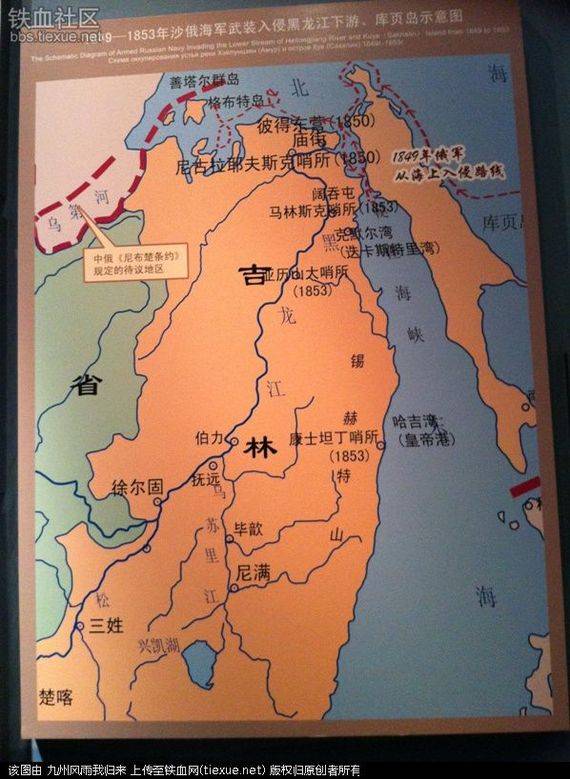 In general, Russians are not allowed into this and similar museums. Absolutely. After all, the expositions tell about the atrocities of the Russians, the pogroms and the expulsion of the Chinese from Blagoveshchensk. About mass killings.
By the way, every new chairman of the PRC, according to established tradition, is obliged to visit this museum.
Russia did not apologize to China, so this incident may continue in the future. Or used as a precedent.
Today in China they don't talk about it loudly. Not Japan. And those "controversial" little lands - well, they cannot be compared with the Kuriles. But this agenda can be opened at any time.
And I am sure that if China understands that it is possible to snatch, this agenda will not only be opened, it will be put at the top of the day.
And in light of the fact that along with the prosperity and growth of the economy, state propaganda is working, which is not very loud, but says that you need to take care of national pride and get even for the humiliation of the 19th century. Yes, indeed, then everyone who wanted to wipe their feet about China. The contracts and their terms were, to put it mildly, discriminatory.
And the Romanovs are also on the list of "tyrants". Well, where the Russian tsars are, there is Russia.
So you know, so-so allies from Russia and China. Strongly so-so. Especially China, which already receives our energy resources, having such a good stone in its bosom. Yes, we are friends, so to speak, by the will of circumstances. Because there is the United States, which is actually stronger than China, and Russia, and Russia and China combined.
The United States also has a bunch of allies. Unlike China and Russia, which, to put it mildly, are not rich in this. Allies.
And if the United States begins to have very big (imagine) problems? Will China share power over the world, or will it independently carry the torch of communism to everyone? Including us, who have long spit on these very ideas of a bright communist society?
China today is not particularly zealous in showing itself as such an equal partner, and even if the States give up ...
The only thing that is a little consoling is that despite the general growth of everything, the prospect of catching up and overtaking, although there is, is not very strong. In China, there are problems with demography (300 million retirees is a lot) and with the economy.
But in any case, no matter how they tell us that "We and China" will break everyone, we will leave it for Kiselev. China will be friends with us as long as it is beneficial to China. And then, just like many others, he will give up if Chinese interests demand it.
So the issue of alliance is a very shaky issue. Like all Russian-Chinese relations, however.