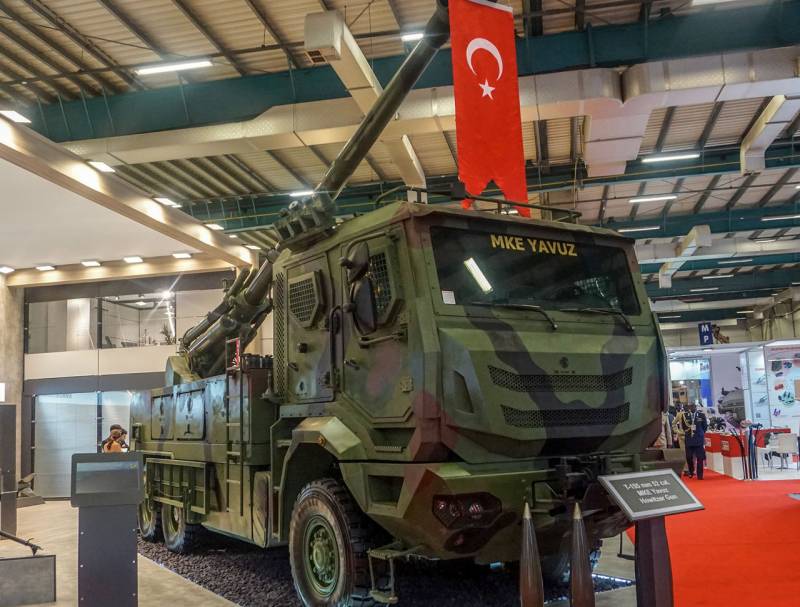 Turkish wheeled ACS T-155 Yavuz has successfully completed the next stage of testing. According to Defense Turk, in the second half of May, the self-propelled howitzer was subjected to fire tests.
According to the publication, in the last tests, the ACS fired six consecutive shots, placing all the shells in the target with a deviation of 1 meter. No other test details are provided. It also remains unclear whether the tests of the howitzer have already been completed or will continue.
The current prototype of the T-155 Yavuz self-propelled guns was officially presented in 2017 at the IDEF 2017 international arms exhibition. Tests of the artillery mount have been going on since 2018.
The howitzer in its layout and parameters is very similar to the French CAESAR ACS.
The Yavuz self-propelled gun is a semi-automatic howitzer mounted on a 6 × 6 off-road truck chassis. The crew of a self-propelled howitzer is 5 people, a diesel engine with a capacity of 480 hp. allows the car to accelerate on the highway to 90 km / h with a power reserve of up to 600 km. The cabin is armored, there is protection against weapons of mass destruction.
Caliber 155 mm, rate of fire not less than 4-6 rounds per minute, barrel length - 52 caliber. The prototype's ammunition load was declared at 18 rounds, but this value could change. It can use 155-mm NATO shells, as well as active-reactive ammunition. The declared firing range is from 18 to 40 km.
The development is carried out by the Turkish company Makina ve Kimya Endüstrisi Kurumu (MKEK).