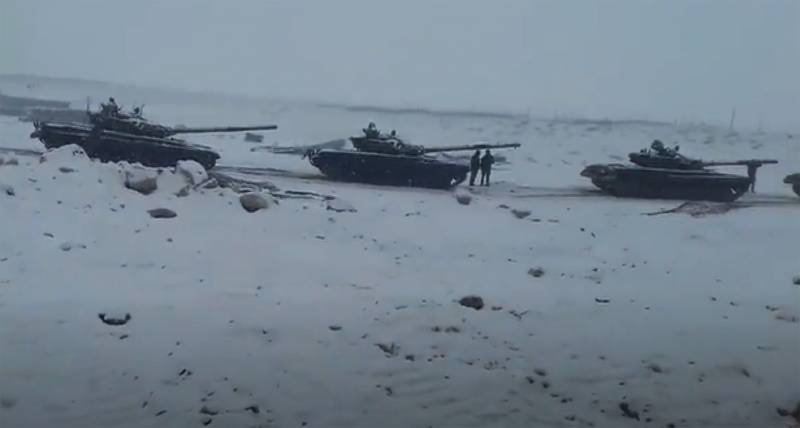 India has reiterated its plans to upgrade its fleet of armored vehicles. In the Indian edition of The Print, citing representatives of the high military command, it is reported that the Ministry of Defense is planning to purchase 1770 "
tanks
of the future. "
The material noted that they intend to carry out the purchase until 2030. And the subject of the purchase is a promising FRCV armored vehicle, which, by and large, is a modular platform. One of its variants in India is going to be turned into the main battle tank of the Indian army.
It is important to note that readiness to purchase 1770 FRCV in India is being said for which year. The first relevant statements were made back in 2015. In 2017, some details began to appear in the media, which indicated "the readiness to replace the T-72 tanks in the Indian armed forces with FRCVs."
"Tanks of the future," as the Indian Defense Ministry calls them, are planned to be purchased from manufacturers "along with technology transfer, logistics, and an engineering support package." The very mention of technology transfer raised questions in the Indian expert community. One of them concerns whether this means that FRCVs may be foreign-made armored vehicles?
The Ministry of Defense has not yet answered this question.
At the same time, the terms of selection of potential suppliers-manufacturers of such equipment are indicated. The final decision is planned to be made by mid-September this year.
Earlier, India announced its intention to purchase 350 light tanks, "which could be effectively used in mountainous areas, including Ladakh." Moreover, the T-72 and T-90 tanks, which the command placed in this region, were called "not quite suitable", although earlier in New Delhi they stated that they have undeniable advantages over the Chinese "mountain" Type 15 - and in terms of firepower, and security.
The pricing parameters of the proposed contract "to replace the T-72" in India have not yet been reported.