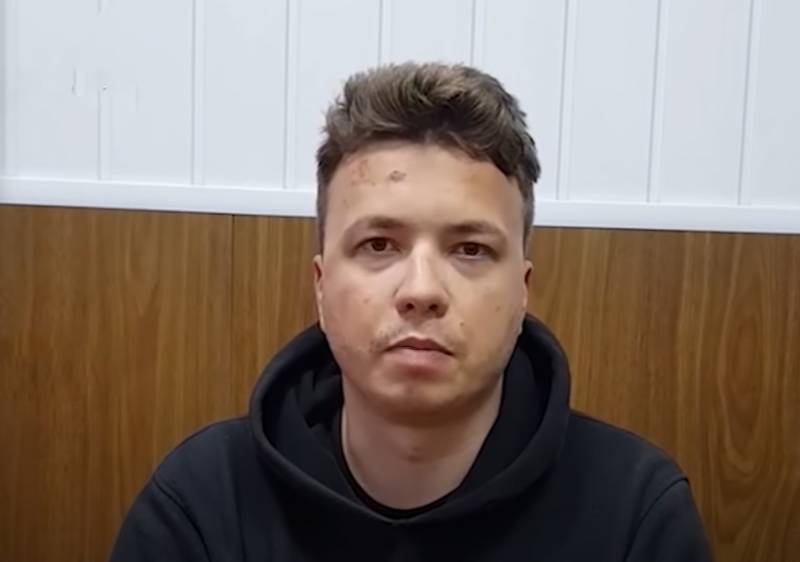 A short excerpt of Roman Protasevich's procedure for answering the investigator's questions has appeared on the Internet. We are talking about the ex-editor-in-chief of the Nexta channel, detained at the Minsk airport, the plane with which it made an emergency landing after reports of a bomb allegedly on board. This is the second video with Protasevich after his arrest.
During the interrogation, the Belarusian oppositionist claims that he was "framed". At the same time, during the interrogation, some words of Protasevich are discussed.
I'm sure I was just set up. Because I never said this anywhere, and as soon as I said it, I immediately found myself in Minsk. Right away!
In fact, we are talking about the fact that Protasevich was "framed" by his Western curators, who had previously used his Internet activity in their own interests. At least, this is how the ex-editor-in-chief of "Nekhta" and the Belarusian side, which allowed this publication to appear on the Internet, are trying to present the situation.
The very publication on the network is under the question of who benefited from it in the first place.
It should be recalled that representatives of the LPNR had previously turned to Minsk with a request to extradite Protasevich to them in connection with the presence of evidence of his participation in hostilities as part of one of the extremist Ukrainian armed formations. Lukashenka said that the process will take place on the territory of Belarus. On the territory of Belarus, according to the President of the country, there will also be a trial against the Russian citizen Sofia Sapega, who is Protasevich's companion, arrested at the Minsk airport. Alexander Lukashenko made his statement during a meeting with Vladimir Putin in Sochi.