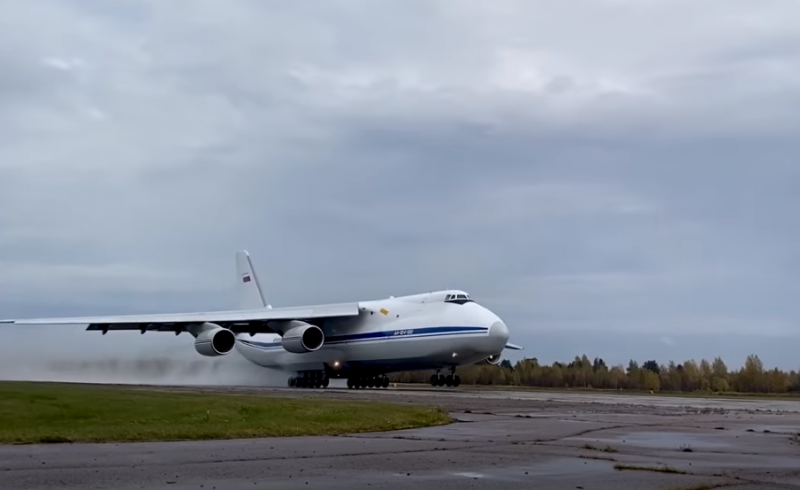 Despite the coming holiday - the Day of military transport
aviation
, VTA pilots continue to carry out combat training missions as part of their daily activities, as well as conduct training.
On the YouTube channel of the TK "Zvezda", a video of the training of the crew of the heaviest aircraft of the VTA of the Russian Aerospace Forces - An-124 "Ruslan", has appeared. As stated in the description for the video, the crew worked out piloting the aircraft with one "failing" engine out of four installed on the aircraft. The exercises were held in the Tver region.
According to the Zvezda reporter, who was on board the plane, although the An-124 is very large, it is operated by only two people - the commander and the pilot. At the same time, the crew includes several more people: navigators and engineers.
According to data from open sources, the operators of the An-124-100 Ruslan aircraft in Russia are the military transport aviation of the Aerospace Forces, the 224th flight unit is a subsidiary of the Ministry of Defense, as well as the Volga-Dnepr company.
This spring, at a meeting in Ulyanovsk at the Aviastar-SP enterprise, Defense Minister Sergei Shoigu was asked to resume production of Ruslans at the Ulyanovsk aircraft plant, since the enterprise has full production technology, since 36 An- 124 Ruslan.
In 2019, it was reported about work on the An-124-100M with completely Russian components. At the same time, Kiev announced that the new Russian aircraft should receive a different name, since the An-124 Ruslan is a "Ukrainian aircraft". It was also stated about the inability of Russia to resume production without the participation of Ukraine.
Earlier, the Russian Ministry of Defense advocated the resumption of production of Ruslans, but the head of the Ministry of Industry and Trade Denis Manturov rejected the urgent need for this, saying that the repair of the existing An-124 fleet would allow them to operate until 2040, and a new super-heavy aircraft would appear there.