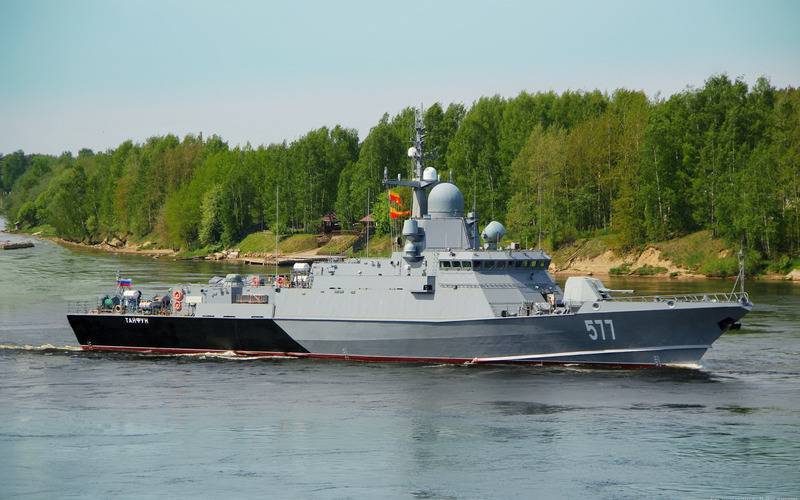 The Baltic Fleet will be strengthened by two small missile ships of projects 22800 "Karakurt" and 21631 "Buyan-M". Both ships will be part of the 36th MRK brigade.
The Baltic Fleet is completing the rearmament of the 36th MRK brigade, which includes: the 1st Guards missile boat division and the 106th small missile ship division. Until the end of this year, it will include two small rocket ships, albeit of different projects. We are talking about MRK "Burya" project 22800 "Karakurt" and MRC "Grad" project 21631 "Buyan-M".
Although both ships are in various stages of construction, both are due to replenish the Baltic Fleet this year.
"News"
with reference to the Ministry of Defense. MRK "Tempest" has already been built and is being tested. This ship was laid down at Pella in December 2016. According to the plans of shipbuilders and the Russian Navy, the ship was supposed to start factory and sea trials in 2019, and in 2020 it was to become part of the Russian
fleet
.
RTOs of this project have a length of 67 meters, a width of 11 meters and a draft of 4 meters. Displacement - about 800 tons, cruising range - up to 2500 miles, autonomy - 15 days. The main armament - one PU UKSK (universal ship complex) 3S14 RK for 8 KR "Caliber", one 76-mm gun mount AK-176MA, ZRPK Pantsir-M, two 14.5-mm or 12,7-mm machine gun MTPU.
MRK "Grad" project 21631 "Buyan-M" is still under construction. By the end of the year, he must pass all tests and join the fleet.
The ships of the project 21631 "Buyan-M" are the modernization of the project 21630 "Buyan" and belong to the multipurpose ships of the "river-sea" class. Designed to protect the economic zone of the state. The main armament is the Kalibr-NK long-range universal missile system for eight vertical silos. Displacement 949 tons. Length 74,1 meters, width 11,0 meters, height 6,57 meters, draft 2,6 meters. The maximum speed is 25 knots. Cruising range - 2500 miles, autonomy - 10 days. Crew - 52 people. A water-jet propulsion unit is installed.