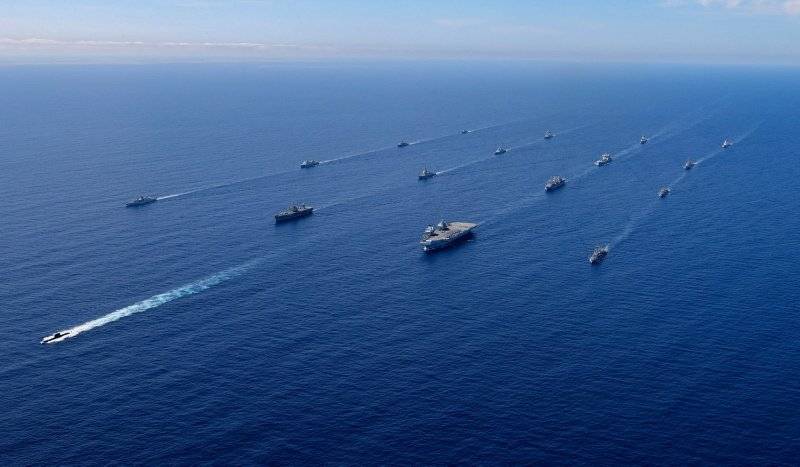 A British carrier group, led by the aircraft carrier HMS Queen Elizabeth, bound for the Asia-Pacific region, entered the Mediterranean. This was reported by the British media.
In addition to the aircraft carrier itself, the AUG includes two Type 45 destroyers - HMS Diamond and HMS Defender, two Type 23 frigates - HMS Kent and HMS Richmond, two support vessels - RFA Tidespring and RFA Fort Victoria, as well as the American missile destroyer USS The Sullivans ( DDG-68) and the Dutch frigate HNLMS Evertsen (F805). The group is accompanied by an Astute-class nuclear attack submarine. The HMS Queen Elizabeth wing included 18 fifth-generation F-35 fighters, including eight British F-35Bs and ten F-35Cs of the US Navy, as well as helicopters.
On May 31, 2021, the AUG, passing Gibraltar, entered the Mediterranean Sea. How many AUG will be in this area is still unknown, but it is trying for some time, since the group will split up here. As previously promised by the British Ministry of Defense, one destroyer and two frigates will go to the Black Sea. Moreover, one of the frigates will be Dutch. The task of this "troika" is to support Ukraine against the background of "aggressive actions" by Russia.
It can be said with a high degree of confidence that the next naval exercises "with the participation of the Ukrainian Navy and NATO countries" will take place in the Odessa region soon.
After the reunification of the aircraft carrier group, the AUG will travel to the South China Sea region, where it will provide "free shipping" near China. At least that's what London is hoping for.