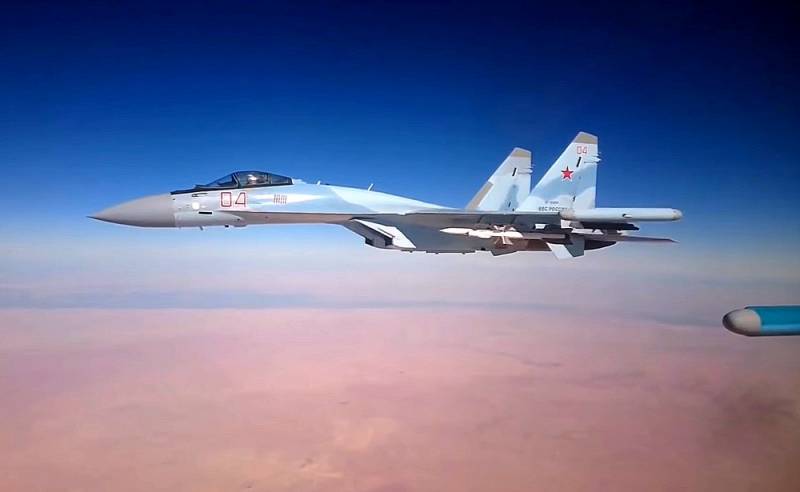 The Russian Su-35S aircraft is the culmination of the development of the fourth generation fighters. However, despite its excellent combat characteristics, it continues to be equipped with outdated missile weapons.
This opinion is expressed on the pages of Defense Turkey.
As the author explains, after the Russian Air Force's Su-24M was shot down on 2015 November 24 by a Turkish
aviation
allegedly "for violating the country's airspace", a group of four Su-35S was sent from the Russian Federation to Syria. They were responsible for escorting aircraft used to bombard enemy positions.
The most striking element of these operations was that the plane was equipped with old R-27 missiles instead of the new R-77. This suggests that the problems with the R-77 were not completely resolved, and the Russians, who could not risk in a possible conflict, preferred to fly with old missiles.
- indicated in the Turkish press about the use of the machine in Syria.
As the author explains, the Su-35S, which was also purchased by China and Egypt, was repeatedly offered to Turkey after it was excluded from the F-35 project. So, he participated in the Teknofest 2019 exhibition and performed demonstration flights in Istanbul.
The Su-35S has high maneuverability, excellent aerodynamic characteristics and powerful engines. This is a very dangerous enemy for all aircraft in close air combat. With the ability to fly at super cruising speeds, powerful radar, electronic warfare systems and long-range missiles, it is capable of effectively fighting beyond line of sight. Thanks to these characteristics, it can easily provide superiority over all existing 4th generation aircraft.
- noted in Defense Turkey.