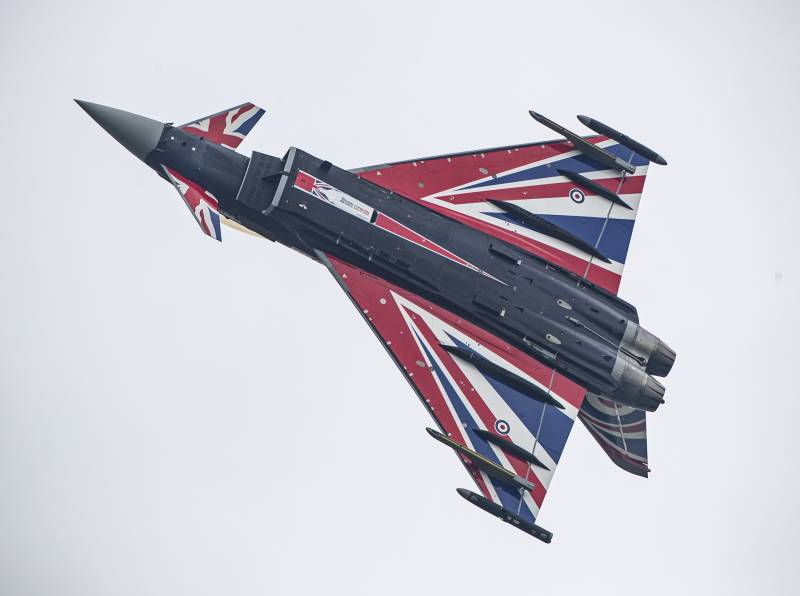 The 29th Squadron of the British Air Force, based in Coningsby, Lincolnshire, has unveiled the Typhoon fighter with a "very patriotic paint scheme," the country's Defense Department said.
In this livery, the plane will become the highlight of the airshows
- noted in the British edition of the UK Defense Journal.
I am extremely proud to literally wave the country's flag on this plane. I'm sure airshow viewers over the next two years will share some of this pride when they see the plane.
- said the pilot of the Typhoon fighter.
29th Squadron Commander Jim Calvert explained:
We are extremely honored to showcase the Typhoon in stunning livery. This new paint scheme gives me great pride.
It is assumed that aircraft with the British flag for the entire hull will participate in air shows in the country and abroad. They will also be used by pilots from the Coningsby Squadron, which specializes in training Typhoon pilots.
The Typhoon FGR4 / T3 is, along with the F-35B, one of two fighter models operated by the British
aviation
... Earlier, until 2020, the Tornado aircraft was also in service.
The new color scheme for the Eurofighter Typhoons @RAFConingsby is being revealedhttps://t.co/ogfJ3bD9Ispic.twitter.com/BW0x5SGXfA

- BBC Radio Lincolnshire (@BBCRadioLincs) May 28, 2021