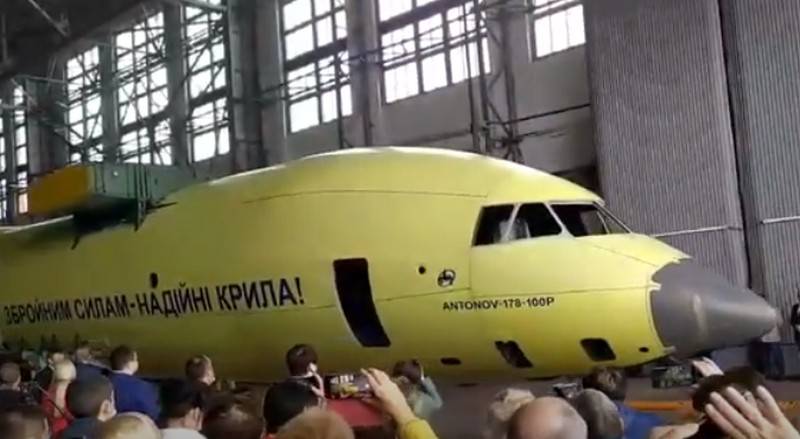 When, at the end of 2020, the Ukrainian government ordered three An-178 versions of the 100R from Antonov, the project of a new aircraft got off the ground. Until that moment, the only customer of the An-178 was Peru, which also purchased three aircraft for its Air Force. Five months later, the fuselage of the first vehicle being built for the needs of the Ukrainian army is ready.
The new plane gives them a reason to be proud
- noted in the Flug Revue about the Ukrainian military transport An-178-100R, intended for the country's air force.
Assembly of the first building began at Antonov in March this year. It is planned that by the end of the year it will receive engines of the D-436-148FM type, developed by the Ukrainian enterprises Motor Sich and Ivchenko Progress.
The fulfillment of this contract is a matter of honor for our company. Therefore, our employees will do their best to fulfill their obligations with high quality and on time.
- said the general director of "Antonov" Sergei Bychkov.
The German press calls the modernized modification of the An-178-100R "a universal, economical and durable version" of the aircraft, which took off for the first time in 2015. It was developed specifically for the needs of the Ukrainian Air Force and is considered the successor to the outdated An-12 and An-26 turboprop models.
At the same time, the An-178-100R boasts durability, powerful characteristics and low operating costs.
- explained in the German edition.
The maximum payload of the new aircraft is 18 tons, the flight range is 4200 km, and the cruising speed is 825 km / h. The spacious cargo compartment has a volume of 167 cubic meters, allowing to accommodate more than 90 soldiers or 86 paratroopers in equipment (or up to 48 stretchers for the wounded). It also provides for the air discharge of cargo and equipment weighing up to 7,5 tons.