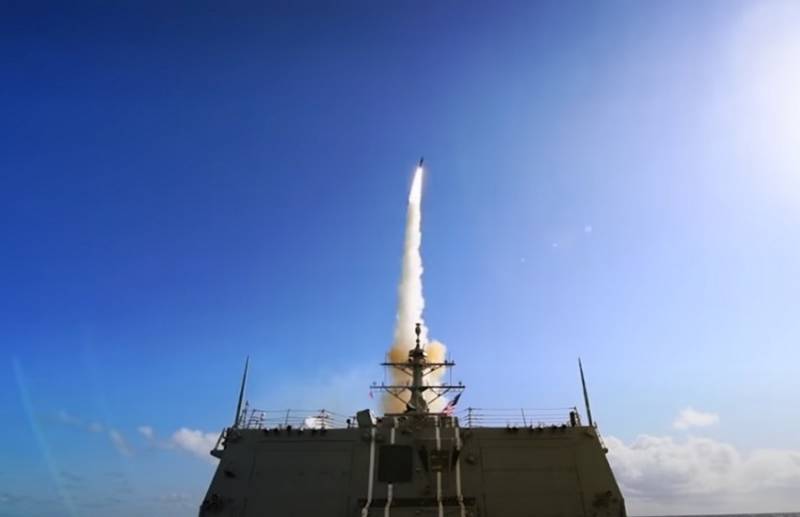 The next tests of the American shipborne system Aegis using SM-6 anti-aircraft missiles ended in failure. As stated in the widespread statement of the Pentagon's Missile Defense Agency, the anti-missile systems were unable to intercept the targets.
The tests reportedly handled the interception of enemy ballistic missiles at the end of the flight. The test was attended by: a US Navy ship, which is not called and the specialists of the US Defense Ministry's missile defense agency. It was assumed that the Aegis complex would intercept two targets using the latest version of the Standard Missile-6 Dual II anti-aircraft missile of the air defense / missile defense system.
To test the US Navy made two missile salvos with "standard" weapons, but the anti-aircraft missiles could not intercept the target. The reasons for this result are not named, the Navy and the missile defense agency have begun a joint review, during which they will analyze the results and try to establish the "problem" of the failure.
The RIM-174 / SM-6 long-range anti-aircraft missile (Standard ERAM) is used as a means of air defense of surface ships against attacks from cruise missiles, aircraft, helicopters and drones. The first versions of the missile began shipping to the US Navy in 2015.
It is part of the armament of the Arleigh Burke-class destroyers equipped with the Aegis system. The SM-6 is one of the key components of a promising US Navy concept called the Naval Integrated Fire Control-Counter Air (NIFC-CA).