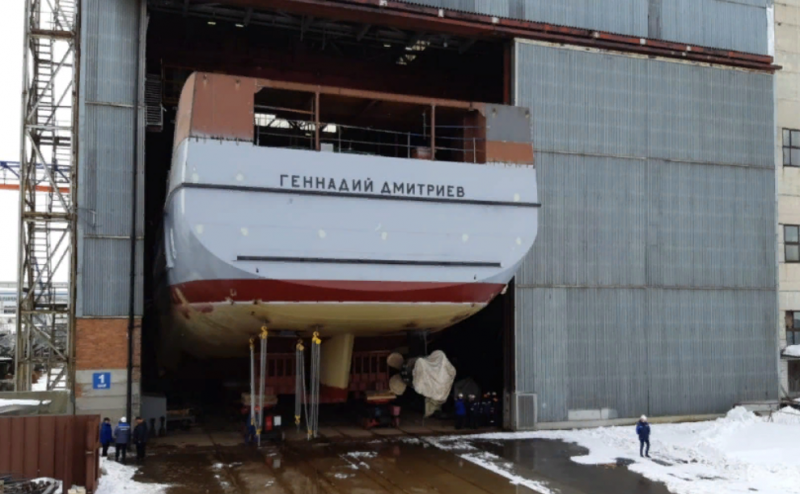 Built at the Rybinsk shipyard Vympel, the newest marine weapons transport Gennady Dmitriev of project 20360M is being prepared for launch. The launching ceremony is scheduled for June 1 this year. This was reported by the press service of the Ministry of Defense.
The military department announced the launching of a maritime transport of weapons of the project 20360M. As noted at the Vympel shipyard, this is the largest ship built at the enterprise for its entire
history
.
The project 20360M maritime transport "Gennady Dmitriev" was laid down on May 5, 2017 within the framework of a contract concluded on March 5, 2016 with the Ministry of Defense for two vessels of this project. As stated at the enterprise, both vehicles were to be handed over to the customer in 2019 and 2020, respectively, and go to serve on the Black Sea (head) and Baltic (second)
fleet
.
There is little general information on the construction of these vessels, after the publication about the laying of the head transport "Gennady Dmitriev", except for the specific information about the manufacture of various devices for the ship, etc., another one appeared in March 2021 about its roll-out from the workshop. The second armament transport "Vladimir Pyalov" was laid down on March 15, 2018 at the Nobel Brothers Shipyard in Rybinsk.
The Project 20360M maritime armament transport was developed by the Vympel Design Bureau (Nizhny Novgorod) on the basis of the Dubnyak Project 20360, adjusted for the requirements of the Ministry of Defense. The vessel has an ice-reinforced hull, double bottom and double sides, two cargo holds, a platform for transporting cargo in containers, a crane with a lifting capacity of 20 tons and a bow helicopter landing platform.
Purpose - reception from berths and transfer to ships at basing points and on an open roadstead of special cargo. The length of the vessel is 77 m, width is 15,8 m.