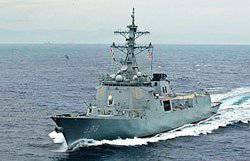 The South Korean Navy received a super-modern squadron destroyer with a displacement of 7600 tons, equipped with the Aegis multipurpose combat information and control system (BIUS) (in ancient Greek mythology, the shield of Zephs and Athens). Thus, South Korea now has three destroyers of this class.
As reported by the Defense Planning Development Agency (APOR) of the Republic of Korea, the transfer of the new destroyer took place on August 30. The name of the new ship is Soeru.
The construction of the destroyer, which belongs to the class of Korean ships KDX-III, was launched in September 2009 at the shipyards of the company Hyundai Heavy Industries. For nine months now, sailors will conduct ship tests at sea. Soeru will take up combat duty in the middle of 2013. In addition to this ship, South Korea's water spaces are already guarded by two similar destroyers with the same displacement, and the Aegis BIUS - Sejong Tevan and Yulgokia. The Defense Planning Development Agency stressed that the new powerful warship, equipped with the most modern systems and technologies, will significantly increase the power of the South Korean Navy.
We also note that it is these destroyers with the Aegis CBS that form the basis of the South Korean missile defense at sea, which is directed against North Korean missiles. South Korea's missile defense system should begin to function fully from the end of this year.
Characteristics of the destroyer "Soeru":

Radar weapons - complex SPY-1D; able to continuously monitor up to 1000 targets with an angle of control of 360 degrees, as well as simultaneously attack up to 20 air targets.
Conventional weapons: guided missile systems, torpedoes, 5-inch artillery systems, melee systems. Also on the ship are two combat helicopters.
Maximum travel speed - 30 knots (55,5 km / h)
Displacement - 7600 tons
Crew - to 300 people
Length - 166 m
Width - 21 m
Height - 49 m