"- Wow! - said the delighted Ostap. - Full archive at home!
- Completely complete, - the archivist replied modestly, - I, you know, on
just in case ... Kommunkhoz doesn't need it, but I, in my old age, maybe
come in handy ... We live, you know, like on a volcano ... Anything can happen ...
Then people will rush to look for their furniture, and where are they, furniture? Here they are!
Here they are! In the closet. And who saved, who saved? Korobeinikov. Here
Gentlemen, thank you and say to the old man, help him in his old age ... And I have a lot
no need - ten per order will be served - and thanks for that ...
go, try, look for the wind in the field. They won't find me without me! .. "
("Twelve Chairs" I. Ilf and E. Petrov)
Paradoxes stories.
In the previous article about the "pitfalls" of historical knowledge, when everything seems to be there, but, however, something is clearly missing, I cited an excerpt from J. Orwell's novel "1984", where the reason for dividing society into three categories of its citizens is then, "
that ... for the lower ones it is characteristic that they are crushed by hard work and only from time to time direct their gaze outside the boundaries of everyday life
". And right after Orwell, one commentator immediately wrote, "
I have no time to go to the archive, I need to feed my family!
"And he is certainly right. But ... in the period of the greatest historical cataclysms, even people who are busy with hard work "
direct their gaze beyond everyday life
". "What is it, vodka has risen in price? Why is this plant closed, because I worked at it ... "- and so on and so forth.
But to answer these questions, the school course (and even learned somehow) for some reason is not enough. And where to go to at least somehow answer the questions that torment you? This is where serious problems begin, which we will talk about today ...
Information is ours and "not ours"
First of all, it will be necessary to start with the fact that since the times of the USSR, the attitude to informing the population was very ambiguous, about which, by the way, a whole series of articles "The Poisoned Pen" was published here on VO. On the one hand, comparative information was given, which obviously should not have been printed. But on the other hand, a lot of information was classified. For example, in the December 1941 issue of the Pravda newspaper in the material "Hitler's Lies" it was reported that he, the dog, was lying, and we had not 3,2 million prisoners, but only… 500 thousand! But one could understand that even this figure to people brought up on pre-war propaganda about the war "on a foreign land with little blood" should have seemed simply monstrous! And why talk about it at all, when no one pulled the tongue? "Let's count after the victory!" - that's all, that's enough! Everyone would understand. Books by Ponsonby and Heigl, "One-Story America" ​​with stories about salaries and baths, were also published in the USSR, which our people could just do without. "They hang Negroes there" - this is the main thing.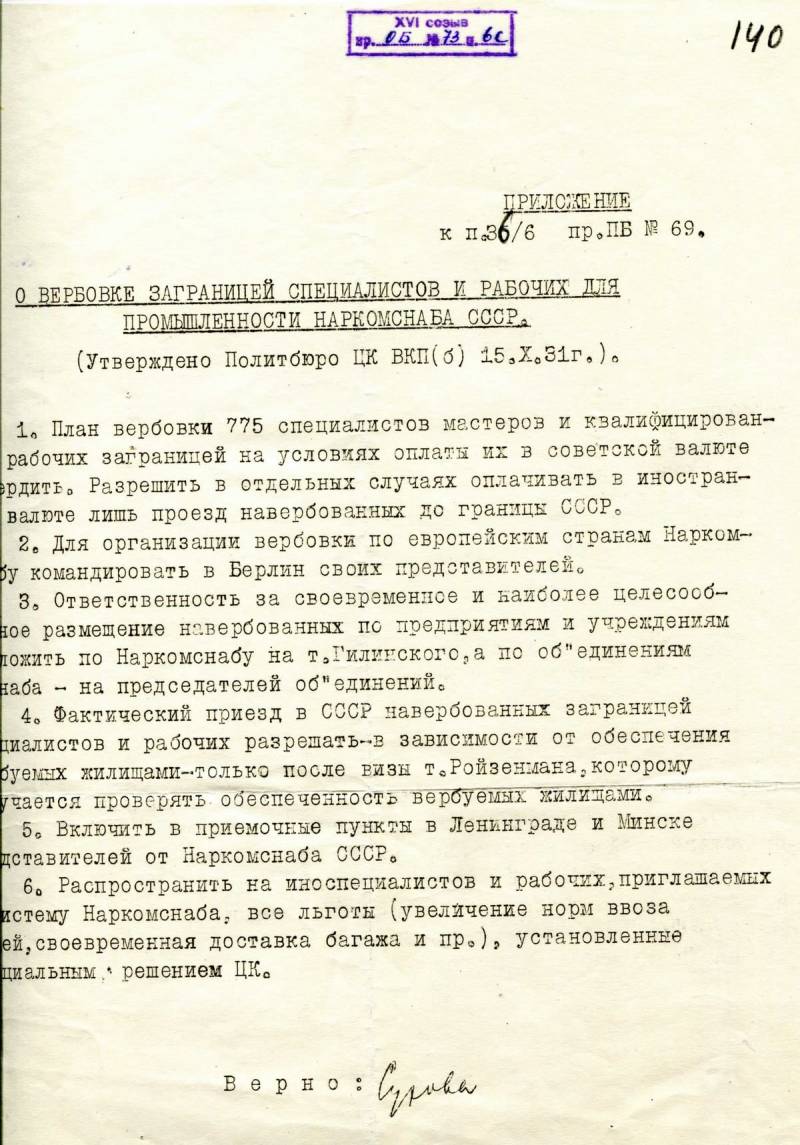 The archives of the Russian Federation contain just millions of units of documents, which in a completely different way allow you to look at many issues of our history. Well, for example, here is a document on the recruitment of skilled foreign workers in the USSR. That is, there was not only a shortage of engineers, but even just workers, but qualified ones! Party document on the recruitment of foreign specialists. RGASPI F. 17 Op. 114 D. 257 L. 140
But the books of Kautsky, Trotsky, Bukharin, Chayanov, Raskolnikov and many others were banned, and after the war the same Orwell, Pareto and our Voznesensky. "A short course in the history of the CPSU (b)" was either extolled as an example of historical knowledge, or removed from libraries "for the cult of personality." The Twelve Chairs were sometimes printed, then condemned for slandering our system. It turns out that we did not have the very possibility of any comparison of information, and metaphysics replaced dialectics. In fact, the most serious covenant of V.I.Lenin was violated:
"In our opinion, the state is strong because of the consciousness of the masses. It is strong when the masses know everything, they can judge everything and go for everything consciously. "
(PSS V.I. Lenin SECOND ALL-RUSSIAN CONGRESS OF SOVIETS R. p. 21)
Before that, he spoke about the bourgeois state:
"Strength, according to the bourgeois view, is when the masses go blindly to the slaughter, obeying the orders of the imperialist governments."
Interesting, isn't it? After all, our rulers were not bourgeois, but sometimes they acted the same way. From above they ordered, and the people approved and rejoiced - otherwise they were simply not allowed.
Well, everything that in one way or another, in the opinion of the ruling CPSU, went to the detriment of the people, was buried in the party archives. It was possible for researchers to work there, but only on their own topic. However, it also happened that the "girl" who was on duty was tired of being silent, and the graduate students too, and then, as a result of communication, boxes of chocolates were removed from the portfolios, they were accepted with gratitude, and the graduate students, in turn, got the opportunity to get acquainted with the inappropriate on the topic, but materials of interest to them. For example, relatives from Chapaevsk told me about a terrible explosion that happened at the local military plant in 1943. Neither then nor later were any details reported about him. And here - here they are, all the documents. But in 1985-1987. it was still impossible to use them. But it became possible today. There was a person who read all this and wrote an interesting article about those events, which appeared in the magazine "Secrets of the XX century", but in its content and topics it is quite worthy of the "Military Review":
Explosion at the plant in Chapaevsk
... But, as the author himself writes in it, the archive was closed earlier. Interesting information about this disaster is also contained in this study: A.N. Balysh. The development of the production of explosives in the USSR in the 30s. XX century and supplies under Lend-Lease during the Great Patriotic War. RUDN Bulletin, History of Russia series, 2012, No. 4.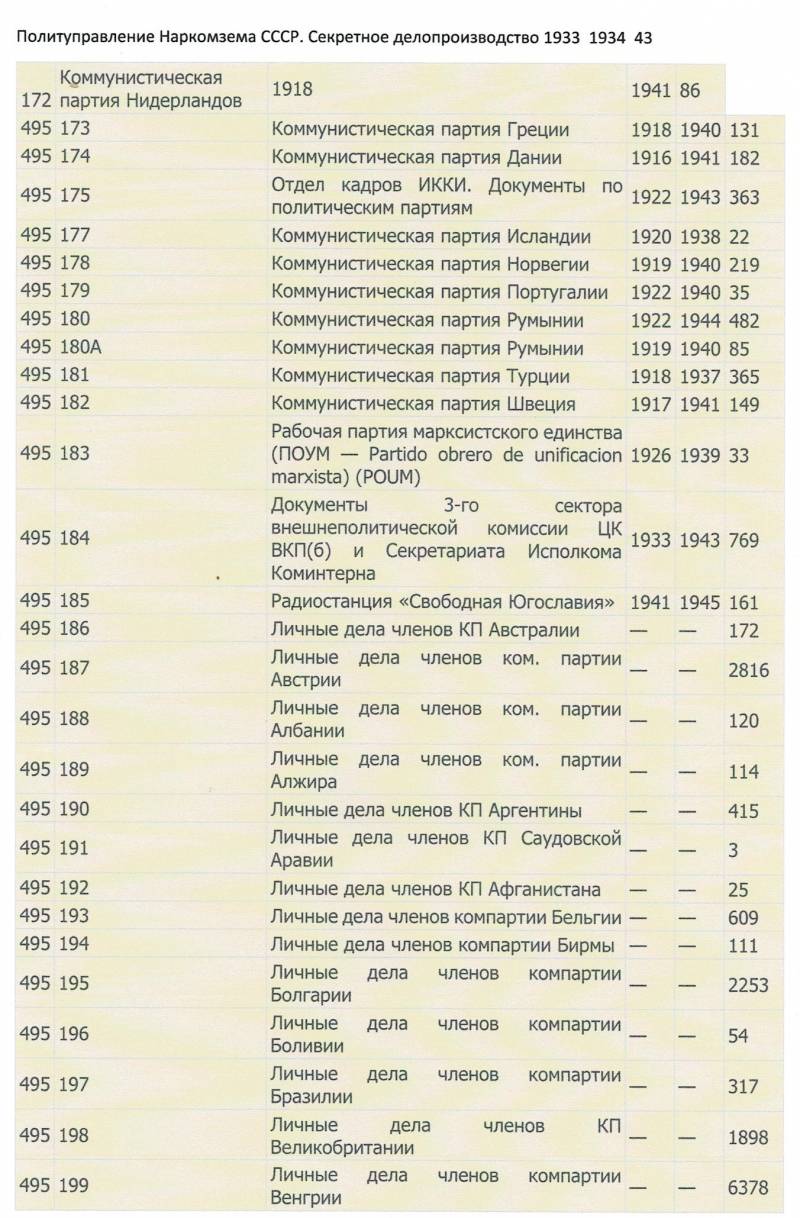 I would like to show only a few volumes of work with party documents. Here we have before us once top secret documents: lists of members of the Communist Parties of different countries and dossiers on them, which were kept in the USSR. Now I will not even say from which archive their photocopies came into my hands. And it doesn't matter, because life is not enough to process them all and write a study about who the internationalist communists of the 30s were. Nobody needs it today ... Well, there were and were ...
There is so much information that it is very easy to drown in it ...
In the same Kuibyshev archive of the OK KPSS, I suddenly came across material about a funny local dissident in 1975 - he promised to tell one of the VO readers about it, and now I am telling you. Why funny? Because he was walking along the road with some kind of protest poster ... barefoot! And for some reason this most of all alarmed everyone and caused a lively controversy among the parody functionaries. There was only one such. But barefoot. And that's why he made a lot of noise by this. To be honest, I did not understand why it was the same then in 1985, and I still cannot understand it now. Well, barefoot, and thank God, you had to look at the poster, and not at your feet! But there are many such facts and different, interesting in their own way. To read everything ... there is neither time nor energy. Even just flipping through thick folders with documents - it takes time!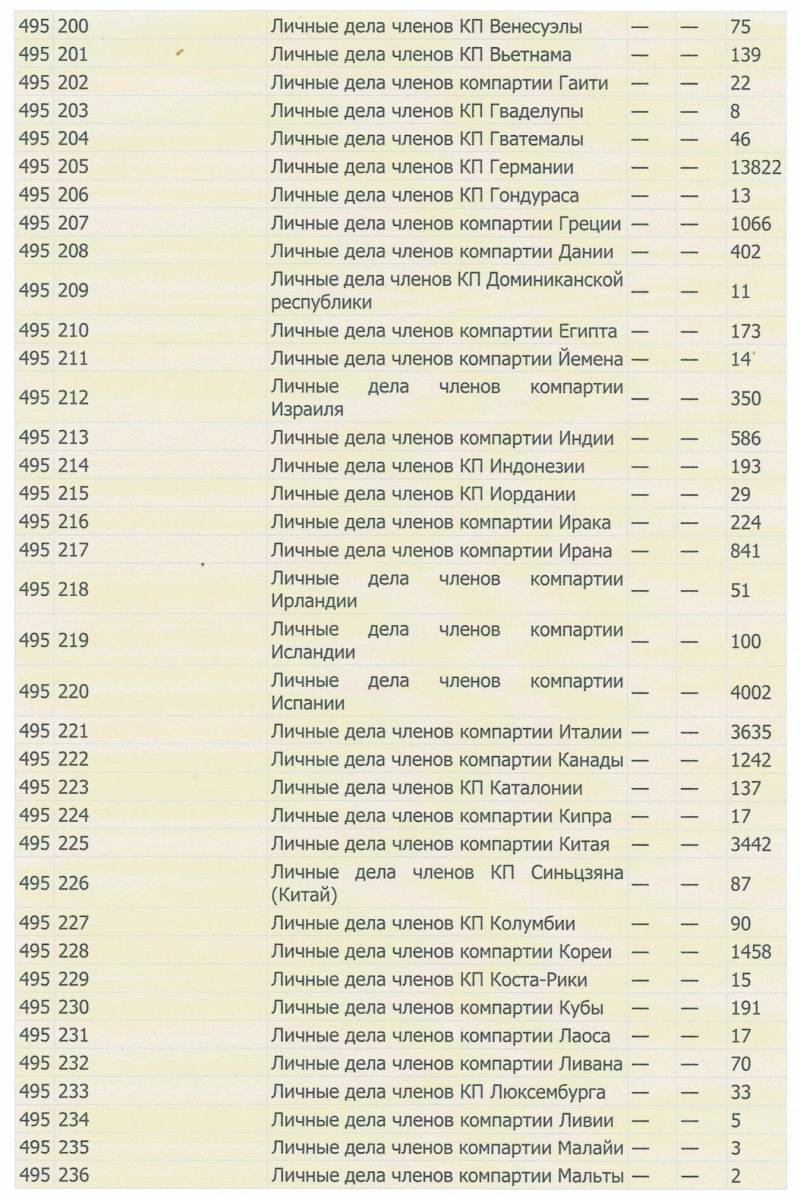 An impressive list and an impressive number of fighters for the idea in different countries and on different continents!
Another example of a top secret case, buried in the N-th archive of the OK KPSS, concerned the immoral behavior of the head of the department of the sports faculty of one of the local universities, which took place somewhere in 1977. He photographed female swimmers in his office in the nude. How naked was hard to find out. The main thing is that the party committee reported this. And the party organizer of the university and his deputy. They entered the office, found an open safe, in it a bottle of cognac, a plate of grapes and ... a pack of photographs with "images". Then his owner burst into the office and began to take them away, as a result of which the pack burst, "
but what was left was enough to be convinced of their pornographic nature
", - the party organizer wrote later in his report. I remember there were rumors about this "event". But no more ... Although it is interesting. "Strawberry". But it distracts. After all, it is difficult psychologically to deal with one "own topic".
That is, people were separated from information both serious: explosions, accidents, disasters, and in terms of purely everyday collisions. The only and indisputable source of information was the Pravda newspaper with the indicative statements of the next general secretary. And that's it! Enough people!
Now I can only blame myself for the fact that, having in my old house filing magazines "Niva" from 1898 to 1917, "Science and Technology" from 1929 to 1938, "Tekhnika-Molodezhi" from 1938 to 2007, and a number of magazines, that is, in fact, a whole archive, no worse, probably, than Korobeinikov's ... at one time I handed over all this to the "second-hand bookseller" or to waste paper. But it's true - where in a modern apartment was all this to be stored?
This is how we are deprived of the opportunity to receive comparative, that is, the most valuable information. Someone had to feed the family and he had no time for archives and magazines, but someone had nowhere to keep them, because our apartments were not intended for "family archives".
After 1991, the situation (this was written about in the last article) changed dramatically for the better. The special depository of the Lenin Library was disbanded. Books banned in the USSR can now be read. But still the overwhelming majority of people "need to feed their families." They have no time for archives. But those who got there immediately unearthed such a thing that the gullible of our citizens just went crazy! "It can not be. The intrigues of enemies! " And go check? But how? You have to feed your family! This is how the vicious circle of incomplete knowledge in society was closed. Although in reality all the doors to the archives are open.
Archiving of the "covid era"
But finished off our archival business ... the same covid. The archives moved to work "remotely", and for this they were not 100% adapted to us. As a result, the queue for some archives has already stretched for years. Or the range of questions to which they now provide answers has been sharply narrowed.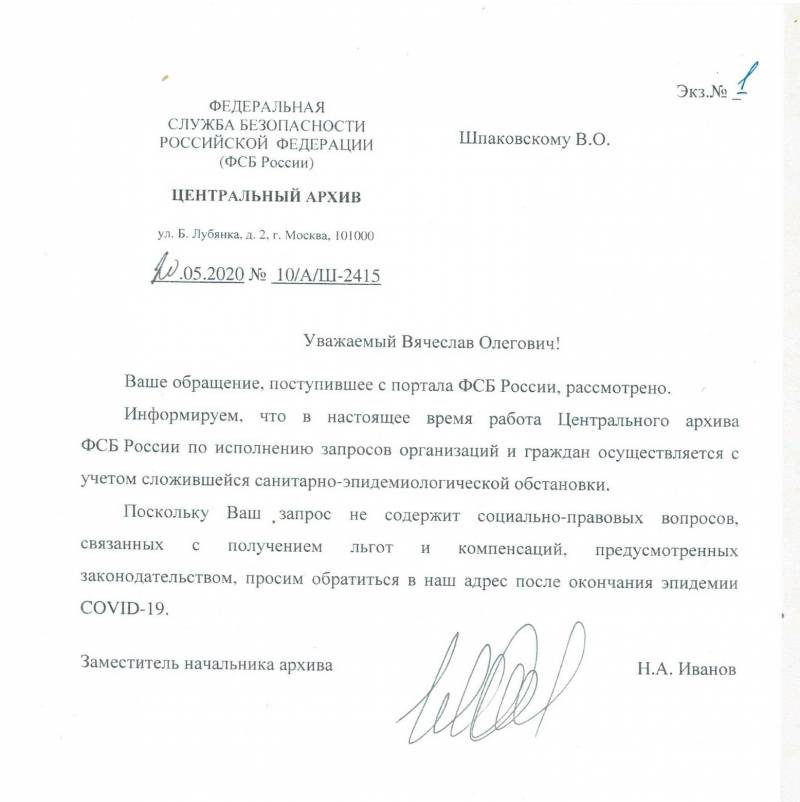 Somehow about a year ago I had to make a request to the FSB archive. It doesn't matter on what question, the answer to it that you see here is important.
Or take, for example, the Ministry of Defense archive in Podolsk. On the street XXI century and the archive has its own website. And on it we read:
"At requests of a thematic, biographical (genealogical) nature, in the interests of individual citizens, as well as for the preparation of essays, books, monographs, the archive does not reveal information, this information is studied by users independently in the reading room of the archive."
Here's how, that is, even for money you will not get anything "like that" from there! That is, come, live, work. Let's say a person lives in ... Rostov-on-Don. Interested in military history. But he works in a factory. And so he needs to go to Moscow on his vacation and there in 24 days a maximum (who has such a vacation now, not everyone, let's say!) Five materials a day to collect the information he needs? And he will have workers four days a week! Come on, not a single normal person will do such a thing. That is, the doors to the archives are wide open, but ... it is not so easy to enter them.
Several years ago I needed to contact the Navy archive in St. Petersburg. Knew the case number. I made an order for him. I was informed - kind, sympathetic people, that there are other documents on this issue. I ordered them too. Only 30 pages of typewritten text. And all this cost a shipment of 1450 rubles. Not so much, but not too little. Then it all paid off many times over due to publications. But what if a person is looking for information for himself, for self-education? Then he just won't have enough money.
But there are also dissertations. You pay 400-500 rubles, and you will be sent the full text of any of them in electronic form, on any topic - I don't want to study it! The person says he is interested in history. But it only suffices for YouTube and "live magazines". Voprosy istorii and Rodina are essentially inaccessible publications for him.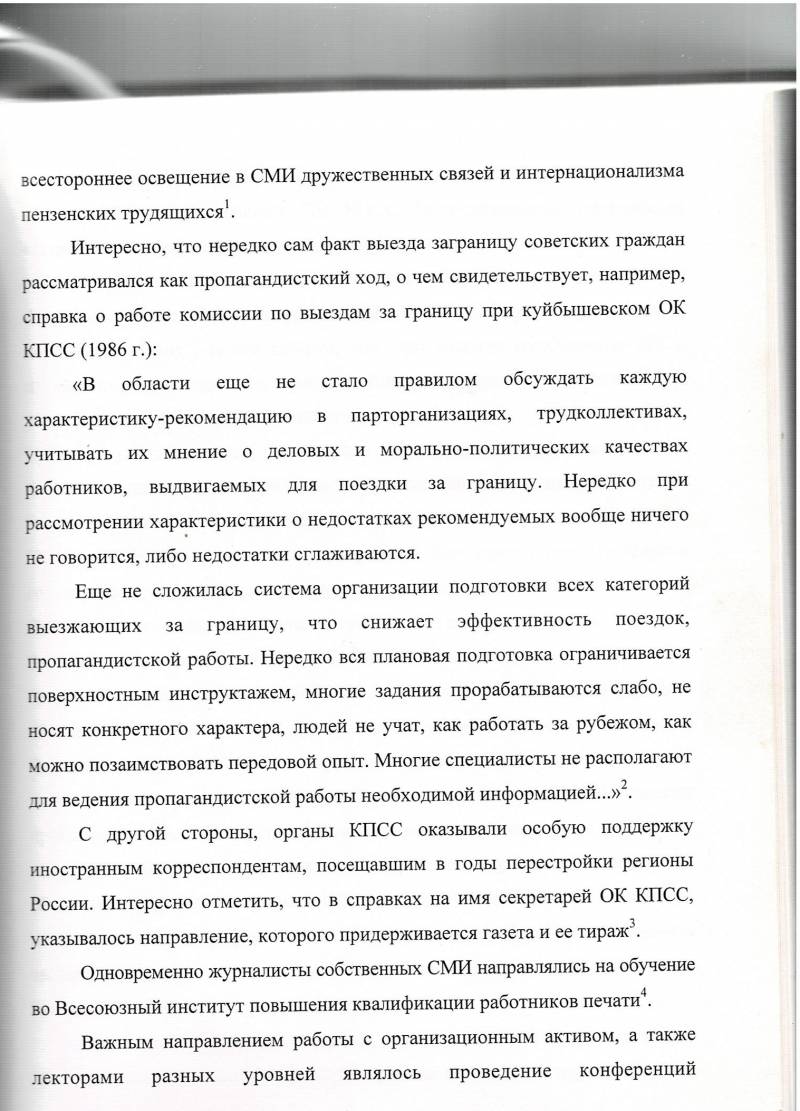 By the way, if you wish, you can always go to ... the university library in your city. Solve the issue with its head and get access to the dissertations stored in it, which were defended in its Academic Council. What if you like something? From reading it is clearly smarter. In any case, it won't get any worse. Pages can be scanned, photocopied, but dissertations are not very convenient for this. It's hard to bend them!
And we will continue to sour in the swamp of such a strange situation, with periodic calls from it - "to rebuff the slanderers", "to fight the rewriting of history", etc., unless all our archives are literally opened as soon as possible. For everyone. So you walk down the street, and suddenly it hit your head: "Well, I'll go to the archive, sit in the cool, read a couple of cases ..." And ... went in and read it, without any special permission. Russian citizen? This means that you have every right to know its entire history. Both good and bad! Well, "to the heap" it is necessary to remove all the secrecy labels from the documents of the war period. We won? We won! So, why hide something? Especially from their own people. And then, you see, it will become more difficult to falsify our history, and interest in it will sharply increase, and the culture of the people as a whole will increase. Because conscious people are always more cultured than irresponsible people ...