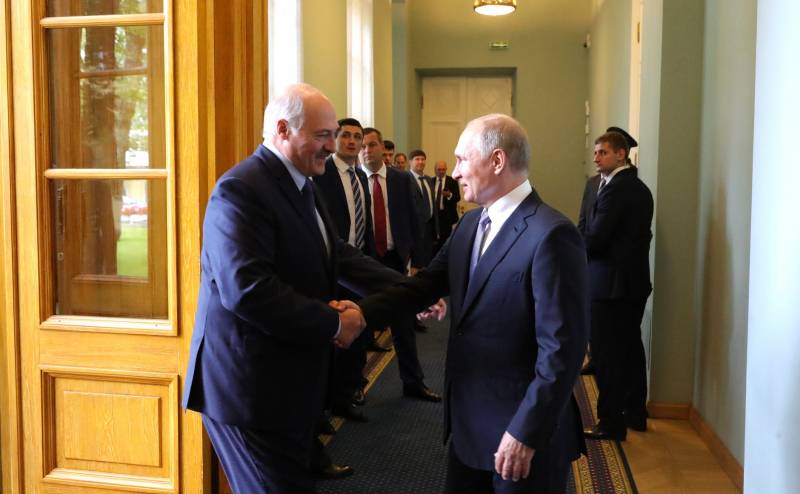 Ukrainian Foreign Minister spoke in one of the talk shows on TV in Ukraine. During the program, they talked about relations between Kiev and Minsk. In particular, it was pointed out that after the well-known incident with the forced landing of a Ryanair plane at the airport of the Belarusian capital, Alexander Lukashenko was leaving for Russia to meet with Vladimir Putin. In Ukraine, they believe that this visit (and it will take place today - May) carries "a serious danger for Ukraine."
Ukrainian experts expressed the opinion that in order to obtain guarantees of support for Minsk from the President of Russia, Alexander Lukashenko "can take anti-Ukrainian steps." One of these steps in Kiev sees "a possible refusal of Belarus from recognizing Crimea as Ukrainian."
Recall that at the moment Minsk officially recognizes Crimea as Ukrainian.
The head of the Ministry of Foreign Affairs of Ukraine, speaking during the talk show "Right to Power", said that "the Belarusian threat must be taken into account when making decisions." As it turned out, under the "Belarusian threat" Kuleba understands (in his own words) "the rapprochement of Belarus with the Russian Federation".
Kuleba:
Further rapprochement between Belarus and Russia is at the same time an increase in the threat of using the territory of the Republic of Belarus for aggression against Ukraine ".
It should be noted that earlier in Ukraine they announced the alleged intentions of the Russian Federation to send troops to the offensive against Ukraine from the Belarusian territory. The corresponding maps and graphs were drawn, for example, by the head of the SBU and demonstrated them during one of the conferences.
In the program, Kuleba was asked why, if relations with Minsk have become so bad, the Ukrainian ambassador has not yet been recalled to Kiev? Kuleba said that "the ambassador does not conduct a political dialogue with the Belarusian authorities, but resolves humanitarian issues."
Ukrainian Foreign Minister:
For example, health care issues are resolved there. In Belarus, 26 of our citizens are undergoing transplant operations. Another 160 should go there in the near future.
The Ukrainians who want to get help from Belarusian doctors will have to "go", and not fly, since Zelensky recently closed air links with Belarus.