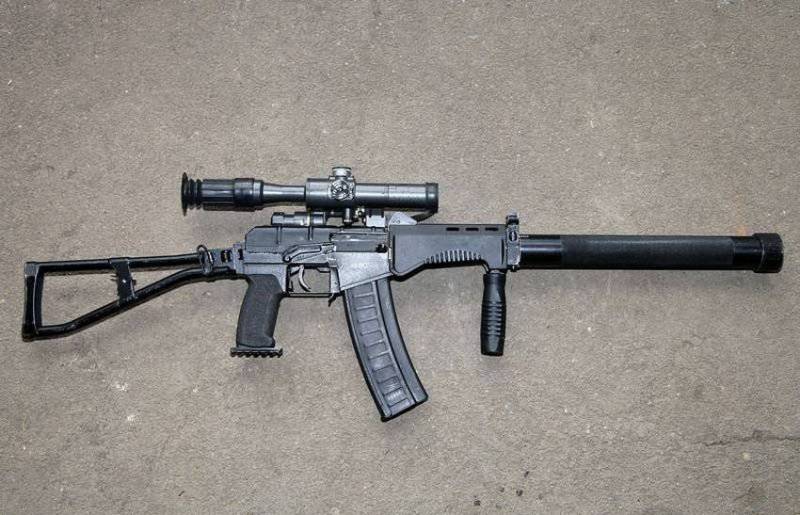 Russia will supply a foreign customer with 9-mm small-sized machine guns SR-3M "Whirlwind".
Weapon
intended for special forces. This was reported by the press service of Rosoboronexport.
Russian small-sized SR-3M submachine guns will be supplied to a "foreign partner". The number of machines planned for delivery and the terms are not named, as well as the country where the machines will be delivered is not indicated.
The reliability of weapons, ease of use (...) make our weapons famous and popular all over the world. Rosoboronexport signed a new contract for the supply of SR-3M assault rifles to a foreign partner
- the message says Rostec.

SR-3 "Whirlwind" was developed in the early 90s on the basis of the "Val" assault rifle for special units. A few years later, it was upgraded to the SR-3M version, taking into account the operating experience in special forces. The small-sized automatic machine was maximally unified with VSS Vintorez and AS Val.
The SR-3M fuse is located on the right side, the bolt cocking handle is rigidly attached to the right side of the bolt carrier. Folding buttstock, frame. A quick-detachable silencer can be installed on the muzzle of the barrel. Standard magazines from "Val" are used for 10 and 20 rounds, as well as special magazines for 30.
The main characteristics of the SR-3M assault rifle: Caliber - 9x39 mm SP-5, SP-6 cartridges, assault rifle weight - 2,2 kg. (With a magazine for 30 rounds and a silencer - 3,2 kg.), Length with folded stock, without a silencer - 410 mm, with a silencer and unfolded stock - 957 mm, barrel length - 156 mm, muzzle velocity - 295 m / s, sighting range with optics - 400 m, without optics - 200 meters.