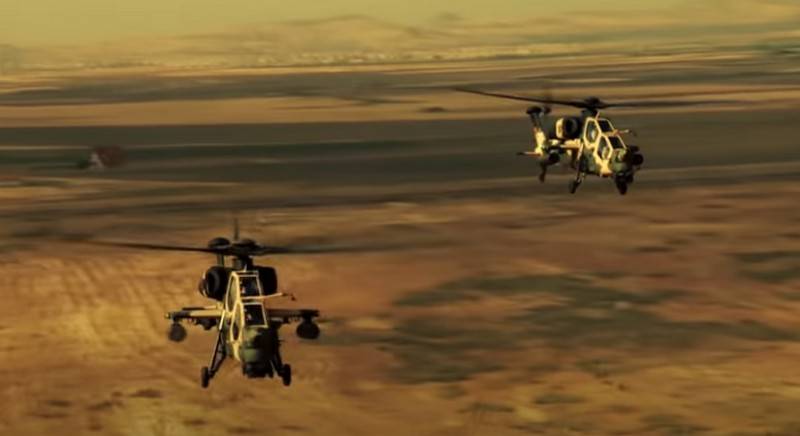 The products of the Turkish defense industry are gradually entering the world market. Its next customer was the Philippines, which purchased six T129 ATAK helicopters. The first two vehicles are expected to be delivered in September this year.
Their cost and combat effectiveness attract the attention of potential customers.
- noted in the Turkish edition of SavunmaSanayiST, pointing out that "ATAK has put an end to Turkey's dependence on foreign suppliers in this area" [nevertheless, the US is required to export permission for the helicopter].
The first flight of the rotorcraft took place in 2011. To date, the Turkish military has ordered 59 T129 units for $ 3,3 billion ($ 55,9 million per vehicle), and deliveries began in 2014. At the same time, the first samples were equipped with only 20-mm cannons and 70-mm missiles (EDH modification). However, most of them were delivered in the "1st phase" configuration: this version of the helicopters is capable of using CİRİT, L-UMTAS and Stinger missiles.
Finally, the already launched version of the T129 Faz-2 was developed, which has advanced electronic combat systems and communications. They were acquired by the Ministry of Internal Affairs (27 units) after completing an order for 61 units. T129 Faz-1 in shock and reconnaissance versions.
In addition, the Philippines ordered 6 units for $ 285 million ($ 47,5 million per helicopter), and Pakistan ordered 30 T129 helicopters for $ 1,5 billion ($ 50 million per unit).
We can say that the price of an ATAK helicopter is on average $ 50-51 million
- indicated in the publication, having calculated its cost.
For comparison, the price is given for the American-made AH-1Z Viper and AH-64E Apache. Each car was offered to the Philippines for $ 75 and $ 250 million, respectively.
As you can see, the unit cost of the ATAK helicopter is lower than that of its counterparts.
- a conclusion is made in the publication.