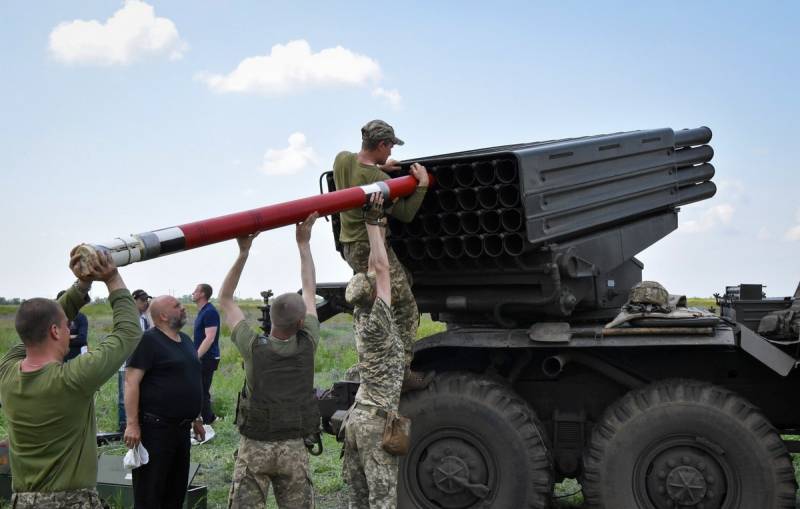 In Ukraine, regular tests of the Typhoon-1 missiles of 122-mm caliber, developed for MLRS installations, have passed. This is reported by the Ukrainian media with reference to the Ministry of Defense of Ukraine.
Test launches were carried out at the range of the Interspecies Training Center for military units and subunits "Shirokiy Lan" in the Nikolaev region. Details of the tests are not given, it is only reported that the launches of ammunition were carried out using the standard BM-21 Grad MLRS. Prototypes of 122-mm projectiles were developed at the Yuzhnoye design bureau in the city of Dnepr (Dnepropetrovsk) under an agreement with the Ministry of Defense of Ukraine.
Note that there is no production of 122-mm ammunition for the BM-21 Grad MLRS on the territory of Ukraine, so the Ukrainian military department has ordered the development of new ammunition. The first tests of 122-mm Typhoon-1 rockets were reported in 2019, the projectile was tested at a short range. In the spring of 2020, it was reported about the test of the projectile at a distance of 40 km.
A press release from the Yuzhnoye design bureau said that the new Typhoon-1 missiles are intended to replace the 122-mm standard rounds of the BM-21 Grad MLRS, as well as the Ukrainian Verba and Berest MLRS based on it. ... The maximum firing range is declared at 40 km, the ammunition is equipped with a high-explosive fragmentation warhead weighing 18,4 kg.
In addition, the Yuzhnoye Design Bureau is working on the creation of 220-mm Typhoon-2 missiles intended to replace the standard ammunition of the Uragan MLRS and the 300-mm Typhoon-3 caliber for the Smerch MLRS.