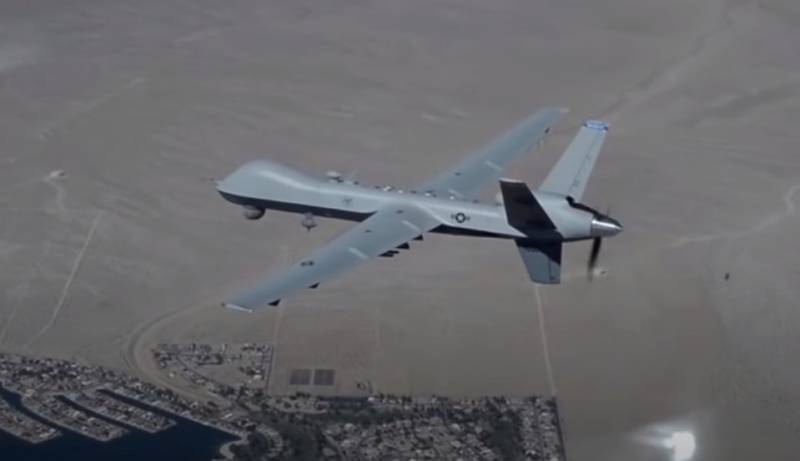 In the United States, a struggle flares up with the leadership of the country's Air Force in connection with its intention to curtail the purchases of MQ-9 Reaper drones.
Our current fleet of MQ-9s is sufficient to meet current and future operational and training needs. No need to buy more drones
- noted the Acting Minister of the Air Force John Roth, indicating that his department intends to look for a replacement for the "Reapers".
The basis for this decision was the Air Force's conclusions about the unsuitability of the Reaper UAV for close combat with a developed enemy. Instead of releasing new MQ-9s, officials are asking for $ 172 million to begin closure of the General Atomics production line in California.
Currently, there are over 300 units. Reaper. At the same time, the Air Force claims that they will not be able to fight Russian and Chinese threats. The funds allocated to finance the acquisition of obsolete UAVs are proposed to be used to create a new platform.
They are not particularly useful against Russia, China, or even the dense air defense systems of Iran and North Korea: they will not be able to pass them. Invest in intelligence and surveillance systems that do have penetration capabilities
- explained Army General Mark Millie, chairman of the Joint Chiefs of Staff.
Marine General Kenneth McKenzie, who oversees US operations in the Middle East as head of US Central Command, said in April that the MQ-9 was "not viable" against high-profile opponents.
The Air Force has given up on developing a successor for the MQ-9 Reaper since the MQ-X program was phased out in 2012. But in 2020, the department returned to consideration of this issue, announcing its intention to replace the "Reaper" in the 2030s.
The Air Force is considering a replacement for the MQ-9 as a family of UAVs that will operate over a wide range in terms of cost and [combat] capabilities.
- indicated in the publication Defense News.
At the same time, General Atomics, the manufacturer of the MQ-9, believes that the old drones have great potential for modernization and should not be abruptly abandoned:
It is the perfect platform for experimentation.