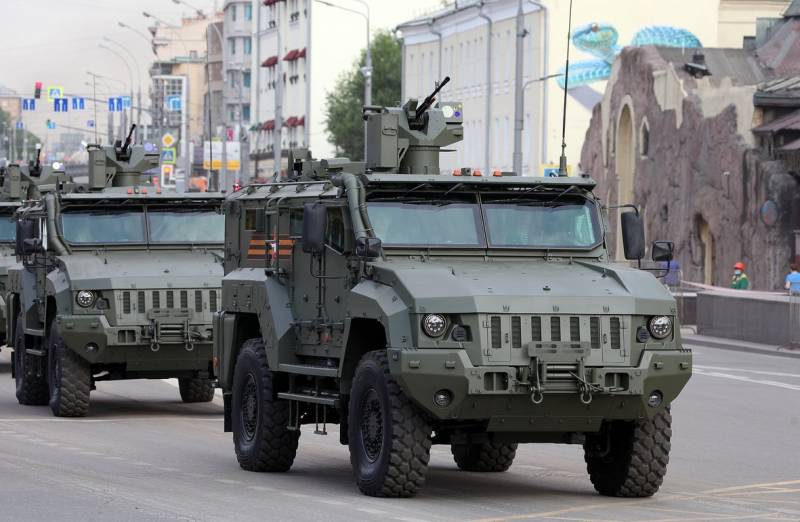 The special forces of the Eastern Military District have received the Typhoon K-53949 4x4 armored car, the deliveries of which began this year. According to the press service of the Ministry of Defense, the novelty will be demonstrated for the first time to residents of the Trans-Baikal Territory.
The Typhoon K-53949 4x4 armored vehicle will be shown at the Army-2021 international military-technical forum at the main site in Chita's Victory Park. Visitors to the park will be able to familiarize themselves with the tactical and technical characteristics of an armored car in the static part of the exhibition, as well as evaluate its capabilities during a dynamic display.
The armored car "Typhoon K-53949" 4X4 is supplied from this year for special purposes and reconnaissance. There is also an option for anti-aircraft gunners "Typhoon-Air Defense" and for paratroopers - "Typhoon-VDV".
The curb weight of the armored car reaches 14 kg, and the full -000 kg. Machine length - 16 mm. Width -000 mm. Height -6760 mm. The ground clearance is 2550 mm. A diesel six-cylinder engine with a capacity of 2840 hp is installed. The maximum speed on the highway is 433 km / h. Cruising range up to 350 km. Capacity - 105 people.
The two-axle armored car has powerful armor protection capable of withstanding bullets from a Kalashnikov assault rifle or an SVD sniper rifle. Mine protection - 6 kg of TNT under the bottom and any wheel. Tires tubeless with mine insert, with adjustable air pressure.