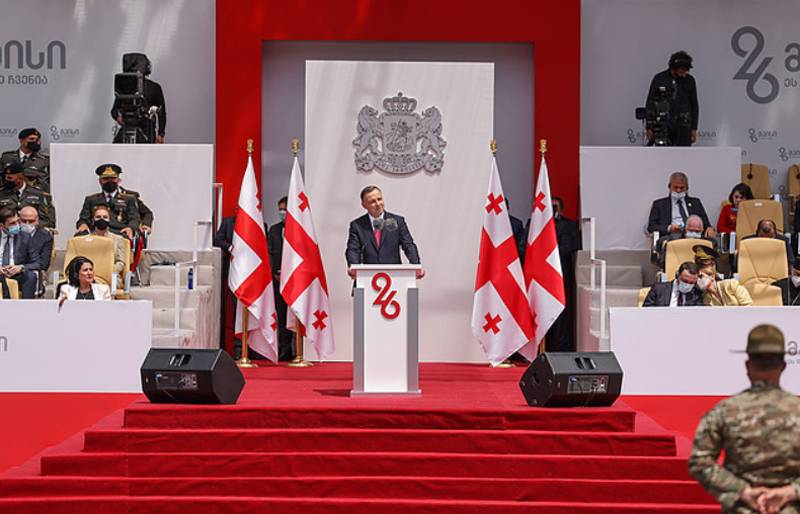 Another anti-Russian attack was made by the authorities of Poland, a country that Russia did not include in the list of unfriendly ones. Polish President Andrzej Duda, visiting Georgia, said that "Russia is occupying part of Europe." According to Duda, "parts of not only Georgia, but also Moldavia and Ukraine are under Russian occupation."
Andrzej Duda:
It is necessary to speak bluntly: Russia is not a normal state. It is not a state that behaves normally. This is an aggressor country. Here (in Georgia) it can be clearly seen. Therefore, decisive action by the entire world community is needed.
According to the Polish president, Russia must "strictly demand the implementation of international norms."
If we are guided by the logic of Duda, then he divides countries into "normal and abnormal". Accordingly, he clearly considers Poland to be one of the former. And the main criterion of "normality for the Polish president", apparently, is the fulfillment of any directives coming from the United States, as well as overt Russophobia and anti-Russian policy.
It is striking how they reacted to the words of the Polish president in Poland itself. The opinions of netizens commenting on Duda's statements about the "abnormality" of the Russian Federation were divided. While some of his rhetoric were generally supported, others noted that such statements are not acceptable to the head of state.
Comments from Polish users:
These words that there are "normal" and "abnormal" countries are unacceptable for the head of state, especially since our country itself borders on Russia and has economic relations with it.
Perhaps the Georgian authorities liked these words of our president, but only how would Duda himself feel if Poland were called a country behaving abnormally. And sometimes this is how our authorities behave. First, we close mines, fire thousands of miners, then think about what to do with jobs and how to build the energy sector. This is normal? Unlikely.