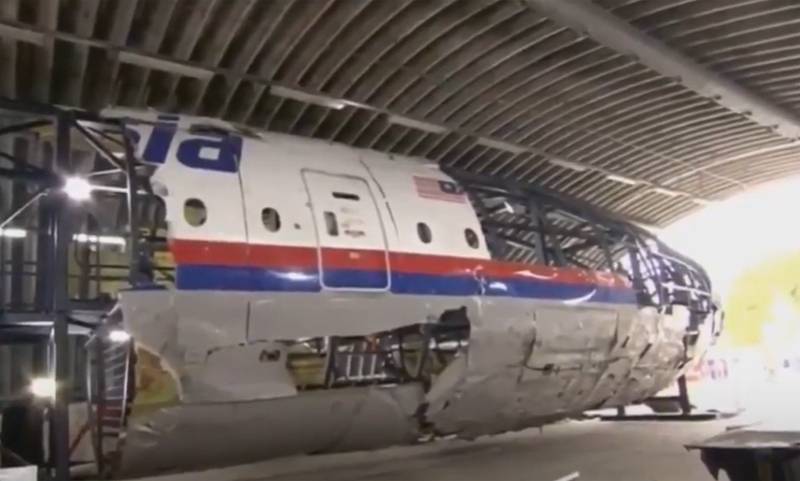 In the Netherlands, they report the completion of pre-trial proceedings in the case of MH17, which was shot down in the skies over the Donbas in July 2014. Soon the 7th anniversary of that drama will come, and for all these years both the investigation and now the trial only gained momentum as a farce, without answering a number of key questions. For example, the investigation did not comment on its own photo with a fragment of a surface-to-air missile, which, on the basis of documentary evidence, has been in the arsenal of one of the air defense units of the Armed Forces in recent years.
According to Dutch media, the court completed preliminary paperwork after examining the so-called layout of the Boeing wreckage. The layout itself looks strange, since when collecting the fragments of the airliner, the Dutch side refused to deliver some to the Netherlands for unclear reasons.
The wreck is welded to the frame at the Gilse en Reyen military base.
At the same time, the examination of the "layout" took minimal time. Within a few minutes, the Dutch judges examined the same frame. For this, they were even offered a special lift.
Court spokesman:
This made it possible to better understand the damage.
The president of the court noted that "now the judges will concentrate on analysis and comments." Moreover, the concentration, judging by the statements of the chairman of the court, will take much longer than the examination of the aircraft wreckage continued. The results of the inspection are planned to be presented only on June 7.
The press service of the court added that the examination, which was carried out by the judges, will allow them to form their own idea of ​​the nature of the damage. And this despite the fact that most of the Boeing fragments are missing.