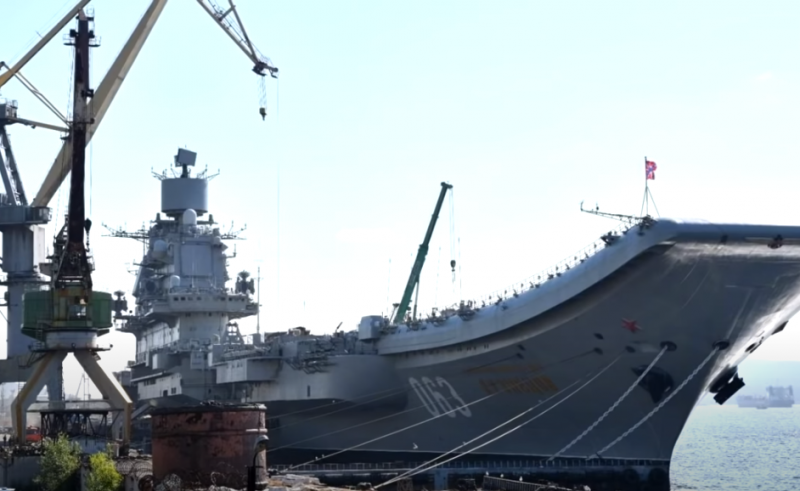 The aircraft-carrying cruiser "Admiral Kuznetsov" undergoing overhaul with modernization will be released for testing later than the approved schedule. This was announced by the head of USC Alexei Rakhmanov.
Tests of "Admiral Kuznetsov" will begin later, but this is not connected with the fire that took place on the ship or the sunken dock. The delay in going out for testing is due to technical reasons, namely, failure to deliver the repair equipment on time.
As Rakhmanov said in an interview "
Vedomosti "
, the repairmen still have not received steam turbine units manufactured by Kirov-energomash.
According to him, in general, the repair of the only Russian aircraft-carrying cruiser is proceeding within the framework of the schedule and budget. The contract for the repair of "Admiral Kuznetsov" ends in 2023. Does this mean that "Admiral Kuznetsov" will be transferred
the fleet
not in 2022, as previously planned, but in 2023, Rakhmanov did not report.
Recall that work on the repair and modernization of the TAVKR "Admiral Kuznetsov" began in 2017. It was originally planned that the cruiser would be delivered to the customer in 2020, but a series of accidents on the ship led to the fact that the timing of the return of the TAVKR began to shift to the right. The last date for returning the aircraft carrier to service was 2022.
Repairs and modernization of the "Admiral Kuznetsov" are carried out at the 35th shipyard in Murmansk (a branch of "Zvezdochka").