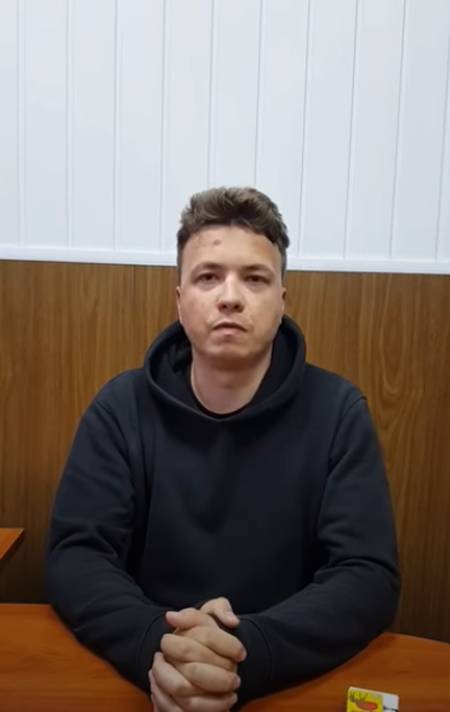 The first video with Roman Protasevich was published in Belarus after the arrest of the former editor-in-chief of the Nexta Telegram channel at the Minsk airport. Let us remind you that Protasevich was detained by the Belarusian police after the forced landing of a plane flying from Athens to Vilnius. In Belarus, Roman Protasevich is being held as a defendant in several criminal cases, including cases of incitement to a coup d'etat.
In the video, recorded by the Belarusian law enforcement officers, Protasevich says that he is in remand prison # 1 in the city of Minsk. According to him, he does not experience any health problems. Apparently, this statement was a response to those numerous publications in blogs and media, where it was stated that after being arrested in Minsk, Protasevich's health condition sharply deteriorated, in particular, he developed heart problems. Some liberal bloggers, including Belarusian ones, argued that Protasevich was in critical condition.
Roman Protasevich:
The attitude of the employees towards me is as correct as possible. I continue to cooperate with the investigation.
According to one of the founders of the Nekhta channel, he confesses to the organization of mass riots in the Belarusian capital.
Belarusian opposition activists comment on the video with Protasevich. Svetlana Tikhanovskaya, who is in Lithuania, says that "the novel is under physical and psychological pressure."
Tikhanovskaya:
I demand the immediate release of Roman and all political prisoners.
Another Belarusian oppositionist, who is on the territory of the Republic of Belarus, Franak Vechorko, said that this is "terrible footage, from which it is clear that Protasevich was beaten."