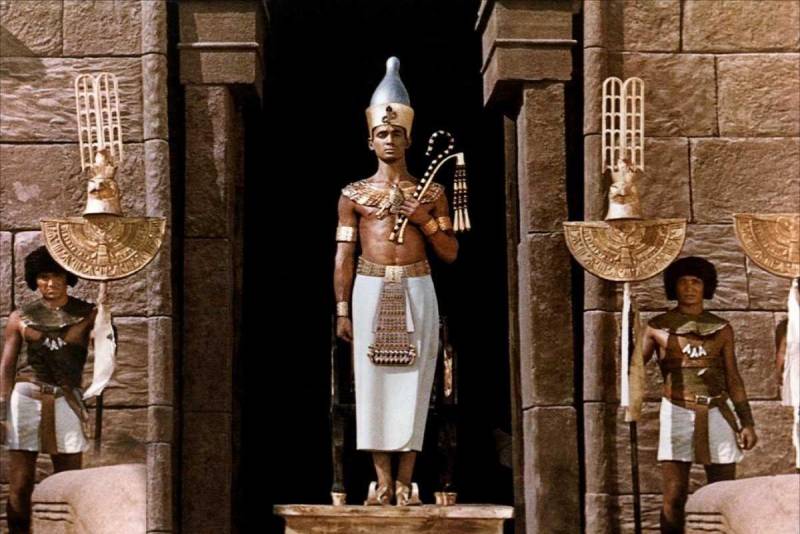 Perhaps, it is difficult to find among the films something better cognitively than the Polish film "Pharaoh", filmed back in 1965
"Turn your heart to books ...
Look, there is nothing higher than books! ..
If the scribe has an office in the capital
then he will not be a beggar there ...
Oh if I could make you
love books more than your mother,
if I could show them their beauty in front of you!
This is better than any other job.
When the scribe is still a child, he is already welcomed.
He's sent to do errands
and he doesn't come back to put on the apron.
I have never seen a sculptor as a messenger or a goldsmith sent,
but I saw a coppersmith at work at the furnaces of his stove.
His fingers were like crocodile skin
and it smelled worse than fish roe. "
(The teaching of Akhtoy, son of Duauf, to his son Piopi).
19th Chester Beatty Papyrus, British Museum
History great civilizations.
The history of Ancient Egypt is one of those topics that always interest the reader to a greater or lesser extent. There is no more pointless topic in terms of real benefits and benefits, but ... interesting. And if it is interesting, then it is necessary. So the publication on the VO website of several articles about Akhenaten, Ramses and the boats of the ancient Egyptians caused another surge of interest in this country and its great culture.
"Write about the writing of Ancient Egypt", "write about the finds in the tombs", "write ..." - these are all appeals from the readers of the site, who are interested in learning more about all this. Well, all these topics are really very interesting. However, our today's material, as well as its continuation, we will devote to the story of how the inhabitants of Russia in the distant past began to get acquainted with the culture of Egypt.
That is, how did they learn about Egypt in Russia? Who are Russians and when did they visit this country for the first time? And what written compositions did he leave behind for us?
Eastern Embassy of Ivan the Terrible
And it so happened that none other than Tsar Ivan the Terrible sent an embassy to the Middle East, in which there was also a merchant from Smolensk Vasily Poznyakov. Moreover, the embassy was supposed not only to represent the royal person in the East, but also "the customs in the countries of those writing." That is, it was also a kind of ethnographic expedition. The result of it was the book: "The Walking of the Merchant Vasily Poznyakov" - the first such book that told about Egypt.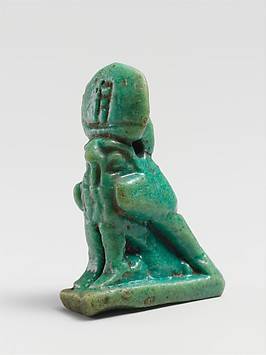 I wonder if Vasily Pozdnyakov and others like him brought you any souvenirs from Egypt? Well, at least something small. For example, this is how this faience amulet of Ra-Horakti, only 2,8 cm high. 664-630. BC e. Metropolitan Museum of Art, New York
The embassy left Moscow "in the summer of 7066" ("from the creation of the world", that is, in 1558 of our chronology) and went through Lithuania "to Constantinople", and then to Alexandria, where it reached only a year later! From Alexandria, the embassy moved to Cairo, where it stayed for four days. Then again there was Alexandria, after which the ambassadors for some reason went to inspect the Sinai Peninsula.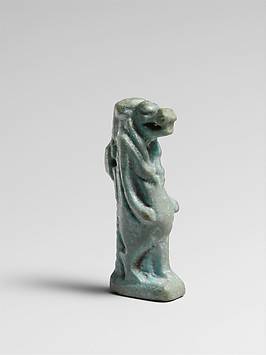 Another amulet is the goddess Tauret, the patroness of women in labor. Height 5 cm. Metropolitan Museum of Art, New York
That is, Poznyakov was not in Egypt for long, no more than two weeks. But in his "Voyages" he spoke about the conquest of Egypt by the Turks, and about its nature, and cities:
"And the city was stone and fell apart, only one gate is intact ...".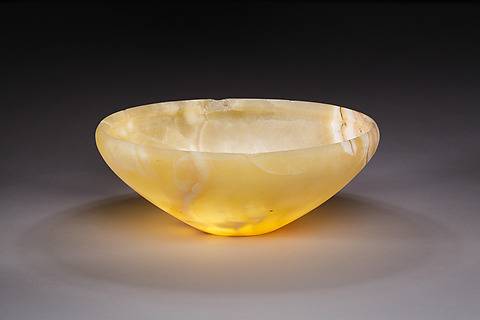 But this alabaster bowl is just very ancient. Belongs to the early Dynastic period, the era of the reign of the II dynasty, approx. 2750-2649 BC e. Saqqara, Tomb 2322: Egyptian Antiquities Service / Cybella Excavation, 1910–1911. Material: travertine (Egyptian alabaster). Dimensions: height 9,4 cm; diameter 23,6 cm. Metropolitan Museum of Art, New York
"Bestseller of the XNUMXth century"
In Russia, the book was eventually attributed to the merchant Trifon Korobeinikov, who 25 years after Poznyakov also visited the countries of the East and wrote several more chapters to Pozdnyakov's book. The result of this collective work was a manuscript book that has survived to our time in more than two hundred manuscript lists and forty printed editions. That is, the interest in it among the then Russians was great to the extreme!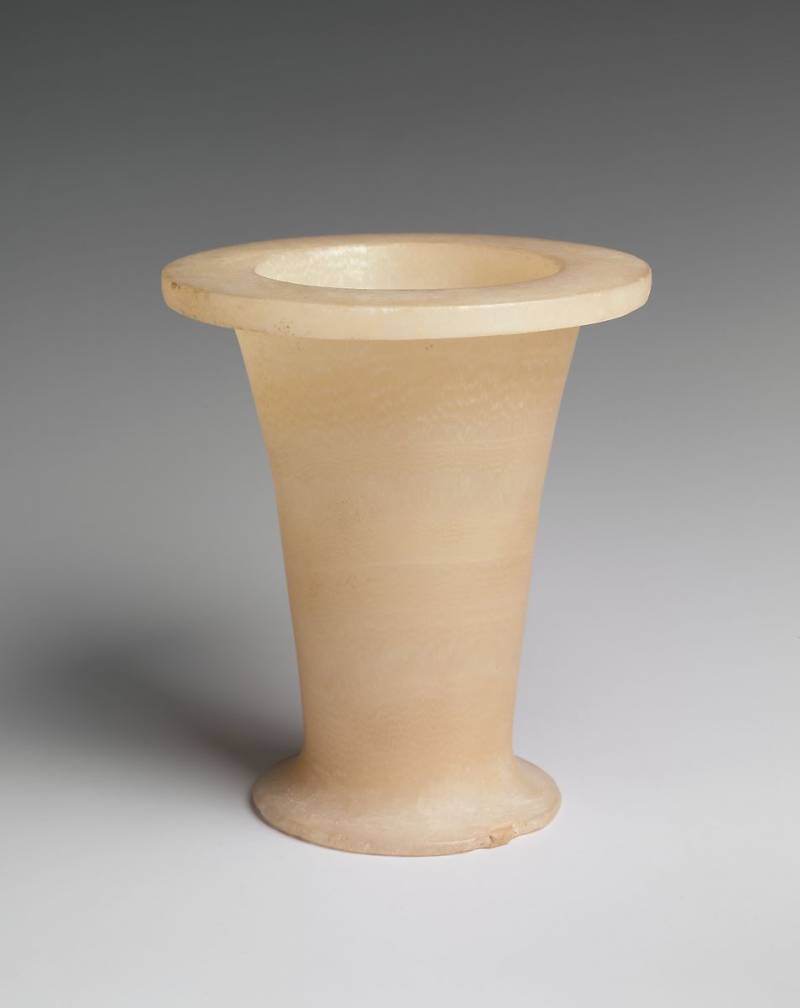 Alabaster vessel. New Kingdom, XVIII Dynasty, c. 1550-1458 BC e. Upper Egypt, Thebes, courtyard CC 41, pit 3, burial B 4, between the head of the coffin and the wall, MMA excavations, 1915–1916. Dimensions: height 13,6 cm; diameter 11,6 cm. Metropolitan Museum of Art, New York
It was only 300 years later that it became clear that Korobeinikov's Travels was actually Pozdnyakov's work. Moreover, six handwritten lists of precisely his "Voyages" have come down to us. So, it is not difficult to compare who and what exactly wrote in them. For example, Korobeinikov has a description of a bird - "strufokamila, or stucco", which is absent from Pozdnyakov:
"And her head is like a duck's, and her feet have hooves ... And her legs are as long as those of a crane, and her wings are like leather; but he walks on the ground and flies little. "
This is how he saw an African ostrich ...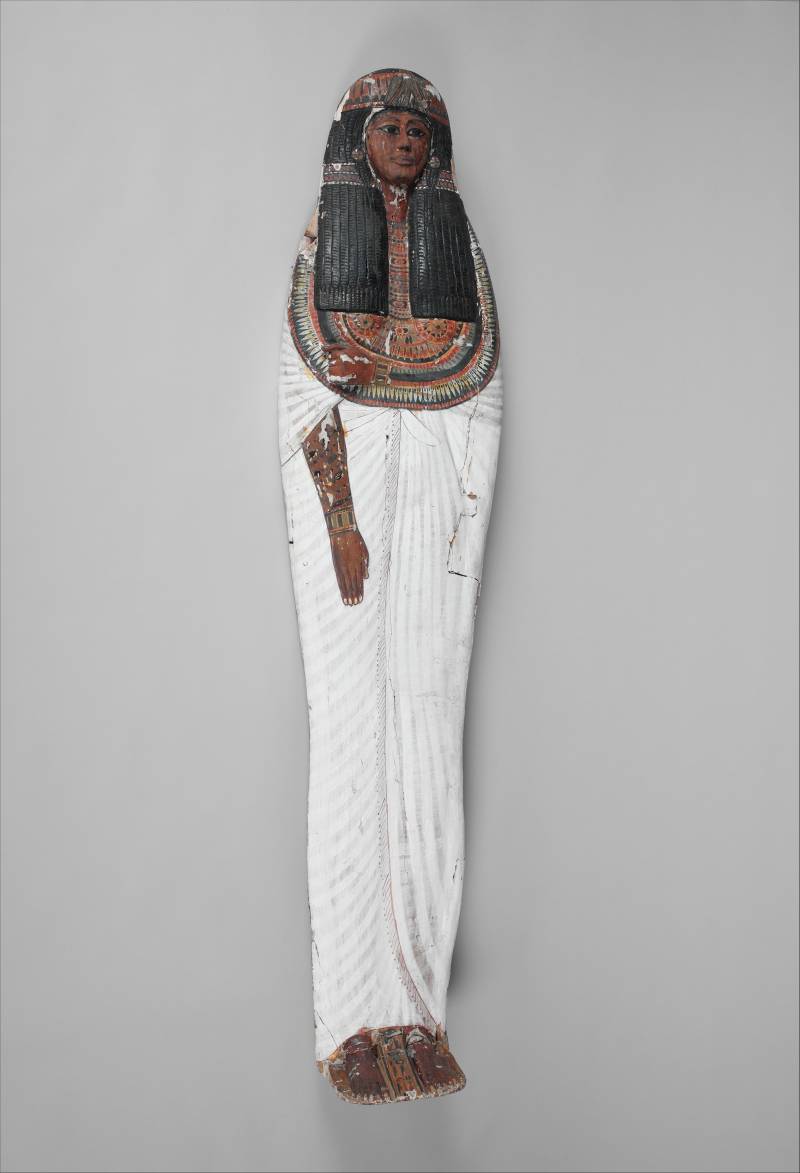 Sarcophagus of Iineferti's mummy. New kingdom. Dynasty XIX. The era of the reign of Ramses II. OK. 1279-1213 BC e. Sarcophagus, characteristic of the Egyptians of the anthropoid shape. It was covered with a wooden lid, sometimes called a "mummy board," carved and painted to depict the deceased as if she were alive and dressed in a long white dress with pleats. Upper Egypt, Thebes, Deir el Medina, Tomb of Sennejem, Egyptian Antiquities Service / Maspero Excavation, 1885-1886 Metropolitan Museum of Art, New York
But if the Smolensk merchant Vasily Poznyakov managed to spend only some eleven days in Egypt, then the Kazan merchant "Vasily Yakovlev, nicknamed" Gagara ", had been here for fourteen weeks, and he looked out for nothing more than an example and, accordingly, much more. just wrote.
"Crocodile is a malicious beast"
In 1634, from Kazan, he went first to Astrakhan, from there to Tiflis, from there to Erzurum, Jerusalem and Egypt. Like all other Russian travelers, he carefully wrote down everything he saw.
Suffering from the "burning sensation of the sun and thirst for water," he walked through the desert and finally reached Cairo. He also turned out to be the first traveler who described the famous obelisk from Heliopolis - "12 fathoms" (about 25 meters in height), and indicated that "the signature is written on it - the pharaoh's name". That is, he was convinced that it was the letters that covered the strange images. But even after more than a hundred years, the German professor Witte considered Egyptian obelisks to be "creations of nature", and the hieroglyphs carved on them were the result of "work" ... of special snails.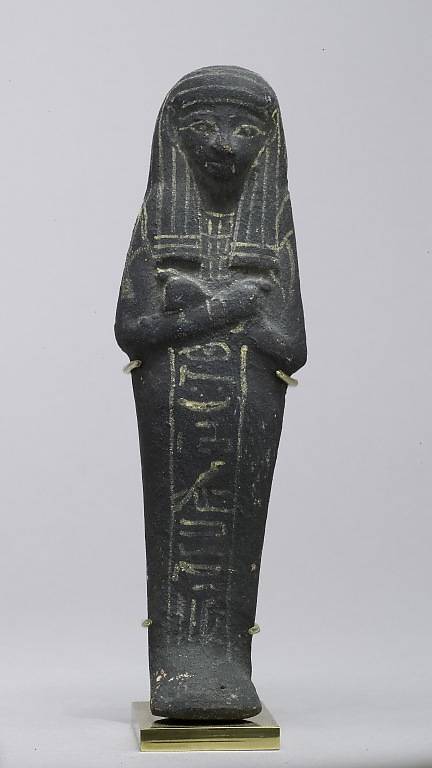 In the same tomb, such a figurine of ushabti was found. Ushabti translates as "I'm here!" So this figure should have answered after it ... would come to life in the "next world." The gods assigned work to her master, but the ushebti replied, "I'm here!" and worked in his place. With 365 ushebti you didn't have to worry about anything! Interestingly, this figurine is made of Nile silt and dried in the sun. Similarly, today the Egyptians make copies of exactly the same ushabti and sell them to tourists. From the same material. Only now their forms are modern, elastic. Metropolitan Museum of Art, New York
Then Gagara was not too lazy to make a long walk on the hot sand just to see the pyramids up close. And he saw! And he called them "strong mountains." That was how they made an impression on him.
In the Nile River, he saw a crocodile and described it as follows:
"... And his head is like a catfish, and his legs are like a man's, and the nature is the same, and the tail of that beast is like a catfish, and in appearance that beast is like a snake ... If he overtakes a man, then he devours of death. The skin on it is like fish scales, and the size of a crocodile is two fathoms. "
By the way, this is the first description of this "beast" in Russian literature!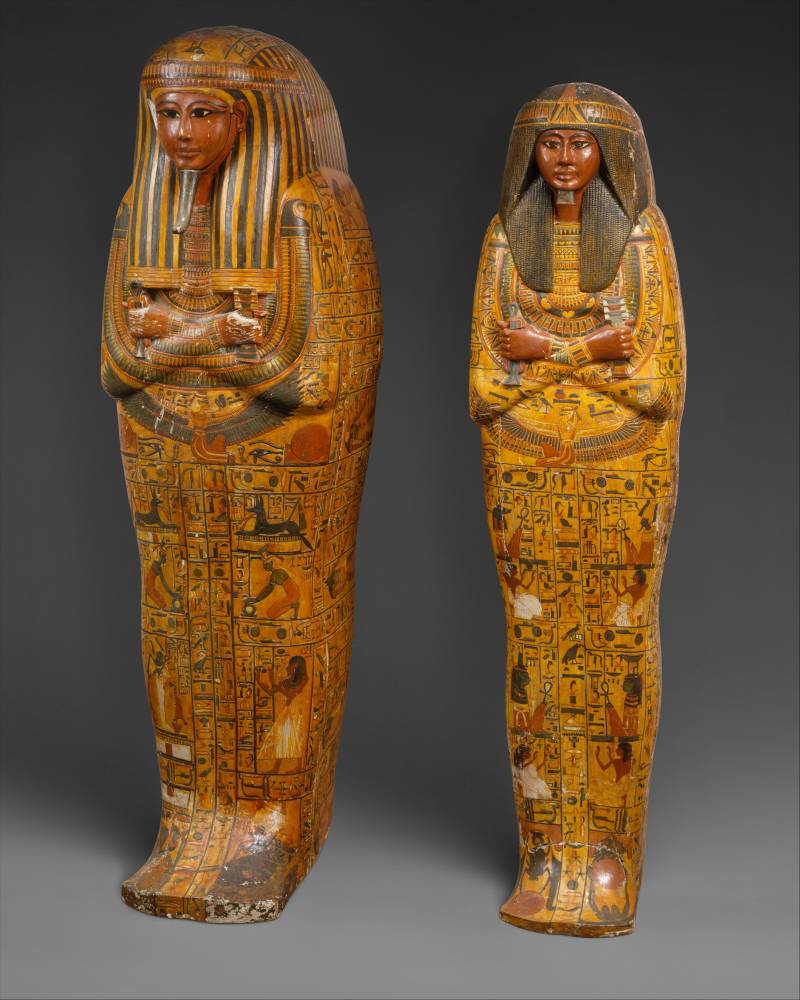 Egyptian "matryoshka": the sarcophagus of Khonsu, external and internal. New kingdom. Dynasty XIX. The era of the reign of Ramses II. OK. 1279-1213 BC e. Height 188 cm. Metropolitan Museum of Art, New York
Alexey Mikhailovich's embassy
And then another embassy to the eastern countries was sent and "according to the Tsar Tsarev and the Grand Duke Alexei Mikhailovich of All Russia" on June 10, 1649.
Among the ambassadors was Arseny Sukhanov, the son of an impoverished nobleman, who was "poor and thin, dragged between the courtyard on Tula," learning book wisdom. He obviously did not read the teachings of Akhtoy, but he did read our chroniclers, who insisted that "as if a ship cannot be made without nails, so is a monk without reverence for books." And he was engaged in all sorts of "bookish wisdom" Sukhanov so successfully that he managed to master the Greek language, both ancient, that is, classical, and living, colloquial. He also knew Polish and even a little Latin. And it was useful to him, because he spent more than ten years in his wanderings. And at the same time he carried out important state orders. He was in Georgia, Moldova, Asia Minor, visited the valley of the Tigris and Euphrates, Palestine, visited the banks of the Nile, and also in Greece and on the islands of the Greek archipelago - that is, he was able to see enough by that time.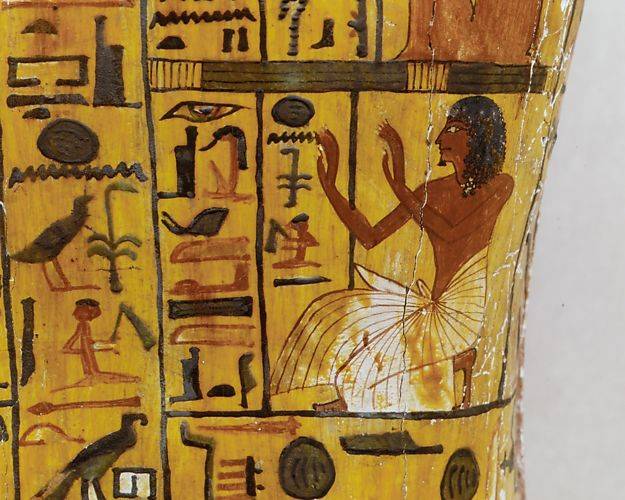 This is how the hieroglyphic inscription on the Khonsu sarcophagus looks like. New kingdom. Dynasty XIX. The era of the reign of Ramses II. OK. 1279-1213 BC e. Height 188 cm. Metropolitan Museum of Art, New York
And already in Constantinople, he began to buy and export to Russia "all sorts of Greek and Russian books and drawing sheets of different lands and all sorts of tetrati".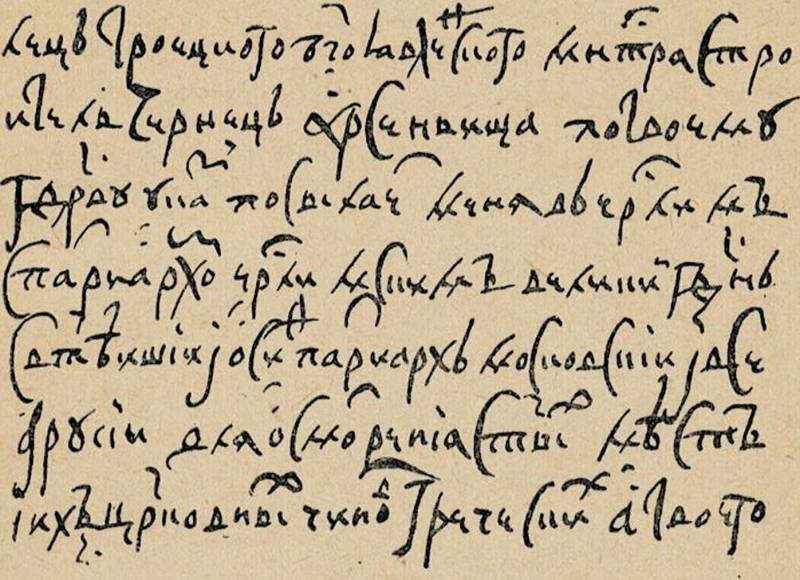 Chelobitnaya Sukhanova, filed with Tsar Alexei Mikhailovich on May 9, 1649 before leaving for the East with a request to give money for the trip. Illustration from the book by N. Petrovsky and A. Belov. Country of Big Hapi. Leningrad. Detlit. 1955 p.21
Sukhanov stayed in Egypt for a month and a half and described the local attractions in great detail.
"Yes, inside the city of Alexandria, without number, there are many stone pillars, high and medium and small, marble from a single stone, carved, round, and not composed",
- he wrote about what he saw.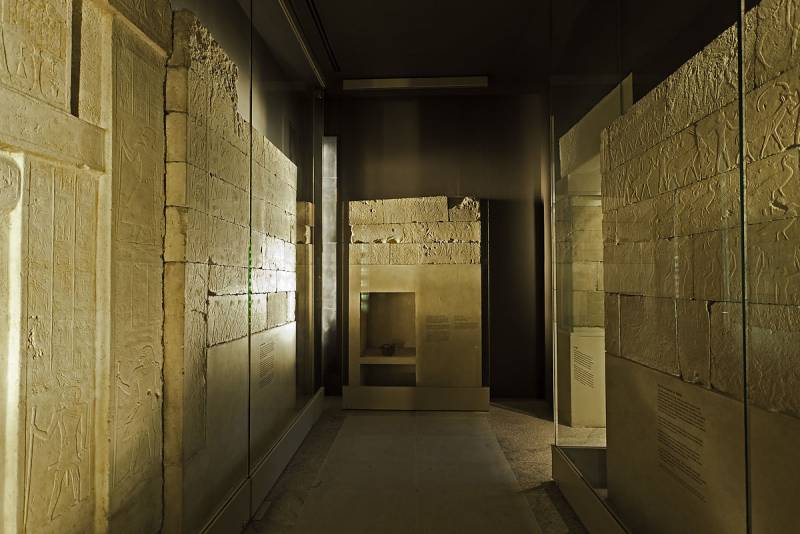 Mastaba Raemkaya. The ancient kingdom. Dynasty 2446. OK. 2389-1907 BC e. Saqqara, north of the Djoser pyramid complex, Egyptian Antiquities Service / Cybella Excavation, 1908–2381 Mastaba Raemkaya was originally built and decorated for an official named Neferyretnes, whose name and titles can still be seen on the false door. Either Neferyretnes fell out of favor, or his family died out, and there was no one to take care of his burial. The reuse of the tomb for Raemkai was most likely carried out by order of the pharaoh and around XNUMX BC. Metropolitan Museum of Art, New York
And even "Cleopatra's Needle" was the first to describe ...
And here is what he wrote about hieroglyphs:
"At those gates ... there is a wondrous pillar made of a single stone, carved, four-sided, about twelve fathoms in height, and on it letters [letters] are carved in a circle from bottom to top, no one knows what: sabers, bows, fish, human heads, hands, feet, axes, and much is impossible to know, visible and invisible, but they say that some wisdom has been perpetrated. And the other is not far from that, the same is word for word, in quality and quantity, just fell down, lies on its side. "
This pillar is the famous "Cleopatra's Needle", which later turned out to be in London.
Sukhanov wrote that
"Before this, no one has been here from Moscow, but only under Tsar Ivan Vasilievich there was an ambassador",
that is, he knew about Pozdnyakov's embassy. But he most likely did not hear anything about Vasily Gagar, since he traveled at his own peril and risk.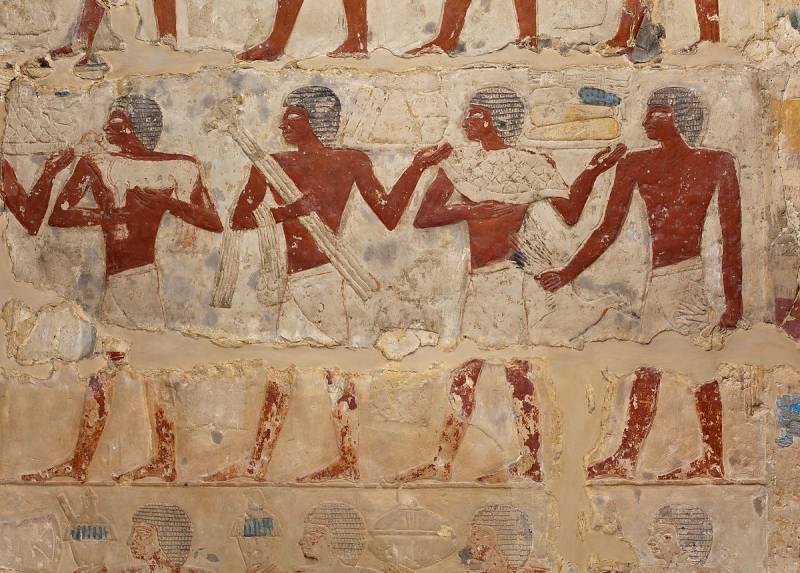 Painted figures of the bas-relief of Raemkaya's mastaba. The inscriptions call Raemkaya (the name means "the sun is my life force") "the bodily son of the pharaoh", and he could well be a real prince, although we do not know exactly from which pharaoh he came. His offices were predominantly religious in nature, but one title indicates a connection with coronation ceremonies, indicating that Raemkai was at least sometimes close to the person of the pharaoh. The beautiful reliefs that adorn the tomb include, among other things, scenes of catching birds, cutting meat, baking bread and brewing, as well as a large hunting scene in the steppe with lasso and dogs. Metropolitan Museum of Art, New York
He also saw the pyramids in the vicinity of Cairo and wrote about them as follows:
"The graves of the ancient pharaohs, worthy of a great miracle ... They are very large, like mountains made, wide from below, and pointed from above."
That is, he did not doubt their purpose. Not that one firefighter from the regional center of Mokshan, Penza region, who somehow in the 90s published an article in one of our regional newspapers, where he argued that the pyramids are "breakwaters from the flood! At the same time, he believed that there were only three of them, in Giza. And about the fact that there are more than 118 pyramids in Egypt ... I did not know!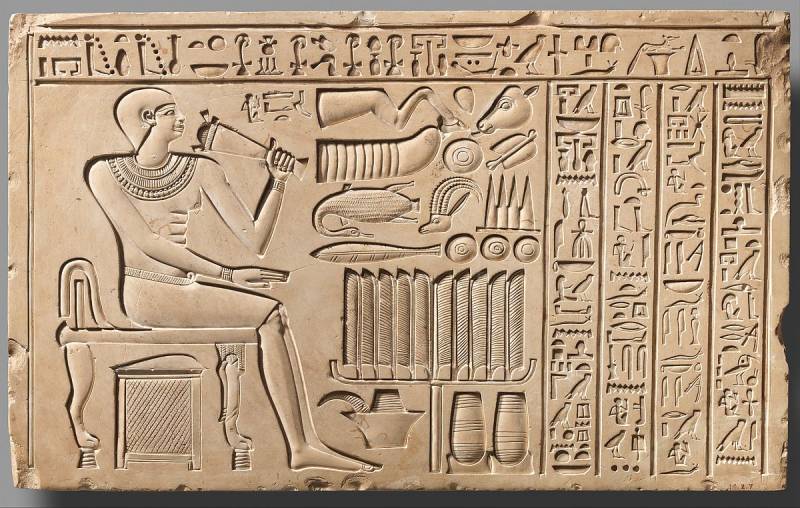 Stele of the gatekeeper Maati. First interim period. XI dynasty. The era of the reign of Mentuhotep II. OK. 2051–2030 BC e. Maati is depicted sitting in front of the sacrifice table with a vessel for the sacred oil in his left hand. A true masterpiece of the early relief art of the Middle Kingdom. The inscriptions demonstrate the close bond that tied together the rulers and their entourage in Thebes at that time. Metropolitan Museum of Art, New York
In general, Sukhanov's trip was very useful both for the state and for himself. Because he was then put in charge of the Moscow Printing House - a position at that time very prestigious and responsible.
To be continued ...