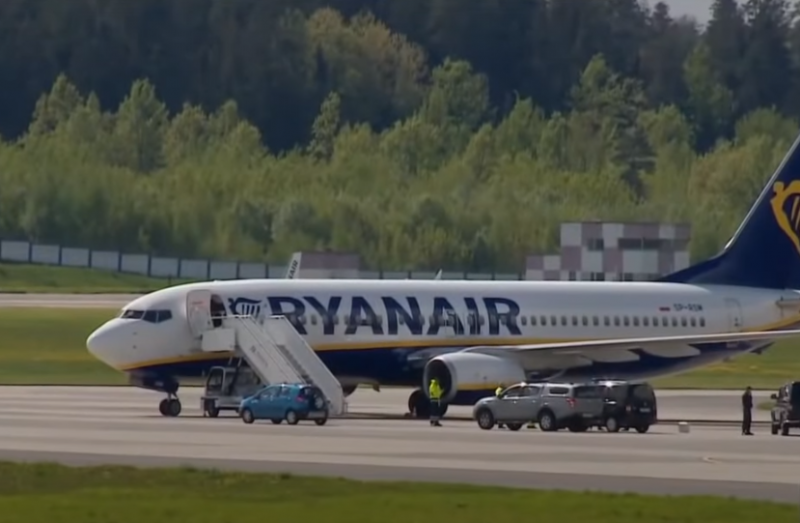 Russia is to blame for everything that happens in the world. This is the position that Ukraine adheres to, and in this vein, Kiev commented on the landing of the Ryanair liner in Minsk to detain the Belarusian opposition leader Roman Protasevich.
The situation with the plane's landing was commented on by the adviser to the head of the presidential office, Mikhail Podolyak, who called it an "act of international terrorism" and also blamed Russia for everything that had happened. According to the Ukrainian politician, the organizer of the special operation is Moscow, which led the actions of Minsk. Kiev has already demanded that Minsk "urgently release" the Belarusian oppositionist.
They also contributed to the Verkhovna Rada, calling for the interruption of diplomatic contacts with Belarus. This was supported by the deputies from the inter-factional association "For Democratic Belarus". They demanded to recognize the Lukashenka regime as "posing a threat" to international security, as well as to sever all diplomatic relations with Minsk while "Lukashenka rules" there. Of course, there were also demands "to release Protasevich" and "to increase pressure on Minsk."
In Ukraine, they even tried to link the detention of Protasevich with the preparations for the Russia-US summit, but somehow they failed to "stick" the Belarusian oppositionist to the meeting of the Russian and American presidents. Moreover, the Kremlin called these two events unrelated to each other.
Press Secretary of the Russian President Dmitry Peskov, answering a question from journalists, called these two events "different substances.
I would not somehow combine here into a single system, after all, these are different substances. For now, you just need to soberly assess the event with this aircraft.
- said Peskov, adding that the case with the plane should be dealt with by the relevant international
aviation
structure.