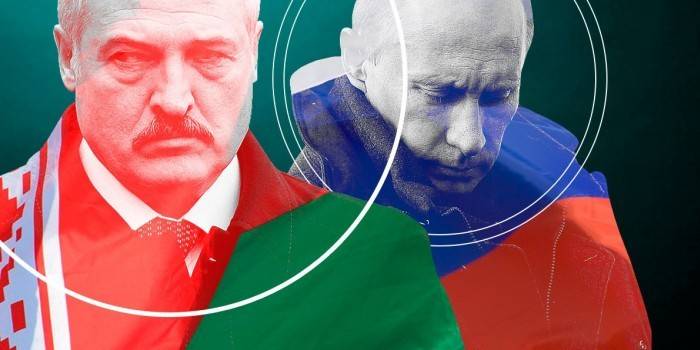 "Cursed treaty"
The issue of the Treaty on the Union State and its "negative sides" is one of the main issues in the Belarusian information space. In any case, when it comes to foreign policy. And then this very agreement is immediately remembered and the talk about its danger for the independence of the Republic of Belarus is started.
However, this treaty has existed for 20 years already and nothing new (no new articles) has arisen in it. What was, it is. And the agreement itself remained mostly on paper.
That is, this very "immortal treaty" is simultaneously constantly mentioned in the sense that, they say, we are building the "Union State"? Are we building? After that, the active promotion of the topic of obtaining "economic preferences" begins. And "in parallel" almost the same people are actively campaigning for its abolition as "not corresponding to the ideals of independence." This is strange.
The Union State Treaty is a kind of "contract" or "protocol of intent." But it is impossible, after all, under the same contract to actively demand the receipt of funds and refuse to fulfill it? You have to choose one thing: either-or.
No I am not joking. In the Belarusian political consciousness, two ideas are being actively promoted in parallel: "The Union State is evil and a threat", "The Union State is the basis of all economic preferences from Russia."
It is extremely difficult to understand something here.
Apparently, we have before us some kind of "different type of thinking." Because it is absolutely unclear how one and the same idea (concept) can be moved in two opposite directions. Apparently, for this you need to be a Belarusian politician or journalist.
That is, on the one hand, no one is in a hurry to give up the benefits provided by Russia. Moreover, the topic of various "compensations" is being actively promoted there. I must say that this is, in fact, the number one topic in economic
the news
RB.
On the other hand, in the same news, the number one (or two) political topic is the threat of a "takeover" from Russia, embodied in the damned Treaty of Alliance. Moreover, both articles on both topics may appear in
the same
edition, and at the same time.
What literally provokes "split personality".
Strange Russian diplomacy
After studying all this "happiness" one simple question inevitably arises: why did we get in there? Why was it necessary to "interfere" with all this? Why weren't any diplomatic / political measures taken in advance? When did it become clear that events were not developing at all as planned? Have we been misunderstood? Well, so it was necessary to clarify. The performance "a la Babich" was supposed to have sounded 15 years earlier.
I understand that people "made careers" and they needed success in diplomacy. And those who were responsible for the Belarusian (as well as for the Ukrainian) direction categorically did not need scandals, and therefore the information was extremely positive. Say, all the way, "two brotherly peoples" and all that ...
And then scandals started anyway. And they began at the very moment when it turned out that for the Belarusians the treaty on the Union State was just paper (from the point of view
their
obligations). Quite recently, a version about a certain extension of Putin's powers through the prompt creation of a certain supranational structure (over the Republic of Belarus and the Russian Federation) was actively thrown into the Belarusian information space. Greater fiction is simply impossible to imagine. Over the course of 25 years, the Belarusians have clearly proved that no agreements with them just "do not work" after being signed. Even in the little things. The signed paper remains only a signed piece of paper. No more. And trusting her on a matter of such importance is simply suicidal.
Running ahead of the steam locomotive
"If you hurry, you will make people laugh" - this is how you can describe the results of Russian policy in the Belarusian direction.
Why was it possible to fence all these "megastructures" out of the blue? Which never worked? Wasn't it easier to start "on the ground", that is, with the convergence of the customs, tax, trade and legislative spheres? And see what happens? Will it be possible to bring them closer together or not?
Here
now
we talked about all this, but a little late, isn't it? Normal people don't start building from the roof. And right now, conversations are beginning that something should be "brought together" there ... And it does not work out very well. The most (from the author's point of view) harmless example is linguistic. Well, both in Belarus and in the Russian Federation in the mid-90s (when it all began) they spoke exclusively in Russian. And they wrote on it, and this is not the merit of Lukashenka, and not the merit of the Belarusian authorities as a whole.
So, here, in this very sphere, over the past 20 years of "union construction" in the hero city of Minsk, a complete "translation" of the inscriptions from Russian into Belarusian and English has been made. Such is the "Union State".
I understand that our leaders needed a result, and immediately. Well, so they got it ... Please shave. One gets the impression that the very "agreement" was drawn up and signed not by statesmen, but by a flock of politically active members of the forum.
The general defense policy, the general policy in the industry - no one even considered all this. As a result, we got a kind of political "kitsch", a kind of outright guest worker hack in politics: there is a crooked and oblique structure of the "SG", but there is practically nothing "inside". Our negotiators greatly underestimated the cynicism of their counterparts: to wave a treaty, "resolve economic issues" and block any integration processes as much as possible, declaring them heresy.
This is, in general, "something with something." And when (after 20 years!) Someone in Moscow remembered that agreement, there were immediately speeches from Minsk about the fact that the SG is not so necessary, there is, after all, a good and suitable EAEU, so why "reinvent the wheel"? "Leaping off the topic" happened almost instantly. As soon as the desire to rely on documents signed a long time ago was really indicated, it immediately sounded: but no, it is no longer necessary, not relevant. That's it, let's go. "We continue to integrate", but already within the framework of the EAEU (we urgently change the appearance and passwords).
Integration "at a run" or the end of "naive politics"
And the idea is that from the very beginning it was necessary to put exactly and specifically the counterparty in such conditions that it was they who would promote the ideas of integration: loans and access to the market
after
reaching consensus. To receive something, you must first give something. Need to think it over carefully? Go think it over, we are not in a hurry. But did you want "quick results"? The bosses in Russia are very fond of "quick results". Well, so we got them, "very fast" and very nasty. Extremely.
As a result, a whole generation of Belarusian politicians has grown up who know how to talk very well about fraternal friendship, smoothly transferring the conversation to "economic" issues, while "behind their backs" surrendering the interests of Russia and energetically pursuing a policy of Belarusianization. Is that so?
In general, any cooperation implies taking into account interests
both sides
, not one of them. For some reason, "in the course of the play" it became clear that "the interests of the Belarusian people" in the person of their best representative should be taken into account. And that all this SG should act only and exclusively in the interests of Belarus. And in general, the SG, it does not seem to include Belarus. This is just a form of interaction between the latter and Russia. But any uncomfortable question is immediately influenced by a powerful counterargument: "But we have a Union State with you! Well, how is that ?! "
When Belarusian politicians communicate with Ukraine, the Baltics or Europe, this very SG is not mentioned at all, because Belarus is an independent state!
Can you explain what we have formed as a result and who needs it at all?
Individual citizens of the Republic of Belarus were very fond of explaining what a fine fellow the dad is. When asked what this wonderful politician has done for Russia in 25 years of his rule, people begin to explain to you what he did for Belarus. Something like that.
Honestly, I recall the "classic of the genre": every politician in the world should, waking up, first of all ask himself, what can I do for Ukraine today, and falling asleep, ask myself, what have I done for Ukraine today ... Then more Ukrainian diplomats began to be "limited" to invite to all sorts of events.
That is, of course, Belarusian politicians and diplomats had to think about their country first and foremost when negotiating with Russia. But it was also not worth it to ignore the interests of the latter so frankly. Otherwise, a legitimate question arose: why?
In 20 years
And after 20 years, no
real
This very "state" did not want to be filled with content.
After 20 years and more than hundreds of billions of dollars received by Belarus as "assistance", the issue of "coordinating visa policy" - in general, a "trivial" issue - was being resolved for a very long time. For some reason, Lukashenka "invented" an unprecedented, never before seen version of integration, in which, for example, he independently and unilaterally allows foreign tourists to enter the territory of that Union State, including Russia. After that, control at the border on the Russian side was tightened, and flights from Belarus were transferred from local to international airports. And Lukashenka was very offended by this.
This was even more evident in the customs policy. Where RB began to actively position itself as a kind of "back door" to the Russian market. That is, as if we have some kind of "common" Union State, and Minsk is pursuing an absolutely independent customs policy there. Great, of course, but why do we need this?
In general, the complete and absolute inability and even unwillingness of the Belarusians to come to an agreement about something was more clearly manifested here. They prefer to "act unilaterally." Throughout the territory of the SG, that is, "in Russia too." That is, from their point of view, there are some "stupid rules" in Russia, but they will operate according to Belarusian laws! And in the case of customs, the "Belarusian laws" in some sort of explicit manner apply to the whole of Russia. No, seriously, the Belarusians absolutely sincerely declare that the supplies of the European "sanction" to Russia
Belarusian
do not violate laws.
Once again: the entry of the Republic of Belarus and the Russian Federation into a certain structure presupposed a certain harmonization of legislation (yes, a certain loss of the sovereignty of the Republic of Belarus, yes!), Otherwise no "rapprochement" is possible. And overlaps constantly appear (for example, certain activities are allowed in one country of the SG and prohibited in another). But the Belarusians have chosen the "simplest" path: they are going to live and work in the SG exclusively according to "their" laws, fundamentally ignoring the Russian ones. And laws and food standards too. Wherein
inside
Belarus must act
only
Belarusian laws and standards (a sovereign country!).
Thus, it turned out "quite funny": a single and powerful Union State already exists, and even
general
there is no understanding of customs policy (the very first step towards such a merger) and is not expected. The cart was once again placed far ahead of the horse. Why is absolutely incomprehensible.
Integration on someone else's terms
If someone does not remember, then at one time on the path of creating a single currency, the father's desire to have "his own" emission center arose. Cool, of course. Especially considering all the incomparability of the economic potentials of the two countries. And the absolute subsidization of the little RB.
If anything, then at one time both West Germany and France were quite rich countries. And Benelux (in terms of level) was even richer than France, if that. Denmark and Great Britain were also not poor countries. I.e
originally
it was a "bunch of the rich." It was then that frankly not rich countries moved there.
In the case of Russia and Belarus, this was not the case.
There was no "equality", there was an absolutely terrible "disproportion". By the way, in Minsk they not only understood this, but literally felt it with their skin. This explains the attempts to "get closer" with China - you need to have some kind of "counterbalance" to Moscow, and, as it were, "inside the SG". But I'm wondering: is China also "integrating" into the SG? Or how? And what is this entrance courtyard? Arabs, Chinese ...
The small size and low economic potential of the Republic of Belarus initially presupposed the "inequality" of the "Moscow - Minsk" relations. How else? And where else was it?
Instead, we endlessly "set conditions": the Belarusians agree to such conditions (and the list of conditions is constantly growing), and otherwise - nothing else.
I'm just trying to understand why the Belarusians should determine the future parameters of the unification, which will happen unclear when? Why not Russians and Belarusians together, but Belarusians in splendid isolation?
That's when this very blackmail begins: if you want ... And you, then, do not want to? Then why bother talking about it at all?
For some reason, it is customary to proceed from the fact that Russians themselves crave unification under any conditions. You know, not a fact. Not a fact at all. Especially "on any terms." At least today. There are not so many people on this planet who are eager to pay other people's debts and solve other people's economic problems.
Once again, the main problem of "integration" is precisely this: it is not customary to take an interest in the opinion and desires of the Russian side in Belarus in principle. People are too busy compiling a list of "grievances and grievances." Seriously,
never
I have not seen any attempts in the Belarusian press to understand the interests of Russia and Russians. What kind of integration in general? What are you talking about?
On the whole, an unusually paradoxical result can be stated: at the very "upper level" there is a certain abstract SG, into which we are constantly poked with their noses - they say, "it is being built." On the lower levels, there is absolutely nothing. That is, there is one roof from the whole building. And it hangs in the air, like the smile of a Cheshire cat.
Any attempts to do something in the area of ​​"laying the foundation" so that, for example, Belarusian foreign policy is oriented towards Russia, is met with hostility.
The Belarusian ideology is, in general, a fairy tale. The demand to bring dairy products supplied to Russia to Russian standards causes a stream of negativity and is demonstratively ignored.
With all this, Belarusianization is going on in the most active way in Belarus. But, you understand, we are building a Union State ...
Again -
the building is being built from the foundation
.
If there is no understanding of the general concept of development, if there are no common friends and enemies and a common defense policy, as well as a customs one, then what kind of Union State can we talk about?