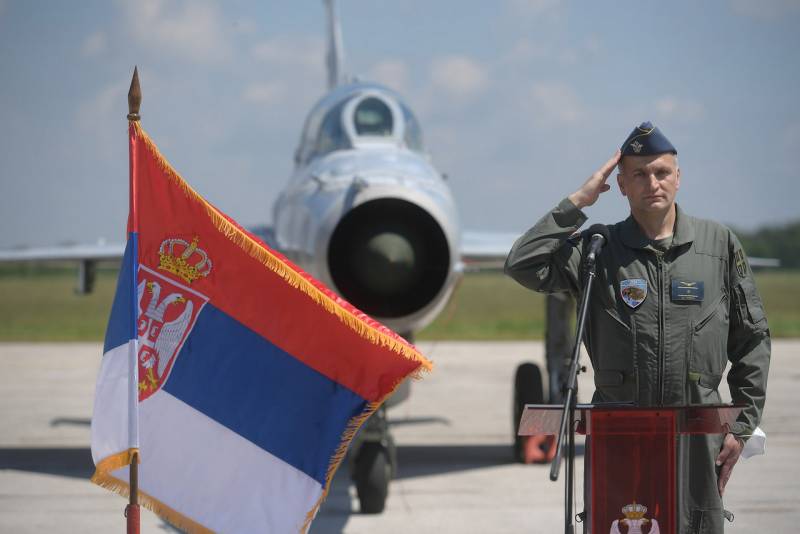 The Serbian Air Force has finally said goodbye to the Soviet MiG-21 fighters. Farewell ceremony with the legendary aircraft took place at the airfield in Batainitsa.
The Soviet fighter MiG-21, which has been in service with the Serbian Air Force for 58 years, has completed its service. Serbian Defense Minister Nebojsa Stefanovic, Air Force Commander Lieutenant General Dusko Jarkovic, veterans of the Air Force who flew the MiG-21 arrived at the ceremony for the withdrawal of the last fighter from service, called "Trail in Infinity".
The last fighter was flown by the water arch for many years of service in the Serbian Air Force. In total, 1962 MiG-1986s were purchased from 261 to 21.
Instead of the Soviet MiG-21 fighters, the MiG-29 was introduced to the Serbian Air Force. In total, at the moment, the Serbian Air Force has one full-fledged squadron of 14 MiG-29s in a fully operational state. Of these, six fighters were transferred by Russia, four - by Belarus and four were of their own, left over from the time of Yugoslavia. Russia and Belarus donated the fighters free of charge, all of them underwent modernization.
It is specified that the "Belarusian" MiGs underwent modernization at the aircraft plant in Baranovichi, while those transferred by Russia were modernized in Serbia at the Moma Stanojlovic military aircraft repair plant in Batajnica with the participation of Russian specialists. In addition, thanks to the Russian side, the Serbs were able to modernize the four MiG-29s that remained in service with the Air Force (three single-seat MiG-29Bs and one twin MiG-29UB).